8 Tips for Social Business ~ White Paper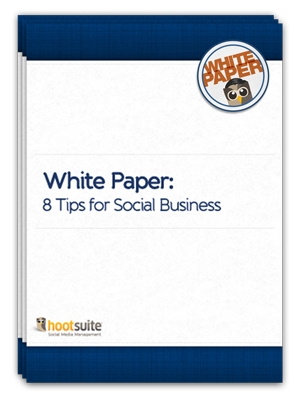 How current or mature is your business' social media strategy?
HootSuite's latest whitepaper, 8 Tips for Social Business, will illuminate the correct process by which organizations can successfully implement a successful and scalable social media strategy.

In this white paper you'll discover how to:
Integrate social into existing organizational and departmental goals.
Organize your business for social's best practices.
Listen to conversations about your brand
and learn from your competitors.
Engage to Build Community: Empower your Social Team to contribute to the conversation.
Encourage your Social Teams to distribute new learning both within the Team and your organization as a whole.
Secure your online profiles to avoid publishing errant messages.
Measure your Social ROI: Build the capacity for measurement into every social action
Amplify your outreach and invest in a social future.
Business is Social
We believe that the future of business is social. To ensure that your business is on the right social path, we created this paper outlining a simple, eight-step roadmap to social success, that you can use to implement and evaluate social within your various teams and departments.
Whether you're at the Social Advocate, Team, Business or Enterprise stage of Social Maturity this 8 Tips for Social Business White Paper will guide your business step by step through best practices in social integration, evaluation, communication, collaboration, security and measurement.
Find out how to tap into conversations and organize your teams to close the loop on social. Seth Godin once said that "the conversation is happening about your brand whether you're a part of it or not," but with the proper tools and education, you can monitor and participate in these conversations. Discover which social tools to invest in that allow you to scale your programs effectively across teams, departments, geographies, brands etc. and find out how to build social media management success into your strategy with these 8 Tips for Social Business.