More Apps, Open API, and the Solution Partner Program ~ News Roundup

Seen above at a career fair (come work for us!), Owly has lots to reflect on as HootSuite recently launched three new tools in the App Directory, opened its Engagement API, added an external integration with click.to, introduced a new Solution Partner Program, and released an infographic on Super Bowl XLVI.  See the reactions to and reception of these new announcements in today's News Roundup.
The firehose of media coverage doesn't stop there. Check out an in-depth interview with HootSuite CEO, Ryan Holmes, and CIBO's ranking of the Top 20 Twitter Clients being Used in 2012.
HootNews
The interweb was buzzing as HootSuite announced the launch of three new apps (Digg, TrendSpottr, and InboxQ), the opening of our Engagement API, and the external integration of click.to.
See what click.to, TrendSpottr, and the media had to say about the news…
Mashable – HootSuite Now Ties in Digg, InboxQ and Trendspottr
Users can now integrate Digg, InboxQ and Trendspottr into their dashboards starting Wednesday by installing them via the App Directory, which until today allowed users to share content only to Constant Contact, Flickr, Formulists, Get Satisfaction, Summify, Tumblr and YouTube.
TrendSpottr – Introducing TrendSpottr for HootSuite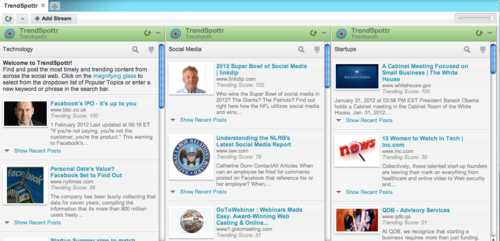 Featuring full integration with HootSuite's social dashboard and a completely new look and user interface, the TrendSpottr app makes it easier than ever to discover and publish trending stories, viral videos and more to all of your social networks.

Whether you are a brand manager or PR agency interested in monitoring real-time trends, a journalist or blogger in search of emerging stories, or a social media user that wants to be the first to spot viral trends, TrendSpottr will help you discover the most trending content from across the social web.
click.to – click.to gives a Hoot with Hootsuite
We are very pleased to announce the new integration of Hootsuite into the click.to portfolio. Hootsuite offers its users the ability to manage multiple social media platforms at the same time. The Hootsuite Dashboard allows users to manage not only social, but also with the recent implementation of the App Directory, you can also add YouTube, Flickr, Tumblr to the list of Twitter, Facebook and Linkedin.

[…]

Click.to expands the functionality of Hootsuite by adding the ability to add content from anywhere. If you see something online that you want to get feedback on from the team, just click.to Hootsuite. If you receive an email singing your companies praises that you would like to share on your social network, just click.to Hootsuite and it can be shared everywhere. If your friend just sent you the most epic cat video ever ….click.to Hootsuite. (Just don't forget to give him credit for the find!)
The Next Web – HootSuite releases its Engagement API and adds Digg, Trendspottr, and InboxQ apps
With the Digg app for HootSuite, users can view current top news stories, search stories, Digg stories, discover and share content using the dashboard, whilst the TrendSpottr app lets users search for trending content by topic, keyword or phrase, as well as select from a list of popular searches. The addition of an InboxQ app to HootSuite's arsenal lets users find questions on Twitter based on keyword and phrase searches, fine tune search results, and engage directly with those asking questions.

Back in December, we reported that Summify, Constant Contact and Formulists had been added, in addition to YouTube, Tumblr, Get Satisfaction and Flickr that had been added when the App Directory launched back in November. A number of new apps will be added shortly, including Reddit, Blogger and Yammer.
CMSWire – HootSuite Adds Digg, TrendSpottr, InboxQ Apps
Also, HootSuite is now integrated into the click.to portfolio, which means users can add content from anywhere. The Click.to site explains, "If you see something online that you want to get feedback on from the team, just click.to Hootsuite. If you receive an email singing your companies praises that you would like to share on your social network, just click.to Hootsuite and it can be shared everywhere."

[…]

The HootSuite App Directory Feedback Channel provides users a place to share ideas for future apps. Integration with Blogger, adding Google Reader and supporting StatusNet are just a few of the suggestions already in the channel.
VentureBeat – HootSuite adds support for Digg, Trendspottr, and InboxQ
Popular social networking management service HootSuite announced Wednesday it has added support for more social apps and opened its Engagement API.

Digg, Trendspottr, and InboxQ have joined the HootSuite App Directory; a collection of apps and social media sites that you can manage with HootSuite. Each app has a unique set of features that you can access with HootSuite's dashboard.

[…]

The company also announced integration with click.to, an extension used to share information on social networks rapidly and efficiently. You can now share content directly to HootSuite from click.to, no copy and paste required.
PRWeb – Smarter Posting: HootSuite Becomes click.to's Newest Partner
click.to, the desktop app from Axonic Informationssysteme GmbH in Karlsruhe, Germany, has announced its new partnership with HootSuite, the social media management system. The new "click.to HootSuite" app allows HootSuite users to immediately synchronize the implementation of social media campaigns on social networks like Facebook, Google+ and Twitter, from anywhere on the desktop.

[…]

HootSuite is a cross-linker, an online service that allows social networks like Facebook, Twitter, LinkedIn, and WordPress to work on a single platform. click.to is an app that links all applications for the desktop and skips intermediary steps between several different actions–essentially, a cross-linker for the desktop.
Business Insider – Why Every Business Needs An In House Content Specialist (HootSuite's New Features)
TechLal – Hootsuite now supports Digg, and Trendspottr InboxQ
Website Magazine – More Apps Added to HootSuite App Directory
TechNewsCast – HootSuite Now Ties in Digg, InboxQ and Trendspottr
Techvibes – Vancouver's HootSuite Cracks Open API; Adds Support for Digg, Trendspottr, and InboxQ
PRWeb – Smarter Posting: HootSuite Becomes click.to's Newest Partner
Read HootSuite's initial announcement – The App Directory Grows with Digg, TrendSpottr and InboxQ – and profiles of the three new apps – A Closer Look at the Latest App Directory Additions.
Superb-Owl
As mentioned in our HootSuite's Super Bowl XLVI Social Media Recap, adotas and MediaPost analyzed our Super Bowl infographic and interviewed HootSuite VP Marketing, Ben Watson, on our methodology. We've included some snippets below but be sure to check out the full articles.
adotas – Infographic: HootSuite Analyses Social Media Impact of Super Bowl Ads
With the company's experience demonstrating to brands the opportunities of social media and analyzing how those social campaigns have proceeded, its crew has weighed the social media campaigns 20 major brands conducted around their Super Bowl ads. HootSuite looked at the most visible U.S. social media sites — Facebook, Twitter, LinkedIn, Google+ ("We're trying to be the Switzerland of social media, from a platform perspective," HootSuite CMO Ben Watson said in a phone conversation today) — and weighed those 20 campaigns with several criteria: sheer numbers of mentions, integration across multiple platforms, sentiment, and also factors that might've detracted from the brand's message. "Is there a live component?" Watson asked, explaining the study's methods. "Is there a consistent stream of activity? Is there interactivity? Is it creative, and does it build on brand assets? How are they marketing that integration?"
MediaPost – HootSuite Ranks Super Bowl Ads on Social Engagement
HootSuite ranked Super Bowl advertisements by measuring their integration with social media sites including Facebook, Twitter, Google+, and YouTube, among others, as well as the volume of traffic and the nature of sentiment expressed about their brands on these social media platforms. The analysis combined a number of different inputs, ranging from Twitter Trending data, hashtags and Twitter handles, to YouTube views and Facebook search results. Altogether HootSuite drew on data from a half-dozen different platforms and mapped it against Twitter trending data to arrive at a final score.

HootSuite chief marketing officer Ben Watson explained that the "heaviest weighting was given to scoring around the interactive engagement of the brand with fans on social media.  For example, Coke topped this out by having the bears watching the game with you on Facebook, having their URL load the Facebook experience, and by providing a series of entertaining gestures throughout the game for fans that were engaged." He added that the Coca-Cola commercials "also directly supported 'building the relationship' with your new polar bear friends and having them join you, instead of just clicking on a URL to find out about a product.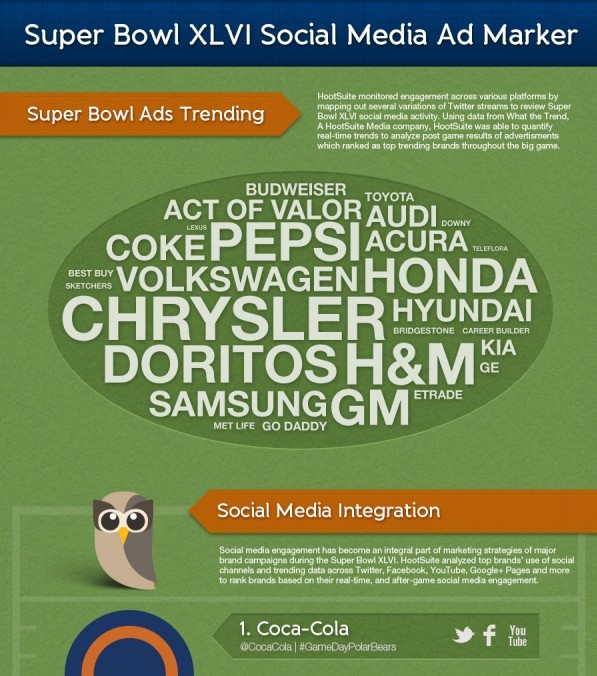 Partner Up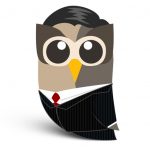 The Solution Partner Program is a go! Designed for agencies, consultants, associations and value-added resellers, the Pro Solution Partner Program and the Enterprise Solution Partner Program allow Solution Partners to demonstrate social leadership and generate revenue streams by offering HootSuite Pro and Enterprise to their customers.
See what the blogosphere had to say about it, including comments from HootSuite VP of Corporate Development, Matt Switzer…
Talkin' Cloud – HootSuite Launches Social Networking Channel Partner Program
Now HootSuite has launched a pair of solution provider partner programs, designed to help systems integrators and VARs help develop their customers' social strategies across Twitter, Facebook, Google+ and more.

The program comes in two tiers: the first, primarily affiliate-based in nature, enables smaller organizations to refer mostly SMB customers to HootSuite Pro. Meanwhile, the HootSuite Enterprise Solution Partner Program is probably where it's going to be at for most TalkinCloud readers — it's aimed at helping VARs, systems integrators, consultants and other players in the channel space capture larger customer deals.

In both cases, partners get recurring revenue streams, since HootSuite is billed on a monthly basis. According to HootSuite, partners also get access to marketing materials, a partner portal featuring tons of information, best practices, partner badges for their websites and more of the usual one might expect from a full-blown channel program.
CRN – HootSuite Launches Channel Program For Enterprise Social Media Solutions
HootSuite is hoping to attract VARs to sell both solutions but especially Enterprise to their midmarket and large clients, Switzer said. The company just surpassed the three million-user mark and wants to hit six million by the end of the year.

"It's all about HootSuite working better with partners. This drove our new program which speaks specifically to VARs and their needs," Switzer said.
itbusiness.ca – HootSuite launches social networking channel partner program
 LKR Interviews RH
Social media marketing strategist and HootFriend, Laura Roeder, recently did an interview with Ryan Holmes. They discussed social media strategies, the explosive growth of HootSuite, and the owl's expansion internationally.
Check out the invitation video (above) and register on Laura's blog to listen to the full interview: Three Million In Three Years: The Insider Interview on How HootSuite Grew To Three Million Users in Three Years Flat
Hoot #1
Social media agency executive, Neal Schaffer, recently tweeted about his poll on LinkedIn group Social Media Strategies for Business on what Twitter client they mainly use for business. After creative agency, CIBO, caught wind of the tweet, they replied with their own findings. Nice!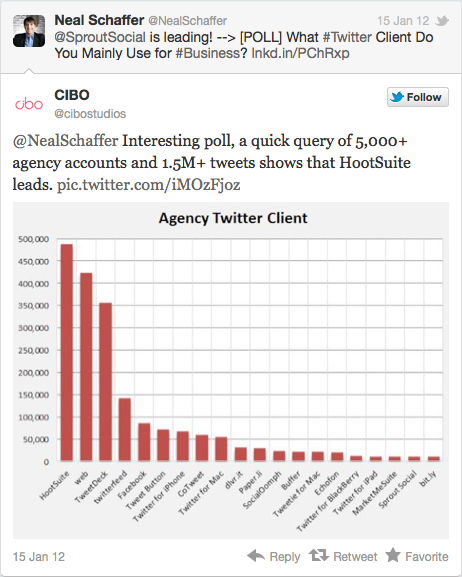 Read Neal's full article: The Top 20 Twitter Clients being Used in 2012
Flying On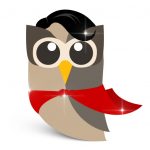 We're picking up speed now and you can expect more on the way. Stay up to date by following @HootSuite for the latest updates on the dash and @HootWatch for a steady stream of media coverage.
If you have idea for us, you can vote up or suggest feature requests on our Feedback Channel.
Want to learn how to make the most of the dashboard? Visit the HootSuite library for helpful white papers, info sheets, case studies, and more.