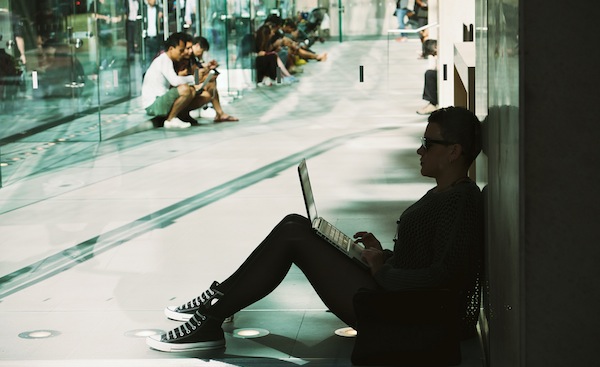 If you've ever mentioned @apple in a tweet, you might be surprised to find out that nobody at Apple was listening. In fact, the @apple account on Twitter still shows the default egg image for its avatar, along with two fat goose eggs in its stats: zero tweets, and zero following. Over at Facebook, the page for "Apple Inc." is a ghost town, with no company activity since its creation in July, 2011. It has over 10 million likes. Based on the most recent statistics, that represents 83 million hours per month of Facebook user time that Apple has decided it wants no part of.
Apple is not only abstaining from a major marketing opportunity, but turning its back on an increasingly vital channel for customer feedback and support. Organizations that intuitively get social media are those that see the value of listening to their customers and partners—their community—and let those voices inform business decisions. Apple doesn't work that way. The company's philosophy toward customer input was probably best summed up by Steve Jobs himself. In 1998, he told Business Week, "A lot of times, people don't know what they want until you show it to them."
It's hard to argue with a business that has revolutionized multiple industries with a string of category-defining products, but Apple's indifference to social media is puzzling.
Ping: Apple's Failed Social Network
To be fair, Apple isn't entirely absent from the two biggest social platforms. Some of its product lines have accounts. iTunes, for instance, is on Facebook and Twitter, both of which are used to promote featured artists and iTunes-sponsored events. The iTunes Facebook page is particularly impressive, with 31 million likes and a timeline packed with compelling visual content. But the success of iTunes on Facebook and Twitter is ironic, since Apple once tried (and failed) to create its own social network, Ping, inside iTunes itself.
Apple launched Ping as a social network for music in September 2010. Built into the iTunes platform, it allowed users to follow artists, share music recommendations with their friends, and see what their friends were listening to. Steve Jobs half-jokingly described it as "sort of like Facebook and Twitter meet iTunes." And if that had been literally true, Ping might still be around.
Apple is known for creating a finely tuned user experience inside a "walled garden" of integrated hardware and software. But the walls that Apple built around Ping were simply too high. The network was only accessible within iTunes, and was missing an integration with Facebook or Twitter. Apple came close to partnering with Facebook for Ping, but balked at what it described as Facebook's "onerous terms". Without access to Facebook's social graph, Ping users had trouble finding friends or confirming anyone's identity. The social network that was all about music discovery was undermined by poor social discovery.
After two years of lacklustre engagement, Ping was taken off life support in September 2012 and replaced in iTunes with Facebook and Twitter integrations. By this time Apple had also incorporated Facebook and Twitter into the native apps of iOS, its mobile operating system. The company had learned the most important rule of social media: play nice with others.
Apple's Culture of Secretiveness
Social media is now woven into the Apple user experience, but it's not yet woven into how the company does business. It demands openness and transparency, which is antithetical to Apple's corporate culture.
Apple is famously secretive, both internally and externally, and has benefited enormously from this approach: it keeps its upcoming products hidden from its competitors, and when it announces a new product, the company has absolute control over the message. Steve Jobs' keynote presentations (and now Tim Cook's) are always hotly anticipated because (with few exceptions) nobody really knows what's going to happen.
Customers and reporters aren't the only people waiting on bated breath for the big reveal. In fact, the vast majority of Apple's own employees hear about the latest Apple product at the same time the rest of us do. Journalist Adam Lashinsky describes Apple as the "ultimate need-to-know culture." Employees are only aware of the projects in which they're directly engaged, or rather, small slices of those projects that pertain to their individual responsibilities. In Inside Apple, Lashinsky explains how Apple's secretiveness manifests itself in the physical workspace: "Apple employees know something big is afoot when the carpenters appear in their office building. New walls are quickly erected. Doors are added and new security protocols put into place."
With so many physical and virtual barriers to information sharing, how is Apple able to create such innovative products? Rather than involving entire departments in the creative process, the company brings together teams of experts to collaborate on a more intimate scale. These groups are hived off from the rest of the company (and customers) and intended to operate much like start-ups. In isolation, Apple's world-class designers and engineers are free to dream up new ideas without being distracted by external input. Put people inside a box and they'll think outside the box—or so the thinking goes.
What's missing from this picture is any spontaneous discussion at the water cooler, or new ideas coming together on the back of a napkin in the cafeteria. At Quora, a former product manager named Simon Woodside admitted, "Having all these secrets was difficult from my perspective. I couldn't really engage in idle banter with my colleagues for fear of slipping something out." This secretiveness makes it impossible for Apple to collaborate internally on a massive scale with a social media platform like Yammer or IBM Connections.
Does Apple need social?
Perhaps Apple is anti-social. But maybe that's because it can afford to be.
In 2013, Apple supplanted hyper-social Coca-Cola as the most valuable brand in the world in Interbrand's Global Brand Rankings. Interbrand pegs the value of Apple's brand at $98 billion, citing its "legions of adoring fans." Anyone who's ever used an Apple product or stepped inside an Apple store can tell you how the company earned those fans. Apple knows its customers. It's a loyal, passionate one-to-one relationship the company has invested decades and billions in cultivating. And who needs community when you've got a relationship like that, right?
Need help making your business more social? Try HootSuite now for free.