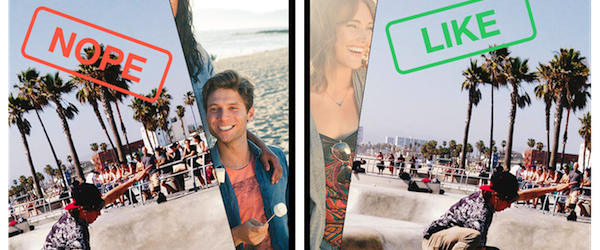 Will Tinder Become a Mainstream Social Network?
Until recently, hook-up apps were sincere but a bit seedy. That was until Tinder came on the scene. Finally, a hook-up app that makes things simpler, sexier, and more fun.
If you're between the ages of 18 and 55, active on social media, and currently single, there is a good chance that you're on Tinder. If you're in a relationship, then you've probably helped your single friends swipe through the streams of potential dates. If this is all foreign to you, let me explain.
Tinder finds you potential matches based on how close their location is to you. Retrieving info from your Facebook profile (don't worry, Facebook doesn't share any Tinder info), it builds you a dating profile and begins feeding you a photo stream of potential matches. Here you can swipe the screen left for "no," or right for "yes". Then move on to the next profile, and repeat. The matches happen when the app recognizes that two people have both swiped "yes" to each other. Then, let the chatting (and hooking up) begin.
With more than 750 million "swipes" per day and 2 billion matches to date, Tinder is huge and growing fast. To see where this app is heading, we need to look back at past hook-up apps turned social networks. It's surprising how many apps have evolved from simple hook-up platforms into mainstream social networks.
Mark Zuckerberg founded Facebook while he was studying at Harvard University. Before bringing Facebook to life, he developed a few social networks for his peers. These included Coursematch, which allowed users to look up people taking the same classes and degree, and Facesmash, where users would rate people based on "are they hot or not?" While this may have been an obnoxious way to start, Facesmash would later become something much bigger. Perhaps Zuckerberg saw the limitations in this hook-up app and used his experience to build something more complex: in 2004 he came up with "The Facebook".
Speaking from experience as a Facebook native, at the beginning it was all about meeting people and potentially hooking up. Let's be real here for a second, have you ever invited someone out through Facebook? Has someone asked you out on a date through Facebook? It may be easier for people to ask their romantic interest out when they don't have to physically look or speak to them. It's less intimidating to create a relationship on a platform that is so complex. Facebook gives users the ability to creep (in other words, check out) potential dates or ex-partners. Everyone does it, everyone knows everyone does it, but that's all right! As a culture, we've embraced creeping.
What about Myspace? Back in the early 2000's, Myspace was the ultimate hook-up network. I recently wrote a post about things that we at Hootsuite miss about Myspace. One of the comments we received explained how one of our readers met his wife there in 2004.
Dating site OKCupid runs data analysis on dating trends. One of their posts dissects the profile picture: what types of profile photos generate the most messages from the opposite sex? Is it that shocking that the clear winner was the "Myspace angle" —a selfie taken at an unrealistic and overly-flattering angle. It turns out, that women who use these type of photos end up receiving an average of more than 15 new contacts a month (the average person gets 8-9).
We couldn't write about hook-up apps without mentioning Snapchat. Each day, hundreds of millions of photos are shared via Snapchat—photos that disappear in 10 seconds or less. When the app first was released in 2011, this feature was a game changer. The NSFW photos that we don't want sticking around (you know the photos I mean…) weren't ever going to be a problem.
But soon users started treating the photos as a conversation, sending and replying to their followers through images instead of words. Not only that, but brands and marketers are using Snapchat.
Today, the company announced a new feature called "Our Story," a collection of pictures and videos called "Snaps" centered around an event. Each featured event has its own thread of viewable posts that users can contribute to. In a statement on their blog, Snapchat said:
"We wanted to build something that offered a community perspective – lots of different points of view. After all, our friends often see the same things in totally different ways. We built Our Story so that Snapchatters who are at the same event location can contribute Snaps to the same Story. If you can't make it to an event, watching Our Story makes you feel like you're right there! It's really easy to use."
Tinder recently released a new feature which allows users to send self-destructing photos to each other. The feature, a nod to Snapchat called "Moments", allows users to send these photos to all of their matches at once. Users can apply different features, add text or draw on the photos before sending them out.
"Moments are the perfect excuse to say more than just 'hello'," Tinder explained in a blog post. "Just like real life the moments we experience start to fade, which is why every shared Tinder Moment can only be seen for 24 hours."
So, is Tinder going to make the jump to a legitimate social network? Who knows, maybe we'll see new features come from Tinder which make the app usable for people who aren't just looking to hook up. Maybe at conferences in 2016, we'll swipe right to connect with networking targets. What history shows us is that, once a network reaches a certain ubiquity, it gets used for everything, including business.
At Hootsuite, our mission is to help businesses navigate the ever-changing landscape of social media. We don't see Tinder being an essential business tool at this time, but we'll be watching it carefully in the future. If you want to keep up with the latest social media tools, sign up for a Free Trial of Hootsuite Pro today.