Bring Social Listening to Your Contact Management With Hootsuite and Contactzilla
There's no way around it: your customers are all on social media. So it's crucial that you have a strong combination of CRM and social media strategy to help effectively manage these social relationships.
Today, Hootsuite is excited to announce a new partnership integration with Contactzilla, a seamless contact management system. The app integration combines Contactzilla's shared address books and contact management with Hootsuite's extensive social publishing dashboard, forming a unified, seamless experience to more effectively manage your social relationships.
Try the Contactzilla app integration today!
The Hootsuite-Contactzilla app integration allows individuals to locate potential leads, and identify customer feedback, key influencers or specific brand mentions. The social listening component provides more intelligence on your leads and social business trends.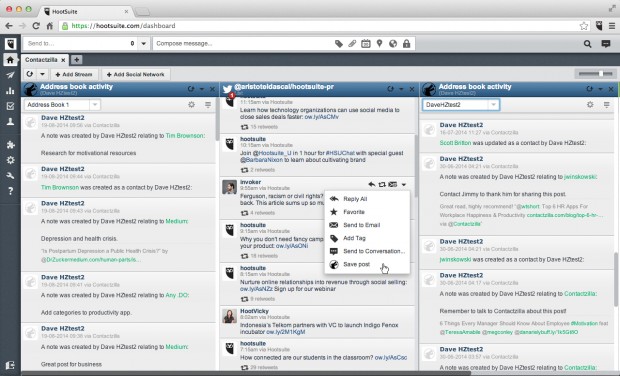 How will this integration help businesses get the upper hand on their competition? Let's use the example of a real estate agent. One of the main challenges for real estate agents is staying connected with their customers and prospects. Most realtors have several clients at a time and their days are filled with showings, negotiations, and prospecting for new clients. This doesn't leave them with much time manage their relationships, especially on social media.
The Hootsuite and Contactzilla app integration allows realtors to manage their contacts and identify potential customers through social listening without having to switch between platforms. Realtors can capture leads, share listings and add notes to their contact list all from the Hootsuite dash. The ability to keep engaged with customers and prospects through social is a huge advantage in the this relationship-driven industry.
"The Hootsuite Contactzilla integration provides a seamless experience for me and my team to manage my contacts, and provides the social insight we need to stay engaged with our customers and prospects. This integration helps me save time and makes me a lot more efficient." – Andrew Liem, Real estate Agent for Remax Select Properties
There are several other ways businesses can leverage the Hootsuite Contactzilla integration:
Social media teams can save prospect contact details to shared address books, so sales teams can follow up
Social media teams can save social posts about their company to shared address books, so customer service teams can follow up
Sales reps & customer support teams can add notes before and after following up leads. This is displayed in the address book activity stream so managers and social media teams can see which leads work and which don't.
Journalists can find and save leads and share them with reporters in the field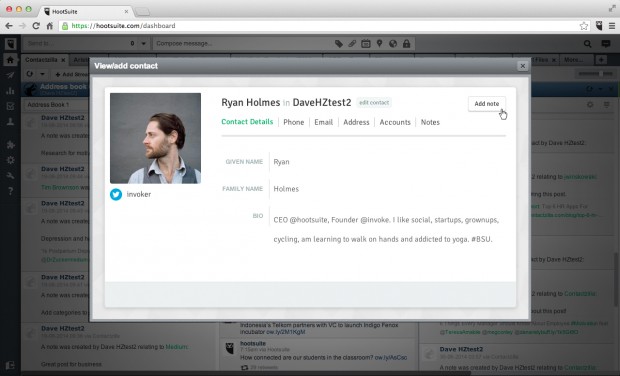 Enjoy seamless social CRM today. Download the Contactzilla app from the Hootsuite app directory.