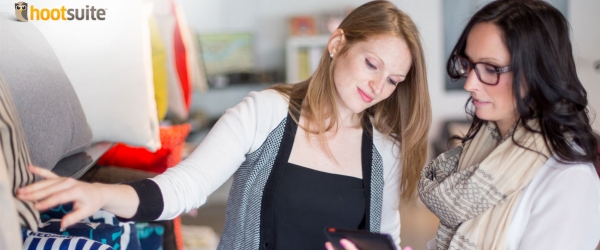 Faster, Stronger, Easier, Better: Designing The New HootSuite Android App
HootSuite's Android app was launched in 2010 and recently crossed a major milestone: 2 million installs. A pillar of our mobile strategy, the app is an essential tool for social media pros around the world. Android is also a key platform for HootSuite's global growth strategy. In Indonesia, more than 50% of new users sign up through the Android app. In some developing world countries, the numbers are even higher, up to 90%.
"Android is a core platform for both our global growth and our broader mobile strategy." -Lars Vedo, HootSuite Mobile Product Manager
With the ongoing evolution of mobile, it's an exciting challenge to keep our apps ahead of the curve, while also staying true to strong fundamental principles. Our latest Android design leaves no pixel untouched. The result is a faster, smoother app and a better mobile social media experience.
Download the new HootSuite Android app from the Google Play store now.
In the years since we launched our app, HootSuite's mobile design team has learned a lot from our users. Today's launch is an opportunity to reflect on how our app has evolved with these lessons. Here, briefly, is how we arrived at our current Android design:
Process
When we set out to overhaul our Android app, we had a number of goals in mind. First, we wanted to look at the existing design with a critical eye, so we could find opportunities to create a more intuitive user experience. We also wanted to align the app with the latest Android design best practices. Finally, we wanted to make sure that all the indicators of interaction are as clear and current as possible.
The process was a close collaboration between design, development, and product management. For each screen, we combed through all the elements and considered if they were arranged in a way that best presents the information. And throughout the process, we kept user feedback in mind to determine the best order of options and placement of features. In some cases we needed to ask if a feature was really needed at all.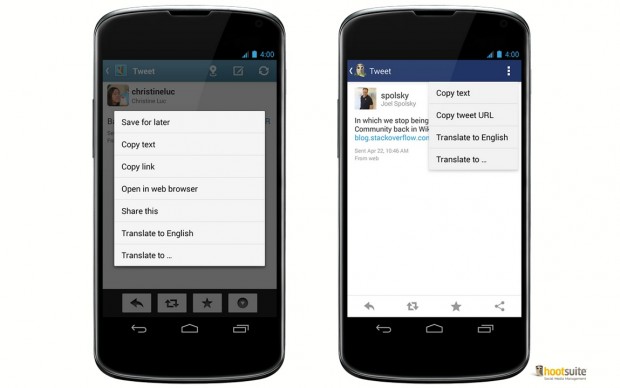 We approached this redesign by organizing our ideas into two categories: styles and principles. Our styles guide the aesthetic UI decisions we've made throughout the app and our principles help us shape an improved UX.
UI Style
Clean: Design with lots of room to breathe
Flat: Use solid colors and fewer gradients
Square: Use square edges instead of rounded edges
Visual: Allow images to be larger and more featured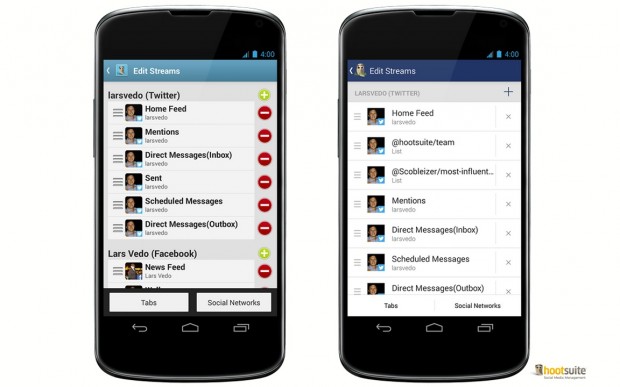 UX Principles
Only show what I need when I need it
People get overwhelmed when they see too much at once. Break tasks and information into small, digestible chunks. Hide options that aren't essential at the moment, and teach people as they go.
Our design: We simplified views and moved some less-used functionality into overflow menus to allow easy focus on the important features.
Give me tricks that work everywhere
People feel great when they figure things out for themselves. Make your app easier to learn by leveraging visual patterns and muscle memory from other Android apps. For example, the swipe gesture may be a good navigational shortcut.
Our design: Users understand the HootSuite app by using what they already know from other apps. They navigate from stream to stream with a swipe gesture and pull to refresh each stream.
Make important things fast
Not all actions are equal. Decide what's most important in your app and make it easy to find and fast to use, like the shutter button in a camera, or the pause button in a music player.
Our design: We optimized the most used features in each view by carefully choosing how they are presented.
The Future of Android Design
With this redesign, our goal wasn't just to bring our app in line with current Android best practices. We aimed to design an app that will give users a cutting-edge mobile social media experience. To achieve this, we couldn't just think about how people are using mobile apps now; we had to consider what the future of mobile app design would look like. We came up with three ideas that then guided our process:
1. Time is of the essence
Speed and efficiency are essential to a great mobile user experience. To minimize the time it takes the user to complete an input, consider intelligent defaults and any other tricks that can save seconds.
2. The world is flat
As Matias Duarte, Android's VP of Design, explained at the recent Accel Design Conference in San Francisco, flat designs have the virtue of providing opportunities to attract the user's attention to purposeful, subtle cues that the brain understands to distinguish elements and features.
3. Android will be everywhere
Android is already in wearable devices, and Duarte believes it will soon power our in-car infotainment systems and connected devices in our homes. Each Android device will be part of a cohesive user experience, and as such should be treated as one design.
With this redesign, we tightened up our features and unified our style around clean, flat design, aligning our app with with the future of Android design. The new HootSuite Android app offers our users a richer mobile social media experience and a better way to stay connected everywhere.