HootSuite Expands the App Directory with Zyncro, RankSpeed and ChattBack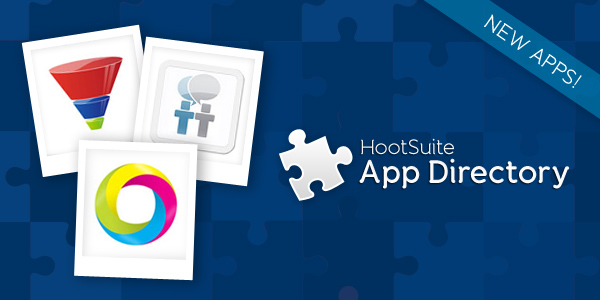 HootSuite continues to expand its App Directory with new apps to help enhance your online social experience. Today, we add three new apps, Zyncro, RankSpeed and ChattBack, that help increase efficiencies and improve social business.
Log into HootSuite and click below to get started:

Improve Organizational Efficiency with the Zyncro App
Social media is gradually becoming a key component of enterprise productivity. Zyncro is an enterprise social network popular in European and Latin American markets that seamlessly integrates social into the workplace. This integration allows users to manage internal social collaborations and communications from the same place they manage external social networks and activities.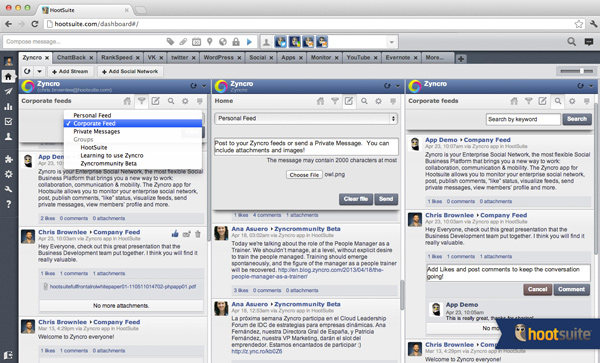 The Zyncro app offers a sleek way to simplify user workflow and communicate with co-workers. Through the HootSuite dashboard, you can publish comments, like updates, send private messages and more.
Do you already use Zyncro? Try out the integration to manage all your social networks on one platform.

Experiencing Information Overload on Your Twitter Feeds? The RankSpeed App Can Help
With new updates popping up every minute on your Twitter feed, finding the right information can be a hassle. To complement the capabilities of the dashboard's search streams, the RankSpeed app automatically categorizes Tweets for you. This Twitter tool has the ability to filter streams into more than 3 million topics and 500,000 categories — users can also filter by positive and negative sentiment.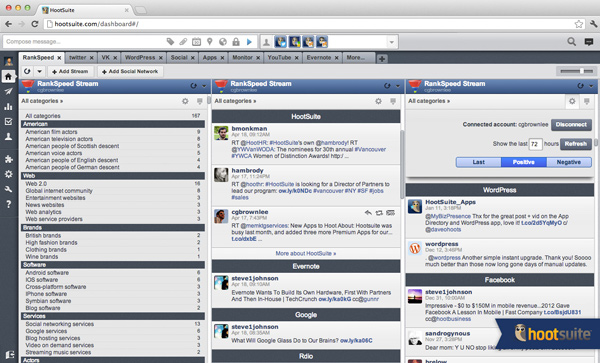 Beyond search streams, this integration will enable users to easily find Tweets that relate to specific topics of interest. It automatically categorizes your Twitter feed so you can focus your attention on what you care about, and discover content more efficiently.
Filter out the noise on Twitter. Try out the RankSpeed app today:

Track What Your Customers Are Saying with ChattBack
In the realm of service-oriented businesses, it's all about honing in on customer feedback. Beyond social outlets like Twitter and Facebook, the HootSuite dashboard now offers a new integration with ChattBack, a social customer service tool that enables businesses to receive and respond to customer feedback and questions via text messages.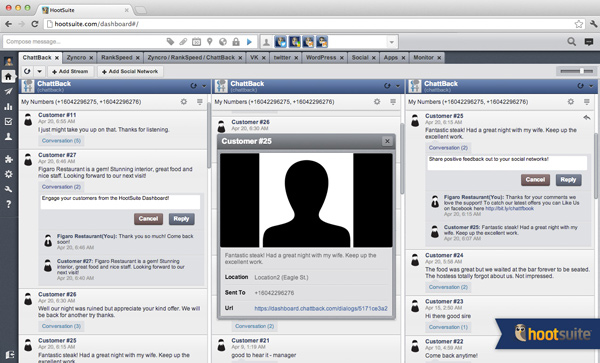 Businesses can respond directly to customers providing negative feedback and further amplify positive feedback. By giving customers the power to communicate directly and anonymously, the ChattBack app generates valuable intel into the business' customer base.
Want to streamline all your customer feedback? Download this new app for your HootSuite dashboard:

Always Improving
As social continues to integrate itself deeper in our everyday lives, HootSuite continues to expand and improve its platform through more integrations with a wide variety of tools that fit your needs.
Try them today. Log into HootSuite and visit the App Directory to get started: