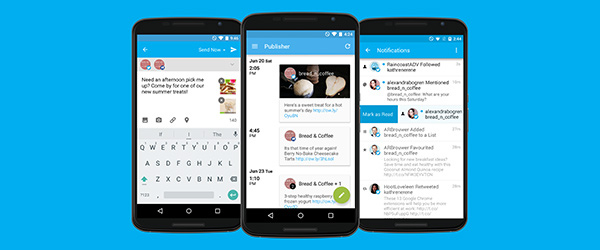 Hootsuite Android v3.1: Enhanced Image Sharing and Publishing
A few months ago, the Hootsuite Android app underwent a major overhaul. Since then, we've been listening closely to your feedback, and today we're excited to announce an Android update that will make it even easier to manage social media on the go.
In this update, you'll find improvements to image sharing, scheduled content management, notifications, and more. Designed for the busy social media professional, the updated app will save you time and help you remove roadblocks to effective social media management.
Try the new and improved Hootsuite Android app!
Highlights of this Android release include:
Improvements to image sharing
Easier management of scheduled content & social notifications
Playback support for videos and GIFs included in posts
Simplified image sharing
Since visuals are key to social media success, we've made enhancements to give your content additional exposure and engagement across your social networks. The improvements span from when you first select your images, to how they appear on social networks.
Compose redesigned
First off, we made some tweaks to our Compose tool to save you time and make it easier to publish content. The Send button is more prominent at the top, with a new drop-down that includes scheduling options.
Distinct image upload & camera buttons
Now it's easier to select an image from your gallery or quickly snap a photo — a perfect tool for real-time marketing or event management.
Preview your images before you post
After you attach images in Compose, you can instantly preview what they look like. To do this, simply tap the thumbnail that appears on the right.
Links no more!
When publishing to Twitter and Facebook, images are also no longer hidden behind a link, so your followers can immediately see your visual content.
Edit scheduled social media posts
People often turn to their mobile devices when they're in a rush, travelling, or away from their desktop. When changes need to be made, you need the flexibility to adapt your content. That's why we added a top requested feature – the ability to manage scheduled messages.
As a best practice, you should always review your content before it goes live to the public. The new Publisher section in the app helps you stay organized and lets you view your upcoming social content before it gets sent. Noticed a typo, bad link, or forgot to add another social profile? You can quickly make the necessary edits on the go, so you can rest assured your content is in good shape.
To edit your scheduled messages:
Start by accessing the app's main navigation via the top-left menu
Tap Publisher to view all messages scheduled to your social networks
Tap the message you'd like to edit
Tap the pencil icon to open Compose, where you can make changes
Tap Save to save your changes
Notification improvements
As social media moves quickly, it is important to keep up with events and social posts that require your attention. For that reason, we've made it easier to manage your Hootsuite notifications. Starting with a new notifications shortcut in the app, this acts as your hub for viewing your latest social profile activity, including mentions, direct messages, retweets, and others.
Effective social media management not only involves monitoring your own social networks, but also staying on top of conversations, keywords, and trends relevant to your interests or industry. On Hootsuite, you can set up search streams to capture these. Want to closely monitor a particular search term? Simply tap the bell icon beside it within Tabs & Streams view to subscribe to it. By doing this, you'll have more frequent updates for when new posts appear.
Once you've addressed your notifications, you also can mark them as read in one quick swipe.
These notification improvements will help you take action on everything from brand mentions to industry-relevant discussions, as they happen. Best of all, push notifications are now free in the app.
Playback support for videos and animated GIFs included in posts
The internet is alive with videos and GIFs, and it's becoming easier to find them. When you stumble across videos and GIFs on social media, it can be inconvenient to have to click a link and leave the app to view them. We understand this annoyance. That's why we made it possible to play any videos or GIFs included in a post directly in the comfort of our app.
Hootsuite Android v3.1 is available today on the Google Play Store.
We hope you enjoy this Android update. If you have any feedback or suggestions, please tell us here.