YouTube Analytics and Vidyard Among Six New Apps Added to the HootSuite App Directory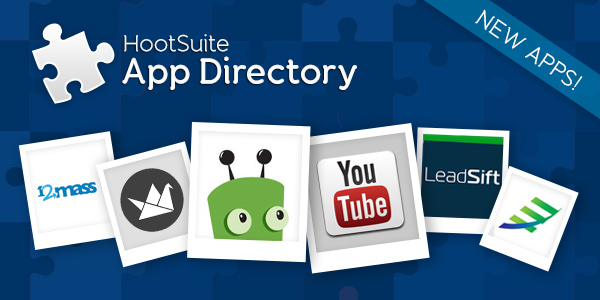 The HootSuite App Directory is thrilled to release a wave of 6 new video and social apps that assist with video brand marketing and enrich your social media management toolset.
Online video has become an essential marketing tool. Done right, a video can tell your brand's story while creating a visual and emotional association that leaves a lasting impression on your audience. But with so much rich video content readily available on YouTube, Instagram, Vine and elsewhere, brand marketers need effective strategies to capture the attention of a global audience.
Does the performance of video campaigns affect your business' bottom line? Have you ever wanted to know the exact moment when your audience clicks away from your brand videos? And how well do you know your video's audience and the key influencers that can expand your reach?

Introducing YouTube Analytics
Video is an awesome addition to marketing campaign. It gives brands a leg up over competition and ignites emotions in customers around the globe. For these reasons, we've teamed up with VidRocket to develop and launch a YouTube Analytics app.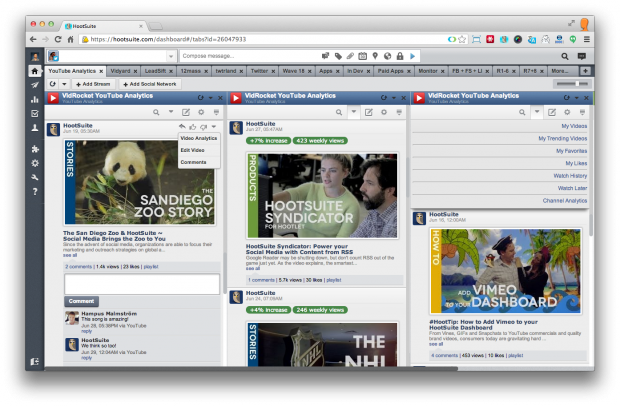 Offering invaluable insights into your videos and channels, the YouTube Analytics app provides rich analytics data right to your HootSuite dashboard. Get detailed analytics about your audience like how engaged they are, where they live, what their demographic is and where they discovered your content – for every single video. Dive deeper to gain insight on channel and video analytics such as traffic sources, top search terms, monthly subscribers and audience demographics, mobile analytics and more.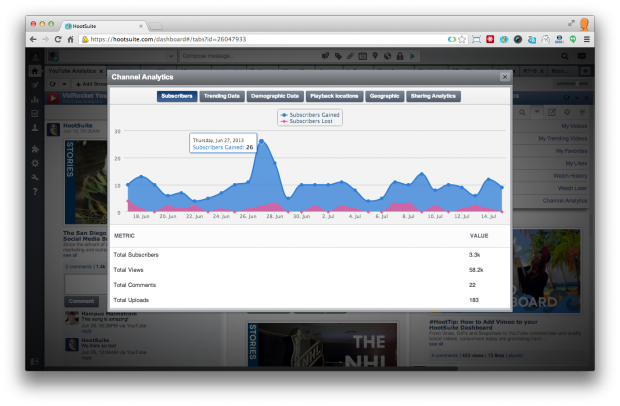 By monitoring channel analytics in stream, you can focus on amplifying the videos that are performing well and grow your reach on YouTube.
More YouTube Analytics Features:
Discover which of your videos are popular and trending on YouTube

Upload and edit your videos with title, tags, description and privacy settings

Add videos to any of your YouTube playlists

Like, comment on and share videos within HootSuite

Reply to comments in stream
*YouTube Analytics is a Premium App that includes a 2-day free trial

Introducing Vidyard
Now that you're making video content to engage with customers, how do you get the most out of your video investments? How do you ensure that views turn into sales? Vidyard is a powerful video analytics and hosting platform designed for content marketers looking to drive traffic and sales with video.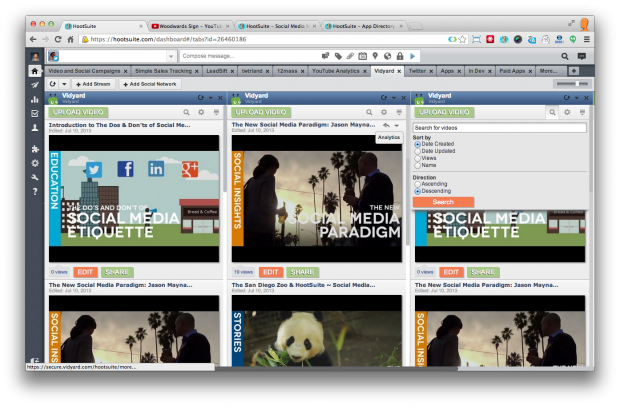 The Vidyard app in HootSuite allows you to manage all of your video content right in your dashboard. Upload, edit and share your videos quickly and easily across multiple social networks. Dive deeper and access detailed analytics like who's watching what; for how long, or when your audience dropped-off or re-watched a section. This provides content marketers and producers with invaluable insight to tweak content for optimal performance.
Watch the video to see how it works:

Introducing New Social Apps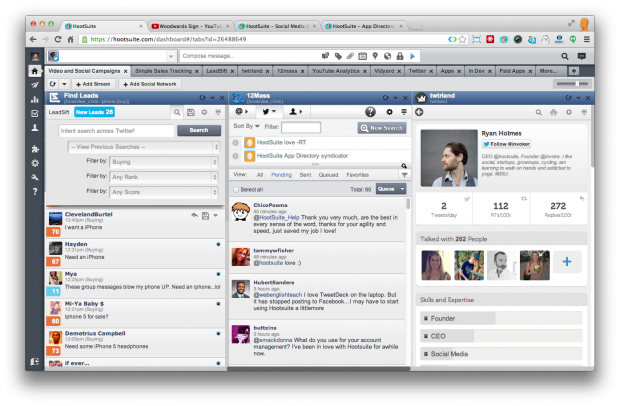 LeadSift ~ Social Media Lead Generation
LeadSift finds and delivers potential leads from Twitter and classifies their intent. In HootSuite, the LeadSift app automatically organizes direct and indirect leads by scanning Twitter and classifying (or rating) a conversation's intent: whether to buy, churn or for customers requiring support. Easily filter through the noise and find the right conversation. Try it out today – Install LeadSift app.
*LeadSift is a Premium App that includes a 2-day free trial
12Mass ~ Optimize your Conversation
12Mass helps brands talk on Twitter with large audiences significantly faster and more efficiently. The 12Mass app for HootSuite offers advanced Twitter search, grouping of similar tweets together and A/B testings with different responses to hone in on your best messages. Increase your ability to communicate with more people by using scripted responses. Build a library of your responses to choose the best response, while keeping it relevant and personal. Start optimizing your conversations with A/B tests, click rates, and more – Install 12Mass app.
*12Mass is a Premium App that includes a 2-day free trial
twtrland ~ Browse the Social Web
Twtrland is a social intelligence platform that helps you understand your customers and identify your brand's influencers. The twtrland app in HootSuite allows you to see a visual snapshot of any Twitter or Instagram user including influence metrics, audience demographics, influential skills and more. This helps you to better understand the person behind the tweets, while engaging and nurturing relationships through the HootSuite Dashboard. Find influencers by skill and location to strategically build new relationships and increase your network. For a social intelligence stream inside your HootSuite dashboard – Install twtrland app.
Simple Sales Tracking ~ Monitor Sales and CRM
Simple Sales Tracking is a web-based sales CRM software for tracking, analyzing and forecasting individual and team sales pipeline and contacts. In HootSuite, the Simple Sales Tracking app allows you to quickly create new leads from a Twitter or Facebook post, specify the warmth of the lead and add details. The app will capture the social message and save it to retain the context of the lead for easy tracking. Start generating leads today – Install Simple Sales Tracking app.
Did you know that our App Directory has 61 apps that help enhance your brand presence and enrich your social experience? Check them out today.

Need help installing apps? Check out our App Directory Guide. Also, be sure to follow @HootSuite_Apps for the latest updates and news on the HootSuite App Directory.
Are you an organization or developer that would like to work with HootSuite? Learn how you can integrate your app using the App Directory SDK.