HootSuite adds Box to the App Directory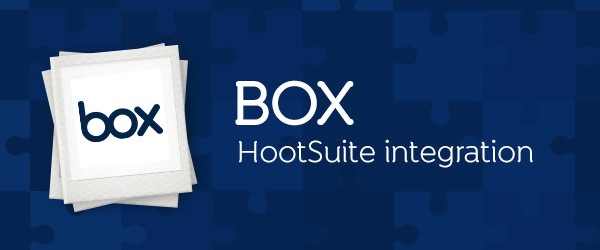 Cloud apps have become the go-to storage space for countless companies across the globe. But the cloud has much more to offer businesses than simple file storage.
Now, HootSuite has partnered with Box to help you collaborate, archive and publish, all in the cloud, and all in the HootSuite dashboard. Available in our App Directory, the new Box for HootSuite integration enables you to work better with your social media teams to streamline content management and delivery. Specifically, you'll now be able to share social content, archive your outgoing social posts, and save important tweets you see come across your stream to your Box folders.
Let's look at each of these use cases separately.
Share your Social Content from Box
When you add a Box stream to your Dashboard, all of your Box files become immediately accessible in the stream. Your content teams can then work and collaborate in Box to drive your social marketing efforts.
For example, let's say you have a Social Selling Guide in Box that you'd like to post on Twitter as part of a campaign. Locate that folder in your Box app stream within HootSuite, pick the file, and then send it off to your social networks.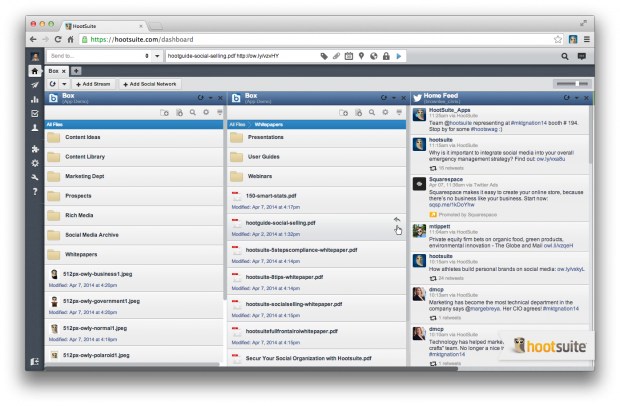 Archive Your Social Posts
Interested in doing campaign post-mortems? Need a record for outbound social messaging? If so, archiving your posts from the Box App for HootSuite is a useful way to keep track of your campaigns. You can also store your social messaging history directly into your Box account for further collaboration with your teammates.
In order to do this, fill out the message publisher as you normally would, but before you hit the "send now" button look back at your networks and choose the Box option. You will have the option to save each post to a separate Box file or append it to an existing catalog of your activity. All of this will go straight to your shared Box folders.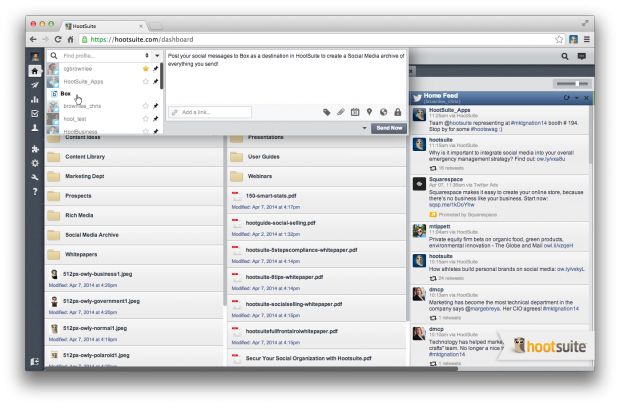 Archive Social Activity
Ever see something awesome on Twitter or Facebook but forget to take action? Imagine you have a follower that says something amazing about your social media campaign, but you want to retweet it at a different time or share it with your boss during a weekly meeting. Now, you can mark these valuable tweets or posts and save them to a Box file where you can review them later or share them with your team.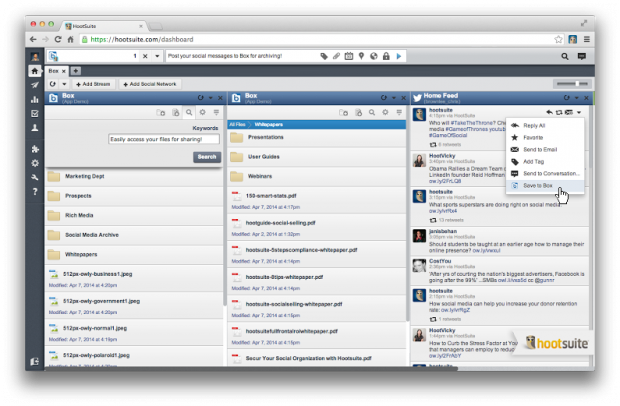 Collaboration, social publishing and storage, all available in one place. The Box App for HootSuite is available to Free and Pro customers for $1.99/mo. This App is free for HootSuite Enterprise customers. Learn more and get the Box App here.