HootSuite Launches Developer Program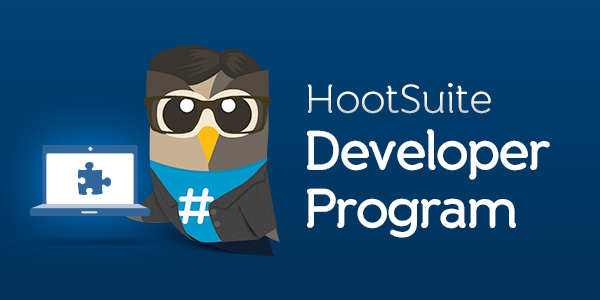 Since launch, HootSuite has sought to integrate our users' favorite apps into our market-leading App Directory. Today, we are proud to extend a wing to the developer community with the announcement of the HootSuite Developer Program.
With this new program, app developers have an amazing opportunity to create innovative, high-quality apps that reach over 6 million HootSuite users. Additionally, developers can now easily test concepts and create brand new subscription-based revenue streams through this specialized program.
Learn more about the HootSuite Developer Program:

With the recent launch of Premium Apps in the HootSuite App Directory, HootSuite is seeking developers interested in creating best-in-class app integrations to improve and grow the directory's ecosystem of apps and integrations. The program offers app developers access to a new source of recurring revenue, in addition to a number of other great benefits including app hosting and developer support.
"As a developer of a number of apps in HootSuite's App Directory, I've seen the App Directory go through significant growth and development over the last year, and I like where it is headed," says David Dymytryshyn, App Developer of Synaptive Networks. "The inclusion of Premium Apps can only benefit developers who are already reaping the rewards associated with contributing to a product as widely-used and widely-praised as HootSuite."
With more than 600,000 apps installed in the last 15 months, the HootSuite Developer Program provides a prime opportunity for app developers looking to monetize and gain exposure for their work. Successful applicants will have access to:

Monetization: All direct revenue generated by Premium Apps in the HootSuite App Directory will be shared between the developer and HootSuite, offering the potential for significant recurring-revenue generation through a unique subscription-based model.
Easy Setup: It's quick and easy for developers to get their apps up and running, through hosting and deployment solutions that can easily be scaled.
Developer Portal: HootSuite provides a number of resources for developers, including a feature-rich SDK, admin dash, forum, code samples and more.
Marketing Support: All app developers and integrations they develop will have the opportunity to gain exposure through HootSuite promotional programs.
Interested in contributing to a dynamic ecosystem and generating revenue? Build an app for the HootSuite App Directory by applying for developer access today.