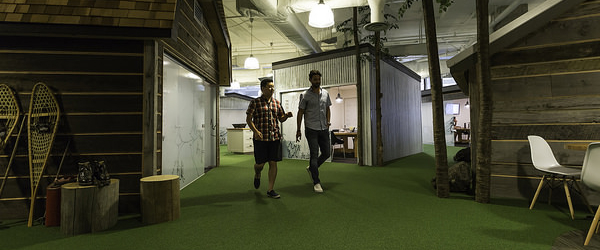 Hootsuite Shows Off HQ2 in Anticipation of the Latest #HootHire
Last Tuesday, we invited members of the local media to check out our newest Vancouver space at Main and 5th Avenue. Lead by Owly, as well as members of our Communications Team, journalists explored the second Headquarters office (or HQ2, as it's better known to us Owls), which sits in the heart of the Mount Pleasant neighborhood just three blocks away from the first Headquarters.
Checking out @hootsuite's new #HQ2 space on a #hootpress tour with this guy! http://t.co/EFyvJQVusJ

— Vancouver Is Awesome (@VIAwesome) July 22, 2014
Some highlights for the visitors included the famous outhouse-style meeting room, walls clad in reclaimed barn wood, and the fireside beanbag chairs in the Sunken Lounge.
#HootPress fireside chat with @invoker the West Coast ski cabin motif is throwing off a nice vibe pic.twitter.com/w93lQtq8ku — John F. Gray (@grayspective) July 22, 2014
HQ2's ski cabin theme really resonated with the writers, many of whom call British Columbia home. "The design of [Hootsuite's] new space encompasses so much of what there is to love about British Columbia," writes Bob Kronbauer of Vancouver Is Awesome. "The plaid couch cushions and antique skis, snowshoes, fishing gear, and oil lamps spread around the office are as evocative of rural Quebec or Ontario as rural British Columbia," CTV Vancouver's Ian Holliday added in his description of the office tour.
But little did the writers know it all started out as a former CSIS building, complete with bulletproof glass and heightened security. After frenzied 4 months of renovation, it turned into the beautiful West Coast space the press got to see last week.
While we're always delighted about welcoming people to visit the offices, we don't do it to show off (okay, we do want to show that we're not fibbing about the place—"No, seriously, we really do get fresh juice to energize our Monday mornings!"). We make the Headquarters awesome so we can attract awesome people who are happy to come to work every day—no "case of the Mondays" or TGIFs in these West Coast-style offices.
We are looking to add over 100 new Owls to the nest in the next 3 months. Despite the fact that our HR department receives over 500 (!) resumes each week, we love meeting candidates face-to-face.
Think you can contribute your talents to Hootsuite's reputation as "Vancouver's flagship tech company" and "the rapidly expanding social media stalwart"? If the answer is 'yes', don't wait until your resume gets noticed—come to our next #HootHire event in Vancouver, which will be held on Wednesday, August 27th, from 5 to 7pm. You can visit our new HQ2 office at 111 East 5th Avenue, or check out the nap room in HQ1 at 5 East 8th Avenue. Bring your resume and fresh ideas about revolutionizing communication.
Check out more pictures of the new Headquarters: