HootSuite iPad Revealed! See Screenshots & Sign-up for Alert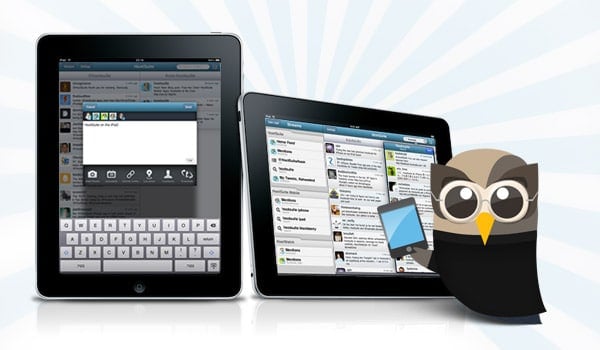 HootSuite's Mobile Fest is in full swing with BlackBerry, Android and iPhone owls all out in the world for your free mobile fun.
Since their release, these owls have been met with great excitement, but now the question everyone is asking is, "What about iPad?" We don't have a CEO in a black mock turtleneck to announce it, but we do have the app… almost. It's not *quite* ready yet, but in the spirit of mobile fest, we're sharing a sneak peak and an early chance to join the mobile iPad flock.
Owl Unveiled
We've hand-crafted a mobile app especially for the iPad and designed it to compliment your HootSuite web account. This new owl makes use of the tablet's larger screen size to maximize the tools you'd typically use on the device, plus includes most of the goodies that you currently enjoy in HootSuite.
Much like the HootSuite iPhone and web, HootSuite for iPad includes support for multiple social networks and profiles, message scheduling, and on-board stats. Plus, we've packed in plenty more to help owls on-the-go manage campaigns and monitor social networks anywhere from bus stops to board rooms.
Take a Look
Here's a collection of screenshots from HootSuite iPad to explore. Click for larger views:
Bevy of iPad Treats
Are you iPad ready? Here are some of the things to look forward to with the new iPad HootSuite app:
Multiple social networks – Manage several profiles on Twitter plus Facebook (profiles and pages)
Broadcast tools – Message scheduling, reply-to-all and forward by email + Instapaper
Translate messages – Get the gist quick with on-the-fly translation to and from 50+ languages
Geo-location aware – See update locations overlaid on a map to know where the Tweeters are
Check-in – Earn your Foursquare badges & mayorship by checking-in at your fave places
Short URLs – Shorten addresses and track click-stats with a built-in Ow.ly tool
Swipe-able columns – Scroll streams simultaneously in a customizable multi-column layout
Portrait or landscape – Change your view, zoom in, turn it sideways to your liking
Upload photos – Share and store images for easy distribution and tracking
Tap navigation – Jump to the top of a stream with a tap
and plenty more…
Pre-Flight Sign Up
HootSuite for iPad isn't quite ready to go in the iTunes App store today – but, we'll let you know when it's ready. Consider signing up for HootSuite iPad email alert to be among the first to fly with this new owl.

And like the rest of the mobile owls in the HootSuite nest – iPhone, BlackBerry, Android – HootSuite iPad will be priceless (yes, that means free).
Talk to Us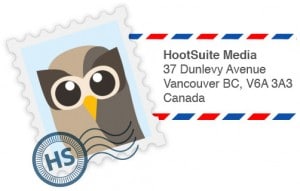 Seek more Owly goodness? As part of our mobile fest postcard promotion, send us a postcard answering "HootSuite Helps me…"
The folks here at the HQ will select 20 favorites and send them a Hootkit of limited-edition owl stickers and other swag. Postmark by October 30th to play and be sure check out the full details on the Mobile Fest kick-off post. We look forward to your cards, notes, letters and aerogrammes as well.