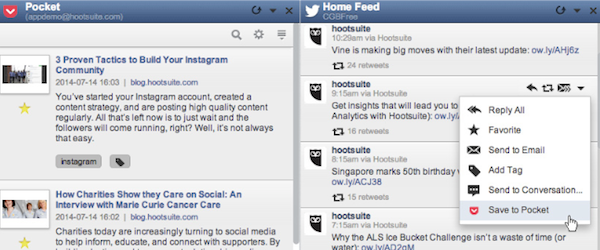 Access your Favorite Content Faster With New Pocket app
Since great content can be discovered at any time, people have become concerned about missing the next big thing. You do your best to stay ahead of breaking industry news or the latest culture craze, but distractions often get in the way of you saving and consuming important content.
Thankfully, Hootsuite and Pocket have partnered up so you never have to worry about missing thought-provoking or engaging content. Pocket, the leading "save-for-later" service, enables you to save content on any device, any platform, and anytime, and now you can directly access your Pocket content from the Hootsuite dashboard.
Install the Hootsuite for Pocket app today
The Hootsuite-Pocket integration allows you to:
View all your saved articles, videos or images
Send Twitter and Facebook posts in Hootsuite to Pocket
Manage content by favoriting, archiving or deleting saves
Always find what you're looking for with robust search options
Conveniently share Pocket content with all your social networks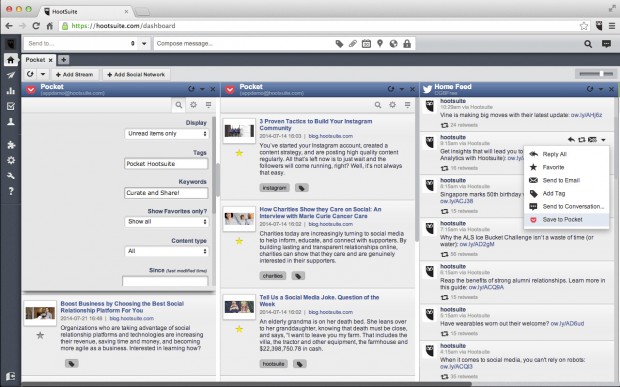 We asked Ryan, our CEO, what's in his Pocket for Hootsuite?
"I'm always reading on the go or between browser tabs while working, so I'll save social media news, thought leadership articles from my peers and blog posts from Hootsuite fans with Pocket.", says Hootsuite CEO, Ryan Holmes. "Collecting highly relevant, quality content ready for sharing with my followers later that day in Hootsuite is a massive time saver."
"Our new partnership with Hootsuite makes it the optimal tool for anyone constantly finding interesting content through social media" says Pocket CEO, Nate Weiner. "Now with Pocket support, Hootsuite lets you quickly save the great content you come across, keep it organized through tags and archiving, and seamlessly share it with your audience and followers. And you can do all this within the Hootsuite Dashboard."
There are many other great ways to use the Pocket integration:
Business owners can save interesting Twitter and Facebook posts they find in Hootsuite to Pocket for reading later.
Social Media Managers can track the Pocket content they intend to share with the social networks by using the Hootsuite tag
Businesses with multiple products can tag their Pocket content with different tags for each social media accounts, then set up multiple Pocket app streams that separate content for an efficient, targeted approach to social media sharing.
Install the Pocket app for Hootsuite today and tweet us about what's in your Pocket for Hootsuite. Use hashtag #Pocket4Hootsuite for a chance to win a Pocket Premium and a Hootsuite Pro account free for an entire year!
Install the Hootsuite for Pocket app today
Not a Pocket user? Enjoy a free month's trial