HootSuite Reaches 5 Million Users, 1.3 Billion Messages Sent ~ Infographic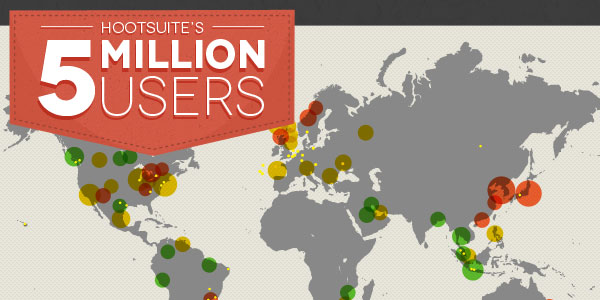 On October 12, 2012, HootSuite reached 5 million users. Who uses HootSuite, and where in the world can they be found? We've put together a new infographic that illustrates our journey to-date.
5 Million Users Strong
What does five million look like? At five million users, we span the globe. Our expansion into Europe, Asia and Latin America is driving our growth, and there's a good chance we speak your language. How fast are we growing? The first million took nearly two years, and the fifth million took just five months.
We are proudest of our international growth and global reach, which has been sparked by listening to users on the ground and responding to their requests. In doing so, HootSuite Community has hosted over a 100 HootUps, assigned regional Diplomats, translated our tools into 20 languages and offered regional apps. Our tools are in use on screens in such diverse locales as Irkutsk in Siberia, San Francisco advertising agencies, London multinational brands, Egypt during their revolution and over on the tiny islands of Palau.
To celebrate our translation project and global expansion, we prepared this short video, inviting you to hop on the bus:
Some of the growth on the road to five million seems to point toward the sky, like how 79 of the Fortune 100 use our dashboard for social media management. And yet some of that growth feels as if it's at our roots, like adding depth in our 24-hour support department, which now speaks 18 languages. That band of committed Owls sends 350 support tweets a day, and they respond within minutes.
On the road to five million, we have added native support for seven social networks, and 29 more applications have been added to our App Directory.
In 2012, our nest of owls grew from a small parliament of fearless social media changemakers to over 230 full-time employees, including a new office in London. That brings our office dog count to 15, and there are always several dozen cycling commuters, even on the wettest and coldest days.
Adding Depth to Our Platform with Recent HootSuite Launches
On October 16, HootSuite Enterprise launched Command Center, our robust, multi-platform solution to deliver real-time command and control of Enterprise social initiatives from one central hub.
In an effort to create an internal collaboration tool that empowers teams to focus, discuss and collaborate in real-time conversation threads surrounding selected social messages, we also launched HootSuite Conversations in September.
We place a high value on team collaboration, so we created HootSuite Teams. This functionality enables your organization to streamline your social media strategy by managing multiple teams under one consistent organization. Plus, with the different permission levels, you can prevent social media catastrophes.
From everyone at HootSuite HQ, we would love to extend a hug to each and every one of all five million of you.