#HootTip: Bump to Follow with #HootSuite for #iPhone
Smart phones are revolutionizing the way people interact and how we are using technology. For those of us who use smart phones daily, we know that there are apps that save time and there are apps that kill time. HootSuite for iPhone is an app that saves time. To help get you acquainted with the Dashboard's mobile functionality, or just give you a refresher, we have a new #HootTip all about a handy HootSuite feature.
Bump to Follow on Your iPhone
Even in this digital age, face-to-face networking still plays an important part in building and maintaining relationships. While business cards are traditionally exchanged at meetings and events – there are new fast and paper-free ways to share contact information. Learn how to use "Bump" to automatically follow other HootSuite users on Twitter. This handy mobile feature is a fast and fun way to bridge your offline interactions into online relationships.
Here's How
Open your HootSuite App on your iPhone, and tap More, then Contacts.
Next, press the "Bump to follow" menu, and tap the Twitter handle you want followed
This will bring up the Bump feature in HootSuite.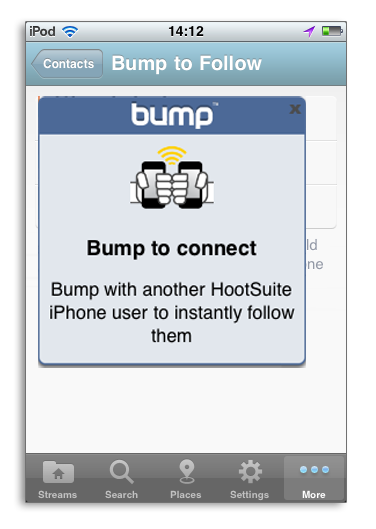 Once you've done this with the other iPhone, "Bump" the phones together and presto! You're followed!
Like many updates, we've added these handy features based on your helpful feedback. What's your next idea? Also keep an eye out for a new #HootTip each week – they're short, sweet and re-Tweetable so you can share your HootSuite expertise with your friends and followers. Some lucky RTers may just find themselves with a #HootKit… It's our way of saying "thanks for spreading the word."