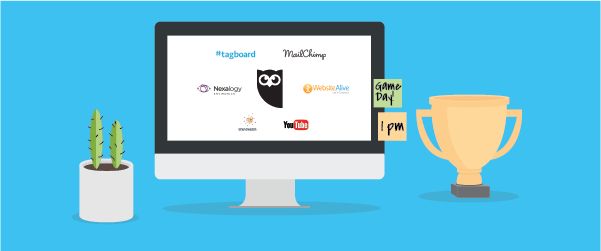 Help Your Sports Team Win the Internet with These 11 Social Media Apps
The nation is watching. Your city is electric. And the fans will soon fill the stands. It's game day and here are the social media apps you need to drive social traffic, create an engaging second screen experience, and earn loyalty and revenue from fans.

It's three hours before kickoff. You find a quiet spot in the stadium and open the Reddit Keyword Monitor Pro app for Hootsuite to immediately find relevant fan content about your team that is just starting to trend.
With the TrendSpottr app for Hootsuite, you scan the top trending sports hashtags for the day.

You hear your team trickle in. It's time to coordinate pre-game content in your Social Media Command Center.
You use your game day template to prepare your social media team, dividing up the day's content and tasks. You've borrowed a few tactics from the Seattle Seahawks' game day template.

Last night, you captured a video interview with Maverick McGavin, your team's star quarterback. He is known for his unpredictable interview style, which fans love to turn into memes on Reddit.
You quickly post a snippet of the interview on YouTube, using the YouTube app for Hootsuite. You use the same YouTube app to bulk upload and schedule additional clips for publishing later in the day.

You've asked fans to share a photo of their first football game. It's a contest you run every year. You quickly create a photo caption contest with Hootsuite Campaigns.
You can also collect email signatures from contest entrants. Next week, you'll send them a special email offer for new merchandise in your team's online store.
Your email campaigns have really been driving revenue lately. With the Mailchimp app for Hootsuite, it's easy to monitor your latest email campaign performance. This lets you grow your email list right from the Hootsuite platform.
Finally, the Shoppost app for Hootsuite makes it easy to sell products from your Amazon Webstore. You use the Shoppost app for Hootsuite to quickly post merchandise on Facebook, Twitter, and Pinterest. Fans can click and buy right in their social media feeds.

Your team finds a large group searching for 10 tickets for next Sunday's game.
You use the WebsiteAlive app for Hootsuite to send URLs to Twitter or Facebook contacts so the user can initiate a live chat. Questions from fans turn into more and more ticket sales.
The social team also notices a few season ticket holders with complaints about merchandise they ordered from your website. With WebsiteAlive, you can provide instant support and manage a team of customer service operators right from the Hootsuite dashboard.

The fans are pouring in. You want to make sure that everyone is having a good experience.
Giant festivals such as SXSW use Hootsuite and Nexalogy to quickly find security and line-up issues in a sea of Twitter noise. So, your team uses the Nexalogy app for Hootsuite to look for venue issues.
You notice one trend from the real-time data: a group of rowdy fans are making families uncomfortable at the tailgate party near the stadium. A hashtag is starting to trend and photos of the rowdy group quickly gain retweets and shares.
You alert security on the ground and they arrive within minutes to clear the group.

The football and tweets are flying. As your social team live tweets content, you use the Chartbeat app for Hootsuite to view real-time traffic and monitor your best performing social content.
Did a piece of content connect with fans? You quickly use Hootsuite Ads to amplify your best performing content. You can create a Facebook ad with Hootsuite in two simple clicks.
It's not just about the fans in the stands though. You use the Tagboard app for Hootsuite to create an innovative second-screen experience. With Tagboard and Hootsuite, your team can quickly find audience content in Hootsuite streams and push it to Tagboard's real-time Social TV display technology.
You find a funny Tweet from a TV viewer at home. With Hootsuite and Tagboard, you instantly push it live on the stadium's jumbotron. The stadium roars with retweets.

Your team is busy scheduling and creating content in Hootsuite. You take a few moments to conduct a real-time analysis of the best performing content so far.
Your boss loves data on fan engagement. So, you check on your real-time Hootsuite stream of Brandwatch queries. You see instant data about what's resonating with fans, giving you a wide view of 80 million online sources including blogs, forums, video, news and review sites, and major social networks.
With Brandwatch and Hootsuite, you can also use Brandwatch's advanced sentiment analysis. This shows you the Impact Score for each mention, helping you understand what content your fans love to share.

The stadium is empty and it's time to go home. But before you can leave, your boss wants to know the big wins of the day.
Hootsuite Analytics makes it simple to build a live report, showing global social media activity for the day. The report includes total traffic, fan engagement, top performing content, sentiment scores, PR mentions, and total reach.
You create your report and click share. Your boss is reading it as you walk across the empty parking lot to your car.
Tomorrow, you'll use Hootsuite Impact to translate social media metrics into dollars and cents.
With Hootsuite Impact, you can track the lifecycle of your fans, target well-performing content, and show how social media traffic is producing revenue and season ticket holders.
More resources for sports teams
Download Hootsuite's Sports and Entertainment Toolkit and discover the proven ways that sports teams are driving social traffic and earning revenue from their fans.
Your toolkit includes strategy guidance from industry experts including how the Vancouver Canucks hockey team grew their Twitter fan base by 800% and Facebook followers by 600%—while successfully tracking ticket sales to specific social posts.