[Infographic] Agents of Social Media: 1 Billion Messages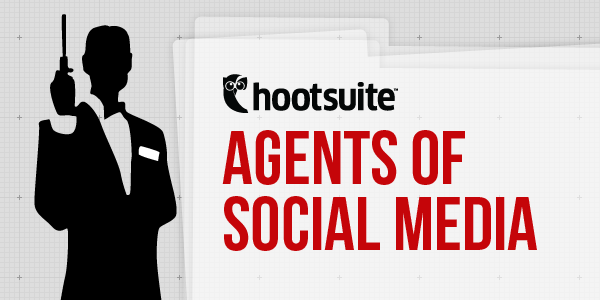 Dear Agent,
HootSuite has recently hit two milestones: 1 billion messages sent and 4 million users. Our users are influential, engaged and active across multiple social networks. To celebrate these achievements, our owls in the field have collected a dossier of statistics in the form of an infographic.
See this Secret Agent inspired infographic for information about HootSuite's user base including: user and team growth, mobile signups, messages sent, HootSuite's global network, advertising agencies using the dashboard and more.
Your mission: Continue being awesome and contributing to HootSuite's influential and highly engaged user community.
Agent Owl
The HootSuite Agent count is well over 4 million and we're growing at a rapid speed. Compare us to other high-growth companies: Yammer, Kickstarter and Basecamp.

Our agents are also more influential and engaged with 21 times more Twitter followers than the average Twitter user and over 1 billion messages sent since January 2009.
Social Media for Business
The dashboard is a powerful business tool with more Tweets sent via HootSuite by advertising agencies (not the spy kind) than native Twitter or TweetDeck.
The business trend towards social media collaboration is certainly something HootSuite has taken into account. After listening to user requests we made a dedicated effort to buff up our Enterprise and Pro offerings – focusing on support, pro services and account management. The result? Huge growth within Pro and Enterprise teams – 450% and 4706% over two years.
Interesting fact: the typical HootSuite user is college educated, 25 – 44 years old, female and a business user.
Globally Tapped In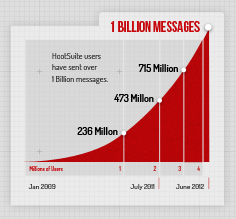 You and your fellow users are constantly tapped in. We've sent one billion messages from mobile devices, desktops and tablets. Whether it's political revolutions or the NBA draft – if something goes down in the field, HootSuite users are on the scene ready to report on their findings.
HootSuite has a global network with a wide-spread of users found across the world. Our users send messages all over the world on a worldwide network with 38% of messages being sent in the US, 12.5% in Continental Europe and 10% in Japan. Pass the sushi and serve up that martini (shaken not stirred), our users will take 'em to go as the jet fuels up for the next mission.
This Message Will Self-Destruct

In closing, your mission is to continue helping create the best dashboard for your needs and nurturing the HootSuite community.
Do this by providing feedback, spreading the HootSuite story and making the world a better place through sharing.