Manage RSS feeds with HootSuite
HootSuite has a few nifty tricks up its sleeve for managing RSS feeds. Here are a few things you may or may not know about feeding RSS with HootSuite:
Pause a Feed
We've made it possible to pause your feeds with HootSuite — with a click of a button. In the RSS/Atom section of your settings, simply press the pause button. Press play if you want it to resume. We'd like to think that the hardest thing about this is wrapping your mind around how easy it is.

Private Analytics
When you feed your RSS content into HootSuite, rest easy knowing the analytics are private. Your competition can't peek at your numbers. Unlike other Twitter RSS services that depend on third parties for their URL analytics, HootSuite integrates both RSS and analytics in one app. This means better security for you (and less intel for competitors).
Multiple Accounts
We've saved the best tip for last. With HootSuite, multiple Twitter profiles can have access to one RSS feed. You can choose which accounts have access, and when they have it. One RSS feed can be configured to send to all your accounts, a few of them, or just one.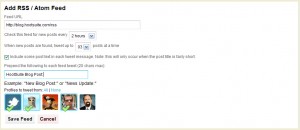 Here at HootSuite, we have tested many helpful ways to integrate RSS feeds with Twitter. However, we're only scratching the surface. What tips do you have?