When Agriculture Meets Social Media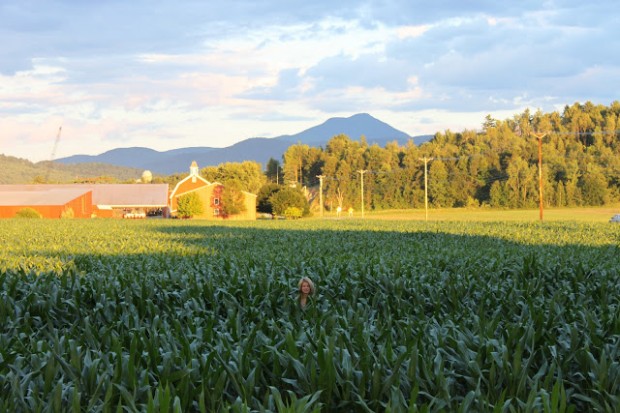 Meet Alison Kosakowski. Her story starts in the bustling Big Apple, where she championed advertising and communications campaigns for international brands like Playtex, Hasbro, Sharp Electronics, and Maersk, the world's largest transoceanic shipping company. But when the captain of a Maersk ship was kidnapped by Somali pirates in 2009, Alison's story was flipped upside down.
As Maersk's communications manager, Alison went to the farmlands of Vermont to help the captain's family handle the media during the weeklong crisis. And then she met Ransom Conant, a sixth generation dairy farmer and her soon-to-be husband. Within months, Alison had left the New York City area, moved to Vermont and started learning the ropes of farming.
Tweeting about Chickens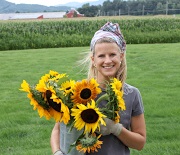 But her lifetime of communication skills wasn't thrown to the wind. Officially, Alison is the Marketing and Communications Director for the Vermont Agency of Agriculture, where she helps build branding around the farming industry. Unofficially, she's a dairy farmer, a writer whose stories of beekeeping and learning to farm inspire everyone they touch, and a social media teacher for farmers looking to market themselves better.
We connected with Alison to discuss why teaching farmers the value of using social media to promote agriculture is important and how HootSuite can help.
When Agriculture Meets Social Media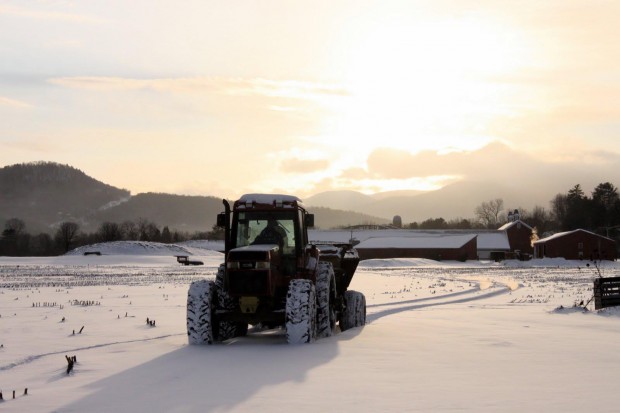 "Farmers are time-pressed. Farmers love to plan. And farmers want to see results" – Alison
Sam Milbrath, HootSuite: Tell me a bit about your new life as a dairy farmer's wife and agricultural marketer.
Alison Kosakowski: I wear a lot of hats.
My husband, Ransom Conant, is a dairy farmer. We live on the family farm in Richmond, Vermont. He is the sixth generation of Conants to farm this land. In addition to the dairy, my mother-in-law runs a farm stand here in the summer. We grow our own sweet corn and pumpkins. I also grow and sell cut flower bouquets. I love working on our farm, sharing stories about our farm with our community, getting dirty, and being part of our family business.
In addition to helping out on the farm, I am also the Marketing and Communications Director for the Vermont Agency of Agriculture. I manage events, PR, and all of the Agency's media channels (print, web, social). My job is about building a brand for Vermont Agriculture. When it comes to farming and community supported agriculture, Vermont is really on the cutting edge, and a big part my job is to help share those stories.
In my spare time, I work with farmers to help them understand how to market themselves, particularly via social media. This is something I find very personally satisfying, because it brings together my past and my present. I am new to farming and am still learning, but I have 15 years of experience to share when it comes to marketing. When I work with farmers, we are both learning. I am teaching them how to communicate their value to the community and promote their businesses, and also learning about best farming and business practices.
Finally, I am a writer. I write short stories and personal essays for fun, and I freelance as a copywriter and journalist. I use social media to connect with other writers, potential clients, and to help build an audience for my work.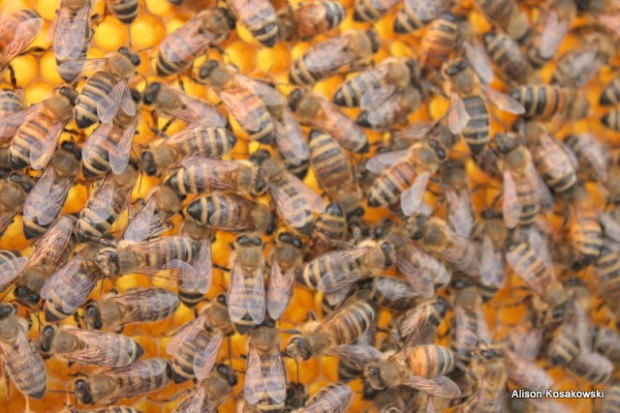 SM: Why is it important for farmers to learn how to market themselves, especially in social media?
AK: If you are selling directly to the public, you need to build awareness for what you offer. What makes you different and why should customers choose you? Social media can help farmers develop a relationship with their customer base by allowing them to tell their farm's story, share experiences and communicate their value proposition.
On a very practical level, social media is an affordable way to reach consumers. The margins in farming are tight, so paid media is not always an option.
SM: What are you teaching them to share in social media?
AK: The first step is to communicate what's for sale and where people can buy it. This seems basic, but if potential customers don't know what you have to offer, and where they can get their hands on it, you won't see any lift from social media.
Beyond that, every farm has a story. If customers wanted anonymous food, they'd go to the supermarket. I encourage farmers to talk about what makes their products special, to share information about how they farm and to allow their farm's personality to shine through.
Many farmers are brand new to social media, so my first task is usually helping them understand and set up the basic channels, like Facebook and Twitter. I help them identify a voice for their business, create a basic "editorial calendar" for posts, and understand the ways in which they can use these channels to create customer loyalty, grow awareness for their business and drive sales.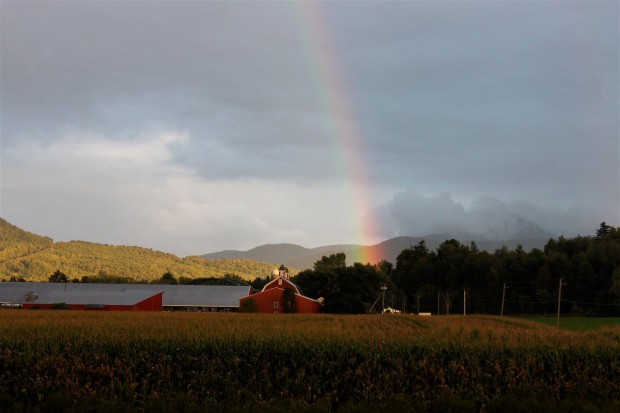 SM: Does HootSuite assist you in teaching farmers the value of using social media to promote their farm or business?
AK: Farmers are time-pressed. Farmers love to plan. And farmers want to see results. Hootsuite is an invaluable tool, because it solves for all three.
On a personal level, social media has allowed me to keep up with friends and maintain professional relationships since leaving the NYC-area. I live in a rural area, but still feel very connected.
SM: How do you use social media to advertise your summer farm stand, farmer's markets or new products?
AK: Our corn customers are an especially loyal and enthusiastic group. It would not be a stretch to say my mother-in-law is famous for her sweet corn, at least in our county. So we try to keep people engaged and build excitement for the corn season throughout the year using social media, beginning with updates in early spring when we are planting. During corn season, we post the varieties for sale each day, plus recipes, photos, funny anecdotes from customers…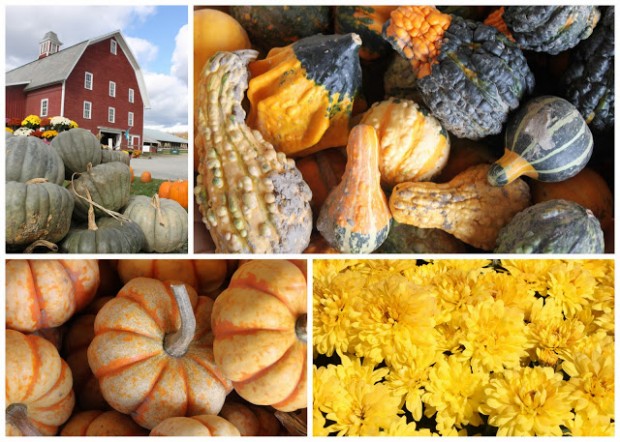 In the fall, we sell our pumpkins. The farm is especially picturesque. Many families come back year after year with their kids to take photos, and many are kind enough to share them with us on Facebook. It's great fun for our Facebook fans to see photos of their friends and neighbors. We also ask people to post photos of the jack-o-lanterns they've carved – we've seen some really creative designs!
We are so grateful to our customers for coming back each year.  They are curious about our farm, and want to feel connected. So, it's not just about selling corn, it's about sharing our experiences. Our farm has been in my husband's family for six generations, so family is at the core of everything we do. Thematically, our social media presence reflects our real-life values: gratitude, family, stewardship of the land, and community.
SM: How have you setup your HootSuite dashboard to support your social media needs?
AK: On a personal level, because I wear so many hats, HootSuite allows me to manage all my "voices" in one place. I can post updates for work or for the farm, communicate with friends, and monitor news all from one platform.
In different streams, I monitor lists of local, regional, and national farmers, to see how others are using social media, for ideas, inspiration, and news about what is going on in the world of agriculture.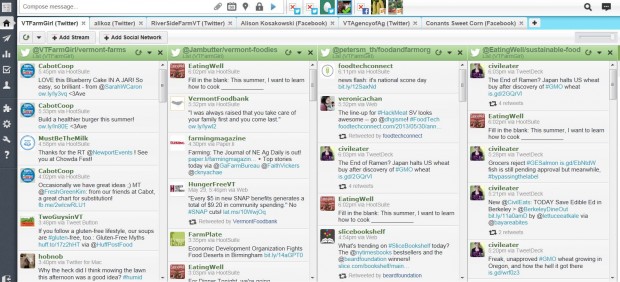 SM: You seem to be leading the pack of farmers using social media! I can imagine that following multiple twitter lists of farmers using social media helps you connect and discover new projects and inspiration for your stories.
Thank you for participating in #MyDash Alison!
Follow the Conants Sweet Corn on Facebook and follow Alison in Twitter! Still here? Read Fast Company's article on Alison, "A Job-Hopper Settles Down on the Farm, with Twitter."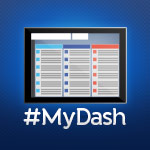 #MyDash is a creative blog series where we highlight a HootSuite user, and get a glimpse at the way they've set up their dashboards to suit their unique social media needs. Follow the hashtag #MyDash and @HootWatch in Twitter to follow all the buzz. Stay tuned as we begin to roll-out more unique ways to arrange your dash.