You Asked and We've Delivered! The Most User Requested Apps Have Arrived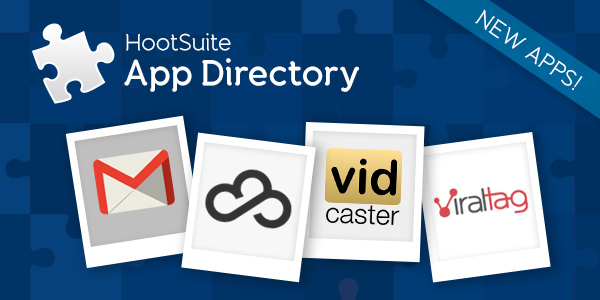 The HootSuite App Directory announces the addition of four new apps designed to help streamline communications and increase productivity.
Users have asked and we've delivered; the new Gmail app represents our dedication to create a platform that caters to user needs. With over 13,000 votes submitted to the HootSuite Feedback Forums, these highly requested apps have arrived in the HootSuite App Directory.
Along with these much anticipated apps, we also introduce two new marketing apps, Vidcaster and Shopseen, that will help enhance your social marketing.

Introducing Gmail
For some people, getting updated could mean switching between Twitter, Facebook, and other tabs just to see their latest feeds. With the HootSuite dashboard, we put all your social networks into one view and now, emails as well!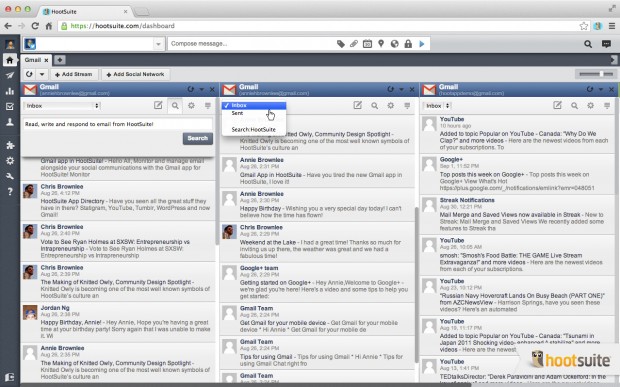 The Gmail app for HootSuite allows you to monitor all of your points of communication within one central dashboard. Never again will you have to take your eyes off another video on your Facebook feed for an urgent email. Simply tilt your vision a little to the side and you can multitask with optimal efficiency. You have the ability to read, reply, and delete emails from the dashboard. So if you've been too busy tweeting up a storm on Twitter, you can now give your overloaded inbox some much needed attention alongside your social media. Try the new Gmail app now and you'll achieve inbox zero in no time.

Vidcaster
In an interactive age, photos are not enough to tell a story. The use of video has become more prevalent in social media engagement. You can now easily distribute your Vidcaster videos across all your social networks in the HootSuite dashboard.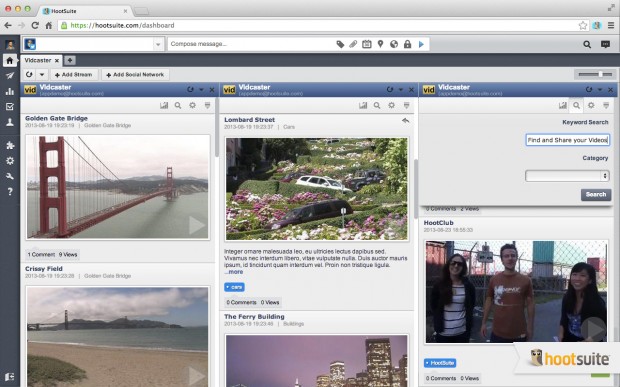 With the Vidcaster App, a social media manager can not only view and share videos, but access analytics to track engagement and viewership. Vidcaster provides you with the data to create videos that appeal most to your audience. Discover when your viewers drop off your videos and which videos are gaining the most attention. Improve the content you share with your followers. Install the Vidcaster App now.
Shopseen
The more people that see an item for sale, the more likely and quickly that item will be sold. Whether you run an online store or just want to get rid of some old clothes, it's no surprise you've posted your items on multiple sites like eBay, Shopify and Etsy. But how do you keep track of all your listings?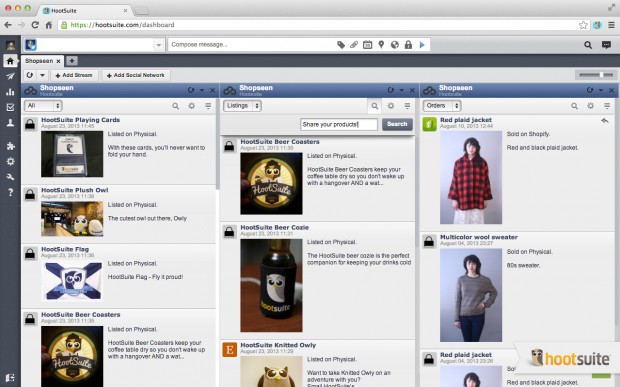 The new Shopseen app lets you monitor all your listings in one stream in the HootSuite dashboard. You can keep track of inventory and orders, so you know when your hot items are running low. While often the issue for store owners is the lack of traffic to their listings. Using the Shopseen app, you can increase visibility by promoting your listings across all the social networks in HootSuite with one post. Generate more revenue and expand your reach, try out the new Shopseen app.
Did you know that our App Directory has 65 apps that help enhance your brand presence and enrich your social experience? Check them out today.

Need help installing apps? Check out our App Directory Guide. Also, be sure to follow @HootSuite_Apps for the latest updates and news on the HootSuite App Directory.
Are you an organization or developer that would like to work with HootSuite? Learn how you can integrate your app using the App Directory SDK.