StumbleUpon, reddit and More: New Apps Hit HootSuite's App Directory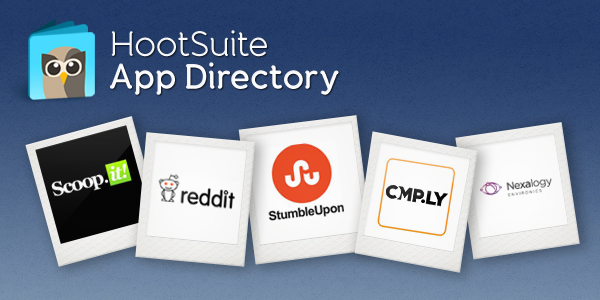 Content is definitely still king. And he's a lot bigger these days. With all the amazing information out there today, we need ways to discover the good stuff, digest it in more convenient ways and share that content. This is why HootSuite adds 5 new platforms to its App Directory that make it easier to explore, curate and share content:
To get started, log in to the HootSuite social media management system and click below:

reddit
Redditors rejoice! Social news website, reddit, joins the App Directory. The "front page of the internet" delivers news based on personal preference and what the reddit community votes up. Developed by David Jellesma, use the reddit app for HootSuite to discover and share content. [clear]

Key Features:
View a stream of the hottest content from reddit.
View subreddits you subscribe to.
Share reddit content with your social networks.
StumbleUpon
StumbleUpon is the easiest way to discover new and interesting things from across the web. Over 25 million people use StumbleUpon to stay informed, entertained and surprised by content and information recommended just for them.
Developed by Synaptive, the StumbleUpon app for HootSuite enables users to set up a stream and filter for sites, interests, users and channels to discover unique content tailored to their tastes.

Key Features
View StumbleUpon pages in stream.
Share StumbleUpon content to your social networks in HootSuite.
Discover new content, and filter by sites, interests, users and channels.
See the number of times a page has been Stumbled.
Scoop.it
We're not all bloggers or writers and Scoop.it understands that. Scoop.it provides an outlet to discover and share your passions through curated content.
The Scoop.it app for HootSuite makes it easy for you to find the content that fuels your interests and empowers you to share that content seamlessly to your social networks. 

Key Features
View a stream of Scoop.it content for topics that you follow.
Search for content on Scoop.it and share content to your social networks in HootSuite.
Re-scoop and give "thanks" to a Scoop in-stream.
Scoop links from content in Twitter or Facebook streams to your Scoop.it feed (App Plugin feature).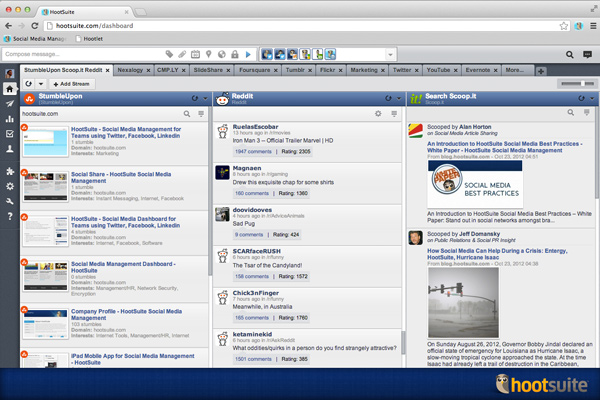 CMP.LY
CMP.LY is a compliance solution that uses disclosure pages and banners to fulfill regulatory obligations. The CMP.LY app for HootSuite enables you to create, search for and preview disclosures in the HootSuite social media management system. Shortened CMP.LY links are attached to the end of social messages and link to customizable disclosure pages.
Whether you're creating a Twitter contest or revealing sponsorship or affiliate relationships, the CMP.LY app for HootSuite reduces the overhead of social campaigns.

CMP.LY is Designed For:
Social advocate and affiliate programs
Contests, promotions, sponsorships, endorsements
Corporate communications, PR, IR
Employee social engagement
Industry-specific compliance requirements
Key Features:
Create social media disclosures in-stream
Search and preview your CMP.LY disclosures
Easily disclose by adding shortened CMP.LY links to social messages
Create a disclosure banner for any link to share with your social networks
Nexalogy
Nexalogy allows marketers, social media managers and trendsetters the ability to zero in on what's important to their Twitter followers. Using Interest Maps, search terms and analysis reports, discover what's important to your Followers.

Key Features:
View Interest Maps to see ideas and connections based on your Twitter account or search terms.
View analysis reports on Twitter volume, top concepts and hashtags.
View the top links related to your account or specific search terms.
View suggested connections and who your most active and engaged followers are.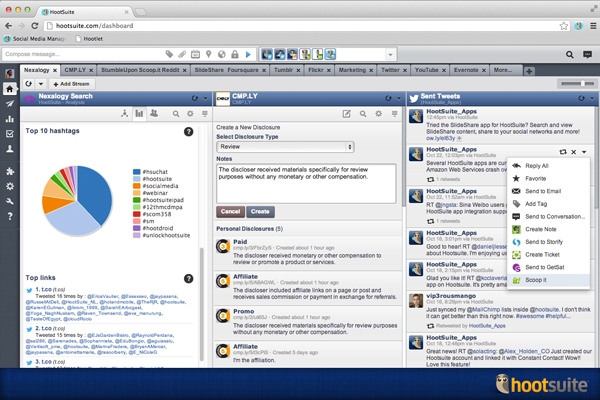 Need help installing these apps? Watch this HootTip video for step-by-step instructions:

App-lying Feedback
With a focus on Customer Support, CRM, Digital Marketing, Publishing, Content Curation and more, the App Directory strives to create a collection of our user's favorite online tools.
Not seeing your favorite app in the directory? Your feedback helps shape our App Directory roadmap so chime in and let us know what you'd like to see next by suggesting apps, networks, and integrations on our App Directory Feedback Forum.