Nominate HootSuite for Most Useful Mobile App and Tablet-Based App ~ #MashableAwards

It's that time of the year again! HootSuite needs your nomination votes for the 2011 Mashable Awards. The community-focused competition recognizes the best companies, people, and projects in digital and social media.
Previously, HootSuite won Best Social Media Management Tool in 2010 and Best Twitter App in 2009. While these categories have been retired, help us make it a three-peat this year by voting for us in two new categories – Most Useful Mobile App and Most Useful Tablet-Based App.

You can vote daily for each category by signing in with your Twitter or Facebook account between now and Nov 18.
Here's how
Sign in with your Twitter or Facebook account
Nominate HootSuite individually for BOTH categories
Repeat daily
**Be sure to nominate "HootSuite" and not "HootSuite Media" or any other variations.
About the categories
Most Useful Mobile App
This category honors the reader's choice for the most useful app designed for use on either a smartphone or tablet.
Most Useful Tablet-Based App
This category honors the reader's choice for the best app designed for use on a tablet.
HootSuite in Mashable

Mashable is a highly respected voice in the digital and social media world. With 20 million visitors monthly, the news website has incredible reach and influence which is why it always pleases us when they share news about HootSuite and the dashboard's story.
Check out some of the Mashable articles on HootSuite from the last two months.
Hootsuite Jumps Into Location-Based Marketing With Acquisition of Geotoko [EXCLUSIVE]
Hootsuite is adding geosocial to its arsenal of marketing tools with the acquisition of Geotoko, a service for running location-based marketing campaigns.
HootSuite Integrates LinkedIn Company Pages & Groups
This is just the beginning of the two services' budding partnership. LinkedIn has named HootSuite one of its four charter members in its new Certified Developer Program, a network of developers designated to help marketers, agencies and companies use LinkedIn to connect with their audiences. Needless to say, there's more LinkedIn

functionality on the way for HootSuite.
4 Ways to Protect the Reputation of Your Small Business Online
There are number of easy ways you can monitor online conversation, such as using a tool like HootSuite for Twitter and Facebook and Google Alerts for blogs and traditional media coverage.
Happy Halloween: 8 Techy Costumes From Mashable Reasers [PICS]
Thanks for the vote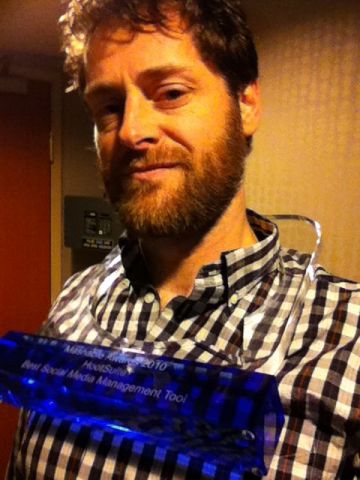 Thanks for your continued support for our beloved dashboard. It's been an eventful autumn with HootSuite being nominated as a top finalist for the BC Export Awards and as Canada's Top Digital Company for the Digi Awards (formerly the Canadian New Media Awards).
Through your support, we've been able to grow at an incredible pace and it delights us when we see our fans voting and nominating the dashboard for these prestigious awards. As the Mashable Awards are community voted, our previous wins are held very near and dear to us.
We hope you vote up our nomination for the Mashable awards and continue to spread the HootSuite love to your friends. Be sure to vote for both categories (Most Useful Mobile App and Most Useful Tablet-Based App) and often!