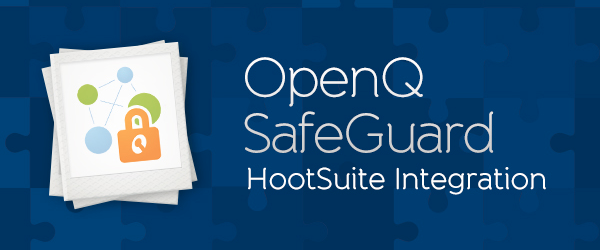 OpenQ takes Social Media Compliance to a New Level With SafeGuard App for HootSuite
Businesses in regulated industries like finance and pharmaceuticals can't ignore social media, but are far more restricted as to what they can post. Instead of reading through pages and pages of regulations and pouring over every social media message, these enterprises now have an easy way to stay compliant: The OpenQ SafeGuard app for HootSuite.
OpenQ is the leading provider of social and mobile risk management solutions for regulated industries. With this integration, OpenQ and HootSuite Enterprise customers can protect their data and company against employee misuse, public attacks, regulatory violations, and other social media threats. It allows them to put social media in the hands of every employee without fearing negative repercussions.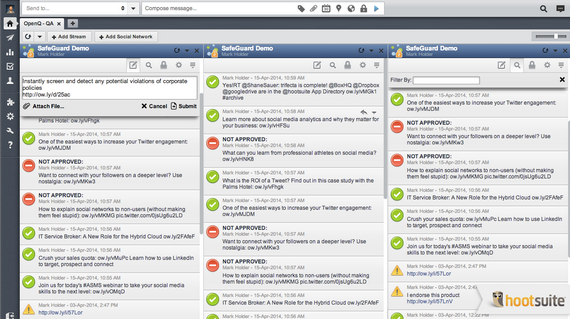 The HootSuite and OpenQ SafeGuard integration protects you from these risks by:
Screening all user posts against their configured policies before distribution to various social media channels
Identifying and mitigating the risk associated with non-compliant social media posts and attachments before they become a problem for your organization
Protecting inbound and outbound social activity with dozens of global regulatory policies that prevent fines, sanctions, culpability score for fines, uncomfortable audits, and negative media press
Improving content approval workflows in HootSuite that help empower employees to share approved content and communicate compliantly with customers and prospects
Providing complete audit trail tracking to demonstrate risk remediation efforts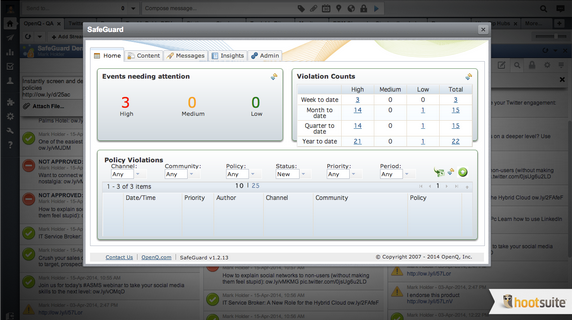 Social media provides a wealth of opportunity to engage internally and externally with your customers and prospects. The risks are great, but the opportunities are greater. The OpenQ SafeGuard and HootSuite integration provides powerful social risk analysis and social media management capabilities for customers in regulated industries, giving them the peace of mind they need to excel on social.
Learn More About the HootSuite-OpenQ SafeGuard Integration
Already a HootSuite Pro or Enterprise Customer? Download the App and get started.
New to HootSuite and OpenQ SafeGuard? Get a demo of the solution today!