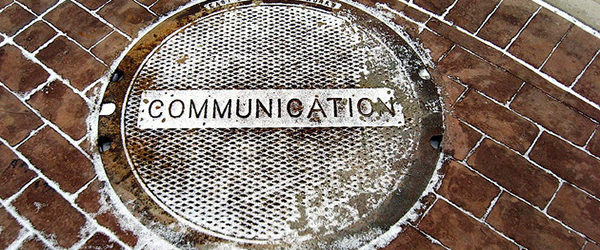 Popular Social Networks To Improve Internal Communication For Business
With a recent announcement of Facebook at Work, the lines between social networks used for professional and personal communication are blurring. Popular social networks are starting to think more like enterprise social networks (ENS) to improve internal communication within organizations. Whether you're a large corporation or a small business, communication is key in improving cohesion amongst your teams and departments.
However, Facebook was not the first one to think about creating a social network to be used for improving internal communication. While your executive team may be considering whether it's okay to let their employees use Facebook at work, get a detailed look at social networks that have always catered to internal communication within the organization.
4 Popular Social Networks To Improve Internal Communication In Your Organization
Yammer

Yammer launched in 2008 and is an enterprise social network (ESN). It provides simple knowledge-sharing and improved collaboration amongst teams and departments. Using Yammer allows you to have an open channel of communication, reduce emails, and have a space where you can ask questions and get them answered with a reduced sense of hierarchy. The basic network is free, and the cost for the enterprise network is $3 per user/month.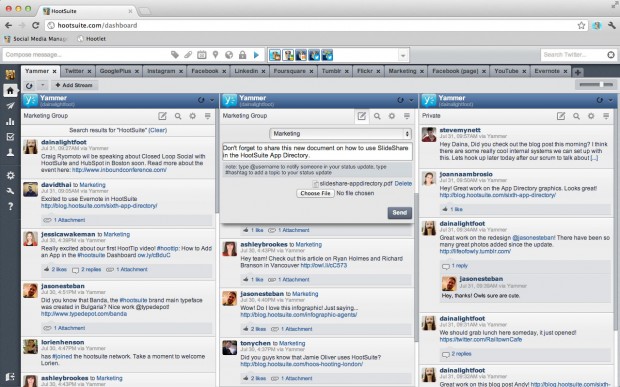 Within Hootsuite, you can install the Yammer app via the Hootsuite app directory. The app allows you to monitor and publish to your network and groups, like and reply to status updates, and view attachments and more.
Zyncro
Zyncro launched in 2009 and is the first European ESN. It has a philosophy that sees change management as the leading way to bringing an ESN into a company. With its array of customization options for internal collaboration and communication, your company has the opportunity to really make this platform their own. For smaller businesses, a five-person trial comes free of charge.
Zyncro is also available in the Hootsuite app directory. The Zyncro app for Hootsuite allows you to monitor and post to your enterprise social network, publish comments, 'like' status updates, visualize feeds, send private messages, view member profiles and more.
Socialcast

Socialcast was founded in 2005 and acquired by VMware in 2011. This ESN is optimized for both web and mobile, and provides collaboration to facilitate real-time employee communication while analyzing the social graph for measures of productivity.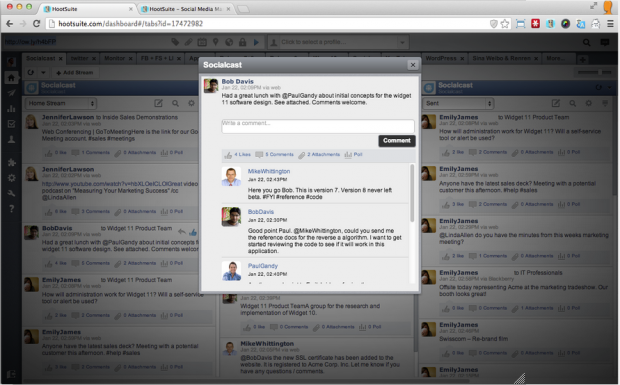 Socialcast is another ESN available in the Hootsuite app directory. The Socialcast app allows you to monitor and publish messages and polls to your company and groups, send private messages, like and reply to updates, view attachments and more. Additionally, you can send posts from your Hootsuite Twitter and Facebook streams into Socialcast for internal collaboration.
Slack

Slack bills itself as team communication for the 21st century and is the latest emerging technology that is tackling email. Employees can chat about their projects and share documents in the open instead of emailing back and forth. Slack allows businesses to keep more people in the loop about what's going on around projects and company announcements. You're also provided with the ability to integrate with services you already use like: Trello, HelpScout, GitHub, Dropbox, Google Drive, Google Hangouts, and many more.
Social media networks aren't just for communicating to your friends and family anymore. The popular social networks listed above are just a few of the enterprise social networks that have changed the way we communicate on social media. Do you use an enterprise social network at your company? Share with us what you use and how it has changed your internal communication in the comments below.
Improve your internal communication with Hootsuite.
Try it for free for 30 days!