Premium Apps, Designed with Power Users in Mind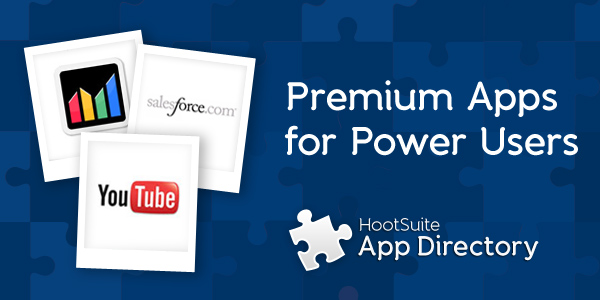 As part of our commitment to providing the finest social media management system, HootSuite announces the launch of three new Premium Apps, each loaded with high-value features and benefits. Salesforce, Statigram, and an enhanced version of YouTube have been designed for you and the likes of savvy marketers, sales teams, community managers, customer service teams and public relations practitioners, to help you do your job quicker and more efficiently from the HootSuite dashboard.


These #SocialApps are part of the growing HootSuite App Partner ecosystem. HootSuite is committed to connecting best-in-class software technologies to improve the lives of millions of business-focused customers worldwide.
"We're excited that HootSuite is building new capabilities and integrations with the many social networks and tools that we use on a daily basis," says Erica Ayotte, Social Media Manager at Constant Contact. "By bringing all of these top-tier SaaS tools together in HootSuite, Constant Contact is able to strengthen the social connections with our over half million small business and nonprofit customers."
Increase Social Leads and Communication with Salesforce CRM Integration

In the new era of social selling and lead generation opportunities, we are pleased to introduce an integration with Salesforce.com, a leader in Customer Relationship Management (CRM), into the HootSuite App Directory. This powerful new integration provides sales-focused HootSuite users the ability to streamline social lead generation and expand corporate communication channels to Twitter, Facebook, LinkedIn, and Google+.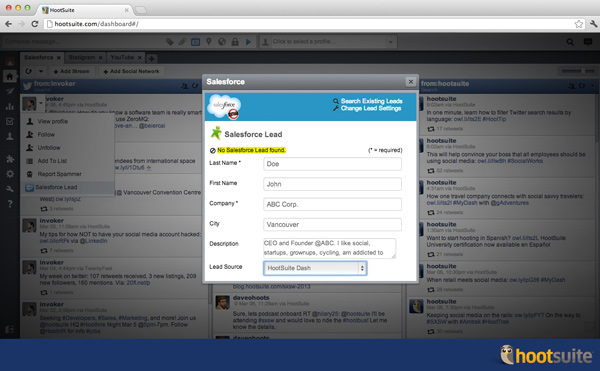 Socially savvy salespeople have the ability to access contextually-relevant data and build deeper relationships with Leads seamlessly from the HootSuite dashboard. Closing the gap between customer data and engagement, sales teams are now free to develop more insightful, long-term relationships that help close deals quicker and more efficiently.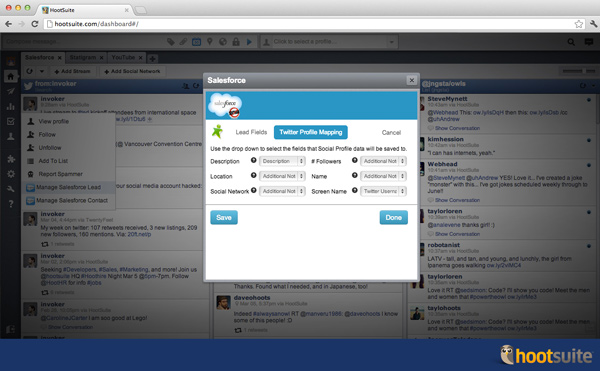 Customer support teams will also benefit from this integration, with the ability to quickly and easily create Cases in Salesforce from social messages found in HootSuite streams.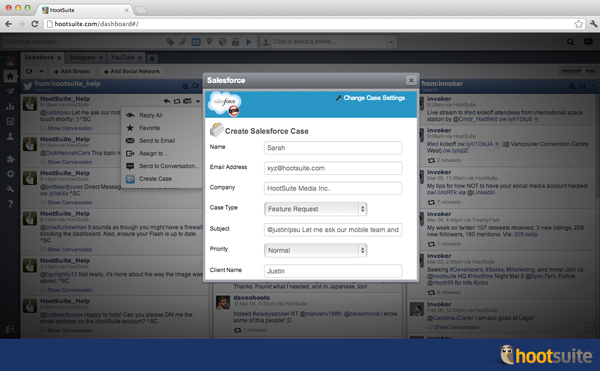 Already using Salesforce in your organization? Try out the Premium App in HootSuite today.

How Well Do Your Instagram Campaigns Perform? Ask the New Statigram App

If Instagram is part of your content marketing plan, you're probably already craving a more sophisticated understanding of how well your photos and campaigns are performing. The Statigram app integration satisfies that craving by providing statistical insights into the growth and performance of your community, campaigns and photos, allowing you to tailor future campaigns and photos based on past performance.
The Statigram app provides an elegant and efficient way to browse all your photos and those of your community, interact with your followers through likes and comments, view how well recent photos are performing, analyze monthly summary statistics and engagement metrics and more. The Statigram app in HootSuite opens up many more possibilities for brand marketers: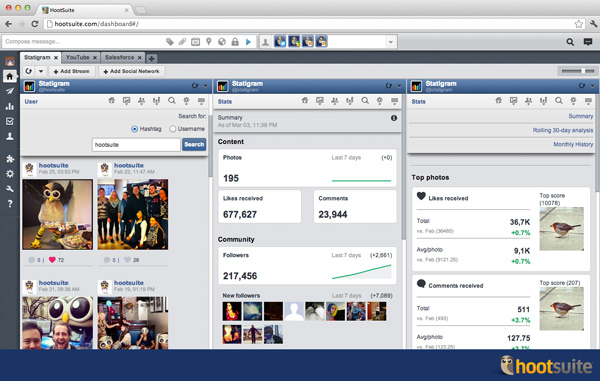 Statigram connects to your Instagram account and analyzes your past behaviors alongside your connections' actions. Now with over 3 million users including over 100,000 brands, Statigram distills all this data into interesting metrics, charts and graphs. Instagram itself is more than a social photo sharing tool; it represents a communication revolution. We want to take part in this revolution, giving power users and brands the appropriate tool to help them grow their brands and empower their social marketing campaigns.

Ready for an Enhanced YouTube Experience?

YouTube, the leader in online video sharing, returns with enhanced functionality for HootSuite. This new and improved YouTube app was built specifically to help content producers, community managers and marketers better manage their YouTube campaigns and content.
All HootSuite users can now have the ability to edit videos directly from the HootSuite dash, view and monitor 13 different YouTube feeds, get improved search and filtering capabilities, and a host of other features including detailed user and channel views and more.
The new design also provides an improved in-dash viewing experience: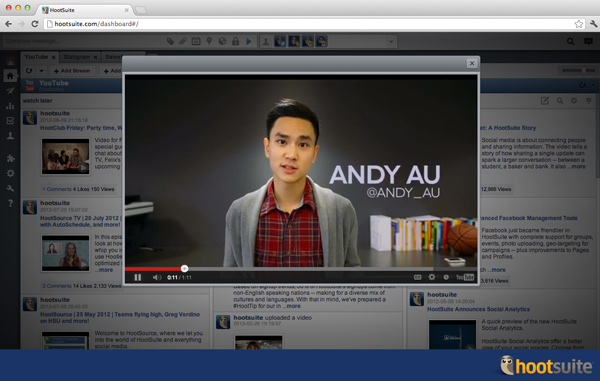 This enhanced YouTube app also features personalized recommendations for better content discovery and ease of sharing to all of your social networks. You can take advantage of multiple YouTube account support and custom stream-labeling settings to keep all your YouTube streams organized in your dashboard. It's now easier than ever to customize your YouTube experience in HootSuite to better monitor, analyze and engage your YouTube community.

Tools for Social Power Users
Above all, these #SocialApps have opened up a new world of possibility for power user practitioners of social. Our ecosystem is designed to streamline workflow processes by integrating best-in-class business apps and networks for our loyal customers.
Is your social game ready for these tools? Try these apps out today and take advantage of the 48 hour free-trial period to see how these turbo-charged apps can make your social marketing experience simpler.
Try them today. Visit the App Directory to get started: