Putting Social to Work for Your Business ~ White Paper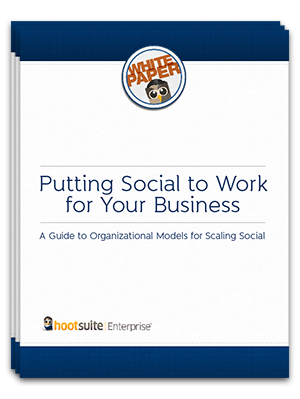 Your company can't sit on the sidelines while customers, investors, journalists and competitors define your brand on social media. You need a legion of brand advocates who can jump into the conversation on your behalf, and a strategy for coordinating them. Fortunately, your best potential brand advocates are ready and waiting to participate. They're your own employees.
HootSuite's white paper, Putting Social to Work for Your Business, is a guide to activating and coordinating your employees as brand advocates on social networks.

In this white paper, you'll find out:
How to organize and support your employees for effective, coordinated brand advocacy on social media, with two organizational models: Empowerment and Containment.
Why employees are credible brand advocates within their social circles.
How small-scale sharing by numerous employees provides large-scale social reach.
What makes employees willing to advocate on behalf of your brand.

How to create a  a passionate, stimulated workforce by redefining how people interact within the enterprise.

Why participation in social media by your company's C-suite executives is critical for widespread brand advocacy throughout your workforce.
How to align the activity of employee brand advocates with your paid, owned and earned media.