Choose Your Own Adventure: reddit in the HootSuite App Directory
Just before Halloween, HootSuite gave out its own batch of candy in the form of a new wave of apps in its App Directory. Among them was reddit, a website that will quickly become as integral a part of your daily routine as Facebook and Twitter likely already are.
To mark the occasion of the App Wave launch, HootSuite CEO Ryan Holmes, completed a Q&A (dubbed #IAmA on the website).
Upvote or Downvote?
Billed as the "front page of the internet," reddit seems to have all the right ingredients: cat pictures, memes, political debate and just about everything in between. The website operates on a system based on user voting: if a "redditor" likes a post they "upvote;" if they don't they "downvote." The highest voted content finds itself on the front page, put on display for millions of daily users, while downvoted content falls away into the abyss of the internet.
Now that reddit is part of the HootSuite App Directory, redditors can follow those and other favorite topics, which are broken down into "subreddits," within a Stream on their HootSuite dashboard.

Fairly early into my reddit obsession myself, I'm still learning the ins and outs of the massive site, which has its own inside jokes, "reddiquette," legendary posts and over 67,000 subreddits on every imaginable subject. Navigating them can seem overwhelming, so I thought I'd share a story with you of how I came upon a few of my own favorite subreddits, before you choose your own adventure.
Building Personal Experiences
Browsing the front page of reddit, I came across a post from a user named JesusJones207 that tugged on the heartstrings. Their grandmother was suffering from Alzheimer's and they wanted to give her a memento from her past. JesusJones207 reached out to the reddit community to ask if anyone would be able to retouch and colorize an old photograph of the grandmother as a child.
The picture is a charming black and white photo showing a young girl holding a dog in her arms. Then I opened the thread and, sure enough, a handful of redditors had already made attempts at fixing the photograph. The top-voted of the bunch, by a user with the appropriate moniker of "I_COLORED_IT_FOR_YOU," was impressive, especially considering they had tackled the challenge in less than an hour. The picture was cleaned up and colorized, ready for a frame.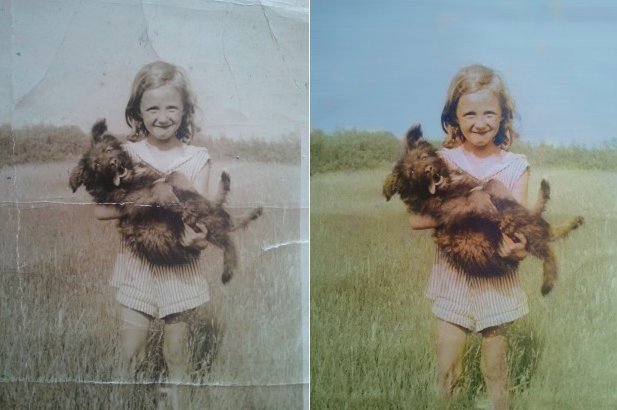 A history buff, I was impressed by the ease with which this user had transformed black and white into color. With a quick search of "colorization," I found the dedicated subreddit and subscribed. Each day a handful of old photos that have been touched up and colorized appear on my reddit feed.
In addition to the improved image, what caught my eye about the post from I_COLORED_IT_FOR_YOU was a video of the restoration process which quickly showed users how they could use photoshop to accomplish something similar. I was inspired, and thought I could see myself touching up old photos of my own grandparents. And so it was that I fell upon the subreddit Artisan Videos, with over 19,000 subscribers. Within a few days I had watched a video of someone making a Spanish Polychrome Sculpture and a short documentary on traditional sign makers, and I had found another subreddit for me.
reddit is about building your own experience; whether that involves discussing Ballet or watching bears do human things is completely up to you.
reddit For a Worthy Cause
redditors also get involved in bigger causes, a standout example of which is when they raised over $80,000 overnight for an orphanage in Kenya that had been attacked or broken into on at least four occasions. Someone posted about the attacks in the hopes of raising a few thousand dollars for some barbed wire and extra protection, and the reddit community latched onto the cause and blew it up exponentially. It was a life-changing sum of money for a group of Kenyans.
With the new reddit app in the HootSuite App Directory, the personalized experience offered by the website is also now available from within your HootSuite dashboard. This means that you can create a stream for your favorite subreddits and check them with ease. It also means that if you think your friends might also be interested in the latest post on the bacon subreddit you love, you can easily share those links to your social media channels using HootSuite, which conveniently lets you inconspicuously browse the site at work.

To add reddit to your HootSuite Dashboard click the "Add Stream" button and then select Apps in the left-hand column. There you can add reddit's home page and various subreddits to your dashboard. Click the links, check out the comment threads, and you're on your way.
Again, the best thing about reddit is that you can build the site to match your interests. Now that the HootSuite Owl and reddit Alien are buddies, that personal hub on the internet can also be the start of something social.