The Hootsuite Syndicator Combines the Power of RSS with Social Media
Gone are the days of traditional RSS. Before media was social, RSS was used to consume content from around the web — but now social media managers and marketers are using RSS to discover, curate and share media and content to social networks.
With Google Reader set to shut down on July 1st, we've enhanced HootSuite's RSS capabilities to not only provide a powerful solution for bringing content into the dash from around the web, but also for managing and curating content through social syndication. Meet the HootSuite Syndicator.
HootSuite Syndicator Simplifies RSS to Social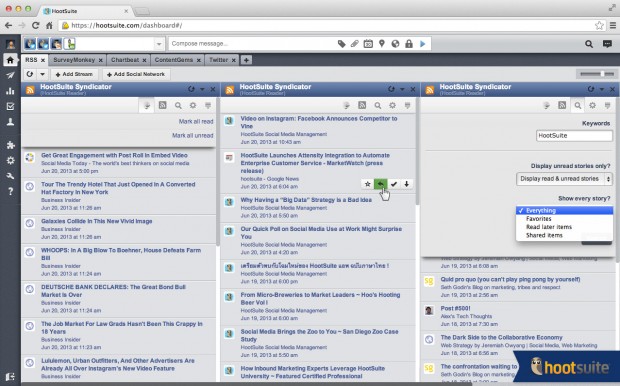 In addition to filling a void left by Google Reader, allowing you to manage and organize all of your RSS content from streams in the HootSuite dash, the HootSuite Syndicator conveniently fits into your social content curation and distribution work flow. This means you can now do many of the things you could do with Google Reader from within HootSuite, such as organizing feeds into groups, marking items as favorites or selecting those you'd like to view later.
But even better, it's easy to quickly share items to your social networks in HootSuite; the app will even remember which items you've shared! The HootSuite Syndicator can:
Manage RSS feeds with the Subscription Manager

Customize streams by setting up groups and filters

Mark items as read or unread, favorite items and save items to view later

View articles and stories within the HootSuite dash

Share items to your social networks in HootSuite, even track the stories you've shared

Install the Hootlet Chrome extension to add RSS feeds directly to HootSuite while browsing the web: http://ow.ly/ms34S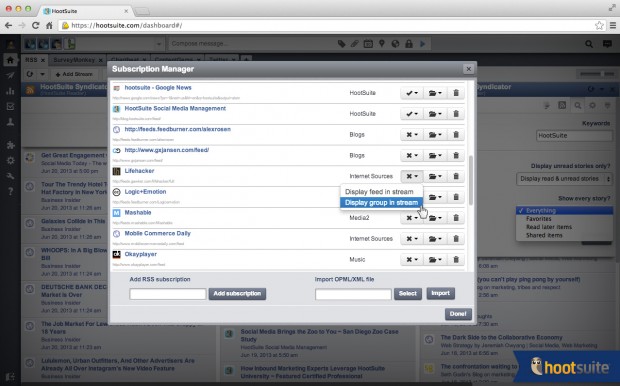 Import your Feeds from Google Reader Today
Google Reader provides a way to export your feeds, which can easily be uploaded to the HootSuite Syndicator app. You have until July 1st, so time is of the essence! Install the app and follow these simple steps to see your RSS feeds in the HootSuite dash today.

1. Click the following link to download your Google Reader feeds: http://ow.ly/ms02h
2. Click the Subscription Manager icon from the HootSuite Syndicator app stream.
3. Select your Google Reader feeds (.xml) file and click Done.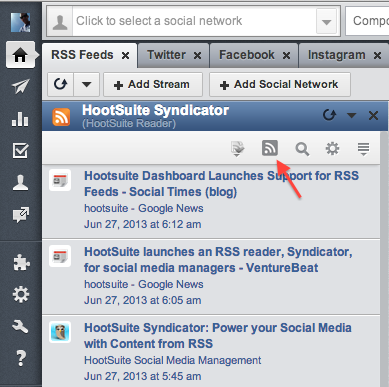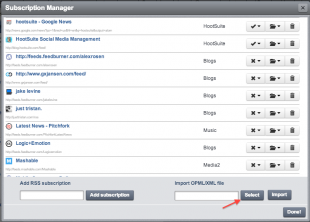 [clear]
[clear]
[clear]
[clear]
[clear]
[clear]
That's it, now you are ready to manage, curate and distribute your content to social networks all from within the HootSuite dash.