Chattering Within the Dashboard

Today at Dreamforce, HootSuite CEO Ryan Holmes revealed a preview of the upcoming Salesforce integration into HootSuite. This integration will tie into the HootSuite App Directory launch, slated for early next year.
We are excited to announce the first apps to be made available: Salesforce's Chatter and Lead Scoring web applications. With more than 87,000 active (and successful) SMB and Enterprise customers and millions of individual users, Salesforce is an established leader for sales teams.
Collaborate & Coordinate
By adding the popular Chatter (enterprise collaboration tool) and Lead Scoring (lead generation and prioritization tool) functionalities into the HootSuite dashboard, sales and marketing teams will have a powerful new way to efficiently collaborate as well as coordinate and prioritize new leads. Plus users can complete these tasks from within the same tool used to monitor social media conversations.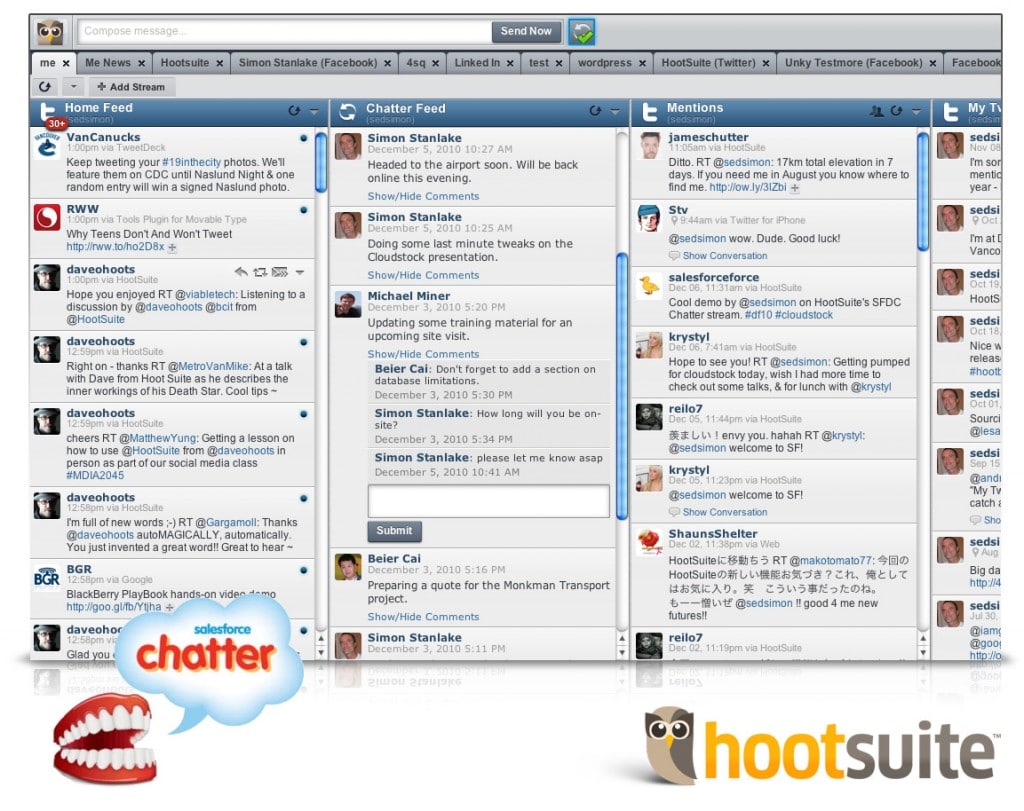 Following these conversations adds a handy way to get to know your customers before starting negotiations as well as generating leads by tracking keywords. By keeping these conversations and customer intelligence resources in one centralized view, teams will increase productivity. Instead of switching back and forth between tabs and windows to view the various apps, simply add these apps as streams within your familiar HootSuite tool.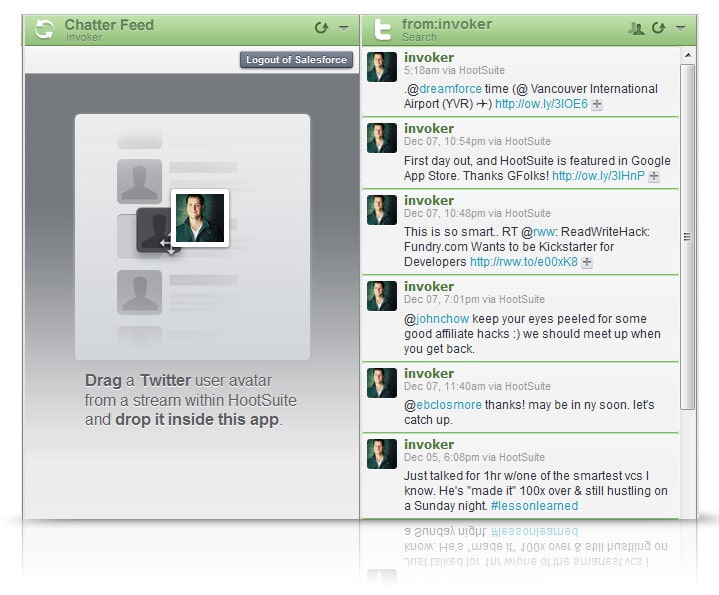 Hatching Soon
The forthcoming HootSuite App Directory will feature tools which expand the capabilities of the dashboard by integrating apps into streams. The directory will launch early next year giving developers time to create many of the ideas we receive in the Community Feedback Forum. If you have an idea, be sure to share it in the Feedback Channel.
To be considered for early launch, developers should apply for API Access and be sure to keep checking the HootSuite blog and follow @HootSuite_Apps for all the latest developments.
Eager for Chatter?
Want to know the latest on when Chatter and other apps will be released? Want to case your vote for the apps you'd like to see added? Simply sign up at: http://ow.ly/3mcTB. You'll receive an email when the tool is added and ready to go.