App-Tastic News: HootSuite Welcomes SocialBro, GoPollGo, NeedTagger and Videolicious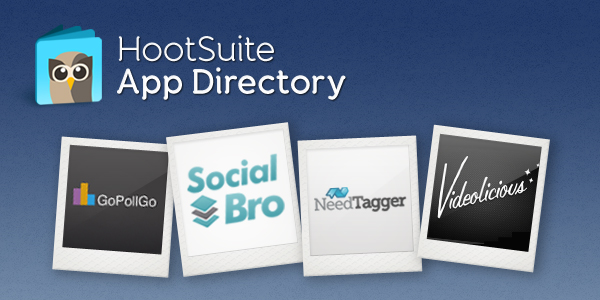 HootSuite introduces another batch of tools to the App Directory – welcoming Twitter analytics tool SocialBro, polling platform GoPollGo, outreach marketing app NeedTagger, and video creation app Videolicious.
Using this latest wave of apps, HootSuite users can learn more about their audience by getting demographic information, filter social messages to connect with prospective customers, survey their audience for opinions and share videos to social networks.
These new additions to the HootSuite social media management system are available to all users and easy to install. If you're already logged into HootSuite click the button below. Once installed, you're all set to begin using them:

SocialBro
Using 10 powerful filters, the SocialBro app provides advanced information about your Twitter community allowing you to create better, more targeted messaging.
Measure your success by tracking new followers and unfollowers, identifying influential followers, active followers and more. Tailor messages to specific market segments using the app's filters for audience location, language, time zone and more.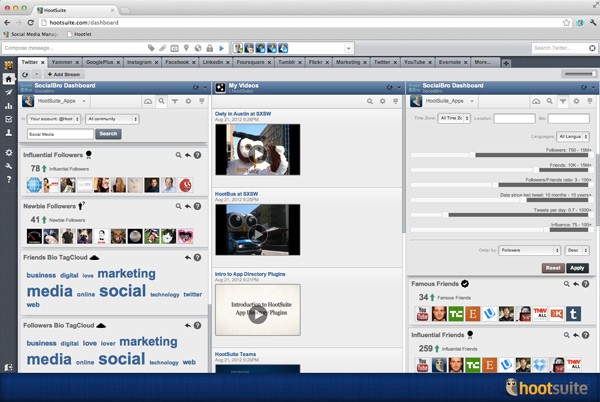 Key Features:
Ten powerful filters for your Twitter contacts including location, language, time zone and influence
Search filtered lists and easily follow, unfollow, Tweet at or direct message your contacts directly from within the dash
Quickly view your new followers, recent unfollows and more
GoPollGo
GoPollGo is a simple way to get feedback from your friends, followers and users. Create polls, quickly share them to your social networks and view real-time results directly from the HootSuite dash. Incorporate your audience's opinion into business and product decisions.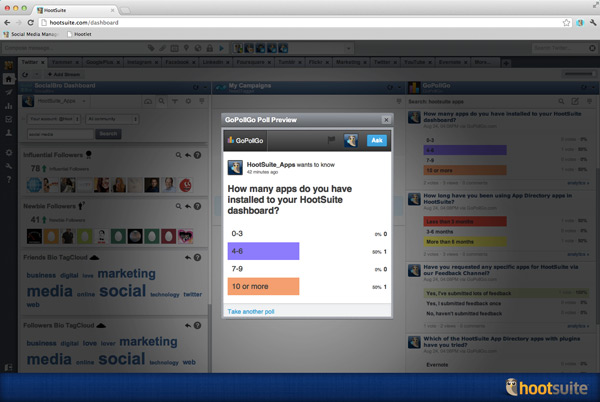 Key Features:
Create simple polls within the dash
Share your polls with your social networks
View your visually represented results in-dash in real-time
NeedTagger
NeedTagger makes it easy to find and engage directly with prospective customers on Twitter. Filter Tweets from people reaching out publicly for products and services that you can provide.
Set up a stream of needs for your business by selecting one of over 50 pre-tested filters for your industry. NeedTagger filters identify Tweets requesting specific products, services and content.

Key Features:
Stream Tweets from users who need your content, products and services, using pre-tested filters
Configure your stream to determine needs for different industries
Directly engage users with your content, products and services from within the dash
Tag Tweets for follow-up engagement
Videolicious
It's easy to make professional quality videos with Videolicious, and now it's just as easy to stream, view and share your polished videos directly from the dashboard.
Key Features:
View a stream of all your videos
Play your videos from within the dash
Share your videos with your social networks
We Aim to App-ease
HootSuite strives to create a collection of the best features of our users' favorite tools. You can look forward to more tools geared towards Customer Support, CRM, Digital Marketing, Publishing/Content Curation and more.
Customize your HootSuite experience by trying these apps today! Log in to HootSuite first and then click the button to access the App Directory within the dashboard:

Need help installing these apps? Watch this HootTip video for step-by-step instructions:

What would you like to see next? Let us know by contacting us on our App Directory Feedback Forum.
Are you a developer looking to work with HootSuite? Learn how you can integrate your app using the App Directory SDK.
For the latest updates and tips about the App Directory, follow @HootSuite_Apps on Twitter.