App-solutely Awesome! The HootSuite App Directory Advances With Plugins: Zendesk, Evernote and Storify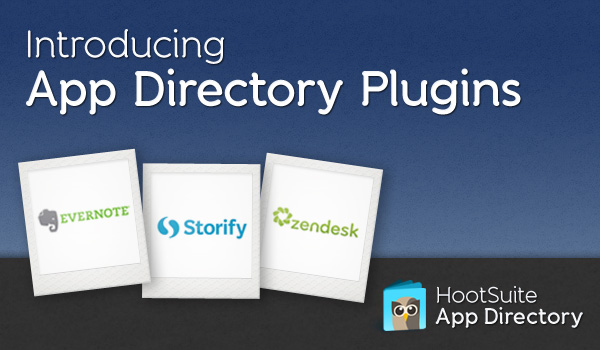 The App Directory is at it again with another amazing wave of apps – this time bringing powerful, new functionality to the dash by way of App Plugins. With Zendesk, Evernote and Storify added – get more out of your social activities!
In contrast to previous Stream-based App Directory tools, Plugins enable users to send social media content (posts from Twitter and Facebook streams) to external, 3rd-party applications.
What exactly does that mean for you? Imagine coming across an interesting article someone posted on Twitter, or a handy how-to. It's 10:30am and your meeting is about to start. Might not be the best time to dig in. Now, you can save that Tweet to Evernote to review later. Similarly, it's now quick and easy to take social content and convert that content into Storify elements or Zendesk tickets for support issues.
Save yourself time and clicks by syncing your social media with your favorite apps.

As always the collection of applications in the HootSuite App Directory are free and available to HootSuite's nearly 5 million users. These new apps can be installed to your dashboard by logging in to HootSuite first and then clicking the button below. Once installed, you're all set to begin using them:

To help get you up to speed with App Directory Plugins and the latest wave of integrations, HootSuite University put together a helpful video:
Zendesk
According to a report from TNS, 71% of people turn to the internet when they have a problem with a product. And with 62% of customers having used social media for customer service issues – there is a clear growing need for social media focused support teams.
Addressing this rapidly growing need, the Zendesk app plugin provides a timely and efficient solution. Zendesk is the leading cloud-based customer service software with over 65 million people receiving support from Zendesk-powered customer service teams. With the Zendesk app for HootSuite, users can seamlessly create tickets from messages appearing in Twitter and Facebook dashboard streams.  Simply click the drop down menu on the individual message and select Create Ticket.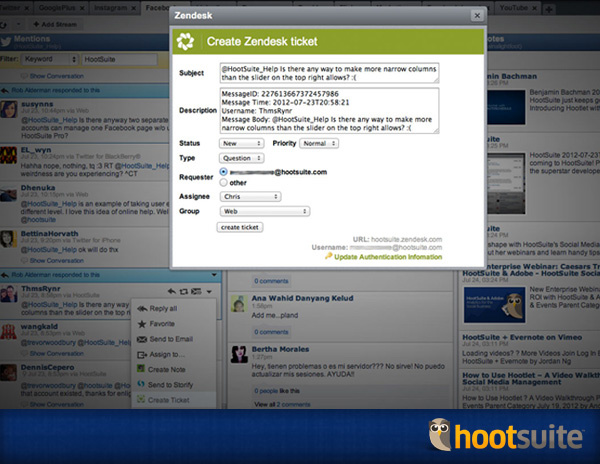 Feature Overview:
Create tickets from Twitter and Facebook content directly from the dash
Assign tickets to specific groups and team members
Add and edit ticket subjects and descriptions
Select ticket type, status, priority level, and more
HootSuite's Customer Support Team currently uses this integration as an integral part of their customer support strategy. Used to effectively manage their support conversations, the Zendesk integration streamlines this workflow. Sarah Chambers, a member of the Customer Support Team, uses the integration for the following reasons:
HootSuite allows us to monitor more search streams, and offer quick answers to users on the same network they approach us on, rather than bouncing them to a Help Desk and back again. Because we operate within a Team we are able to assign tweets to specific departments and people, and can easily see replies and notes from HootSuite employees. Where Zendesk helps us is when the conversation requires more than 140 characters, or privacy is required. By using the Zendesk plugin, we can then take the conversation offline to better resolve the user's request. This integration is also more robust than our previous workflow, allowing us to tag tickets with additional information while simplifying the ticketing process, keeping everything in the HootSuite dashboard.
Evernote
Described as "a way to capture all of your experiences", Evernote is an archiving and note taking application that helps you record text, webpages, images, voice memos and more.
With the Evernote app for HootSuite, you can now add social media messages to the list. Developed by Min Li, the addition to the App Directory provides two distinct functionalities: an elegant way to create notes from social media content and the ability to manage notebooks within streams.
Capture to Notebooks
The Evernote app plugin provides a simple and easy way to create notes from social media content contained in dashboard streams. By selecting the option to "Create Note" from an individual Twitter or Facebook stream, the user can create and edit a note, select a specific notebook, add a title, description, tags and more. Conversation and comment history for Tweets and Facebook posts are automagically included in notes, adding context to the discussion.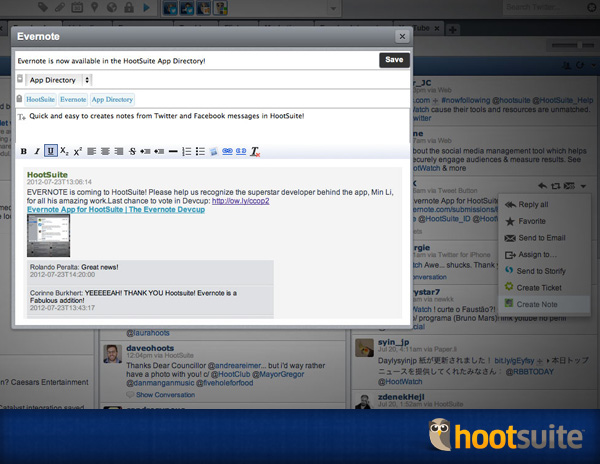 Manage Notebooks as Streams
The App Stream for HootSuite's Evernote app brings in a stream of all the notes in a user's Evernote account with the ability to view, edit and delete notes. Want to share a note over your social networks? Now, you can with just a couple clicks!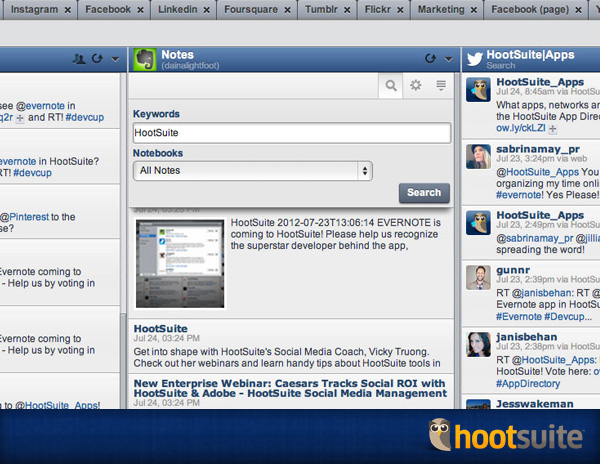 Feature Overview:
Create notes from Twitter and Facebook content directly from the dashboard
Select which Evernote notebook to add messages to
Edit and add note titles, descriptions, tags, comments and more
View a stream of all your notes or view notes for a specific notebook
Search for notes by keyword
Share notes from Evernote to your social networks
Storify
Developed by David Dmytryshyn, the Storify app for HootSuite allows you to conveniently add social content from Twitter and Facebook streams to stories in Storify. Storify provides a curation tool for turning social media posts into compelling stories that can be embedded on websites and blogs. At HootSuite HQ, we're big fans of Storify, using it to archive HootSuite University's #HSUchats and HootUps.
This functionality combined with HootSuite search streams provide a powerful new way to collect "elements" (Storify's term for social content). For example, users monitoring a Twitter keyword search stream containing a conference hashtag can quickly and easily compile elements for a story about the event.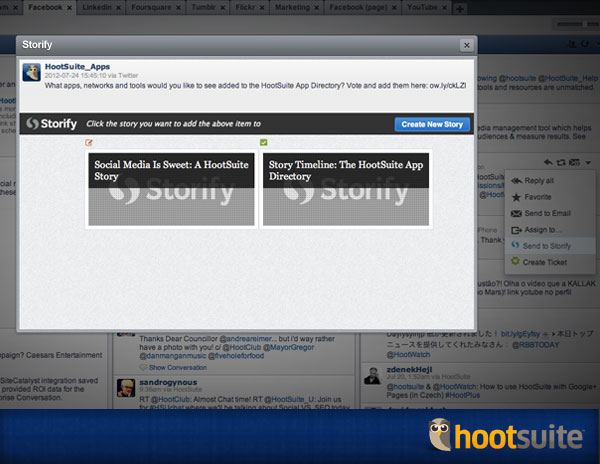 Features Overview
Add Twitter and Facebook content to your Storify stories directly from the dash
Select which story to add social content to or create a new story
Share stories to your social networks
Advancing the App Directory
This tighter coupling between HootSuite and integrated apps with Plugins greatly extends the power of both. You can look forward to more apps and integrations that make use of this functionality for Customer Support, CRM, Digital Marketing, Publishing/Content Curation and more.
Get more out of HootSuite and try these apps today! Log in to HootSuite first and then click the button to access the App Directory within the dashboard:

Need help installing apps? Check out our App Directory Guide. Also, be sure to follow @HootSuite_Apps for the latest updates and news on the HootSuite App Directory.
Are you an organization or developer that would like to work with HootSuite? Learn how you can integrate your app using the App Directory SDK.