#SXSW 2013 ~ HootSuite Brings the #HootBus, #HootUps and HiJinks to Austin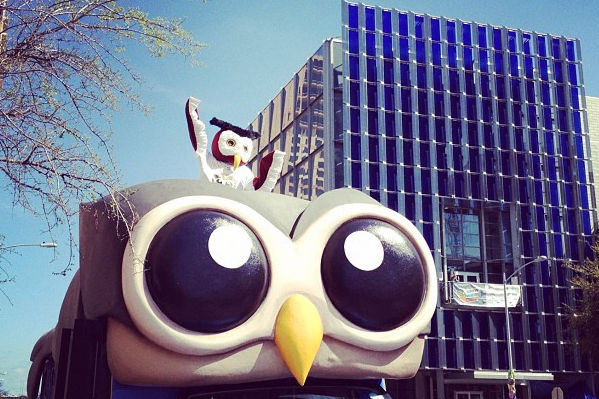 Each year in March, delegates from all parts of the web/tech world make their descent into Austin, Texas for a massive gathering known as SXSW. Often referred to as "Holy Week," SXSW is where startups launch, companies become famous and the future trends are cultivated. Basically, it's a week-long marathon of panels, parties, presentations and networking all happening at a rapid pace… in one taco and tattoo parlour-laden town.
Last year, the HootSuite team gained the attention of the throng of media in Austin seeking the "next big thing" with Owls appearing on front pages including Entrepreneur.com, Wall Street Journal, Mashable, USA Today, Inc.com and Business Review Today who said:
"It's one thing to take to the streets with a mobile billboard, but HootSuite did SXSW one better by navigating the streets of Austin in a bus outfitted with a giant owl. It was instantly recognizable and just weird enough to stand out in Austin without freaking people out. Plus, HootSuite employees were given access to loads of "HootSwag," including t-shirts and scarves, to be shot at passersby through a CO2-powered "HootCannon."
Well the HootBus is back for HootSuite's 4th year at SXSW, and while you can expect to see some familiar sights, we've got a handful of new activities lined up and ready for action including HootUps, bar-b-qs, film screenings, onboard interviews, sales demos, product announcements and even hockey games. But the most important goal is to meet our customers, prospects, integration partners and other #Hootfans seeking to join our conversation. Is this you? Great!
#HootUps
We're hosting a series of themed HootUps to foster conversation about specific social media topics – all with a drink in hand, of course.  These events are typically limited to 50 people so be sure to RSVP before and show up early to score our legendary swag or perhaps even a tasty beverage.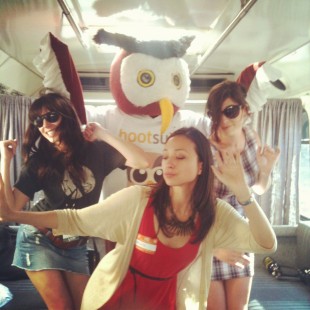 SXSW 2013 HootUps:
Education: As SXSWEdu wraps up, come join HootSuite University plus faculty from leading universities to discuss social media training and discuss steps about applying these ideas in the classroom.
Date:  Thursday, March 7th, 2013 | 2 – 3:30 pm at the Brew Exchange
Localization: Hear how HootSuite expanded globally including translation, product localization, and foreign social network app integration. This HootUp is ideal for anyone working on growing their brand and company story in world markets.
Date: Saturday, March 9th, 2013 | 12:30- 2pm at the Brew Exchange
Community Managers: Partnering with #cmmeetup, this #HootUp will be dedicated to everything about community – come meet other CMs, share tips, have a bevvie and learn how we used HootSuite to build HootSuite #meta.
Date: Saturday, March 9th, 2013 | 2 – 3:30pm at the Brew Exchange
Social Business: Social media is not just for marketing, communications and support departments – now smart businesses use social media tools and tactics across departments. Come discuss how social can help you reach your business objectives from HR recruiting to sales lead generations.
Date:  Monday, March 11th, 2013 | 12:30 – 2pm | Social Good Space at 610 S I-35, Austin, TX
Social Good: Join us for a Social Good Round Table discussion brought to you in partnership with Joshua Johnson, founder of the U-ee Foundation and bGiv.org. Topics will include a combination of business, innovation and philanthropy with some guidelines on how to take a more active approach in helping those in need.
Date: Tuesday, March 12th, 2013 | 12:30 – 2pm | Social Good Space at 610 S I-35, Austin, TX
#GenSoc – Film Screening and Panel
#GenSoc Film Screening: Join HootSuite, Vision Critical and Reelhouse at the legendary Alamo Drafthouse Village Theater on Monday March 11th, at 3PM for a screening of a documentary which follows three social media stories: a social start-up; a higher education institute working on a social media survey; and a moneymaking blogger. A panel discussion about the convergence of social media and film follows, featuring members of the cast and the film's producers.
Tickets are limited to 100 people, so take a break from your events and panels and visit the coolest movie theater you've ever seen – complete with great food and beverages.
Date: Monday, March 11th, 2013 | 3-6pm at the Alamo Drafthouse Village Theater
Generation Social Promo – from Andrew Lavigne
#HootHockey for Charity
Austin is our home for two weeks every year and we want to make sure to contribute to the community so,  to raise awareness and food donations for the Austin Food Bank, we're joining the Dallas Stars and Five Hole for Food to challenge other companies in a street hockey tournament. Click here to register!
Whether you want to enter your corporate team, try your skills out with the Dallas Stars crew, or cheer for your favourite geeks with sticks, be sure to join in.
Date: Sunday, March 10th, 2013 | 1-4pm | 901 Trinity Street, Austin, TX
Enterprise Sales Demos
Corporate account executive, Andrea Lemon, business developer Marcus Jung and sales engineer Kemp Edmonds are on the crew providing HootSuite Enterprise demos daily, plus arranging VIP rides on the HootBus for corporate clients and prospects – a great opportunity to ride in style! Fill out the Enterprise Demo request form or Tweet @HootBusiness to get into the queue.
We're also hosting an exclusive VIP BBQ at the HootFrat House (yes, we rent a renovated frat house on the University of Texas campus). For more info, contact your Enterprise account exec.
Product Announcements
During SX we'll announce several new treats for the dashboard including new apps, integrations, partnerships, features and more. Plus Owly will share a few exciting partner announcements.
#HootBus
The HootBus is our nest on wheels: which means we do pretty much everything aboard this beautiful ride. Aside from getting us from A to B, we hold meetings, conduct interviews, make media appearances but most importantly, get to know our users.
This year the HootBus is back and better than ever with a few new and nifty surprises including: Roam Mobility WiFi, onboard chargers, custom bicycles for quick escapes… plus the best swag of SXSW (we think). The Hootbus is also equipped with a geo-locator from our friends at Esri to track and interact while on the roll.

The HootBus isn't just a piece of art either, we have made some serious memories in the belly of the beast. Our resident SXSW Veteran VP of Community Dave Olson reminisces: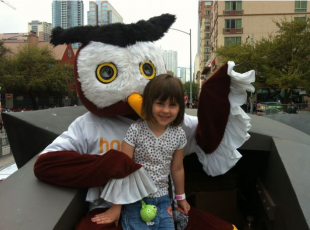 "One of my favourite memories from last year at SX was meeting an Enterprise client named Ryan Layton, an Enterprise client and his signer, as Ryan is deaf. We discussed ways to better serve the deaf community before he headed up to the roof with his daughter, Gillian (and his signer), to blast #HootScarfs out of a cannon to the people below and little Gillian hung out with Owly and became an instant hit with the crowd!"
To share your photos, sightings, and to possibily get a ride, be sure to send us your Tweets when you spot the #HootBus. And remember, it's not the destination, it's the journey on the way.
#MyDash
To get the latest breaking news about HootSuite at SXSW and the Owls in attendance, set your HootSuite streams to track:
#HootSX for all HootSuite related news, activations, and activities around SXSW
#HootBus to keep an eye on where we're going. Find out how to get a ride, plus tag #HootBus sightings
Also be sure to keep an eye on our SX scrapbook on Tumblr and the HootSource blog for all product announcements and frequent recaps of our activites on the ground.
You can also find HootSuite on: Facebook, Twitter, LinkedIn, Instagram, Storify, and Pinterest.

Diplomat Program
While we're bustling around ATX, we're recruiting a batch of HootSuite diplomats for our Envoy Program. Sound like something you'd be interested in? Come and introduce yourself when you see us at SXSW 2013!
Become an Owl!
The wonderful HR Team at HootSuite is making the trek to SXSW and are looking for recruits! Are you awesome? Come on down to the HootBus for our onsite career fair and introduce yourself. Be sure to bring along references and a resume (the more creative, the better!). Follow @HootHR for more info.
#HootTrain
We still have a few surprises and adventures we're not ready to share, but… Keep your eyes on the horizon line for one lost Owl's uncharacteristic and interactive journey down to SXSW.
See You Owl There!
Be sure to check out the news round-up from SXSW 2012 for a full recap of last year's successes and appearances – we're ramping it up even more this year.
Our Owls are busy getting ready to get to know you so remember, follow #HootSX to stay updated on the latest HootSuite SXSW news.
We're looking forward to meeting all the friendly folks this year, so don't be shy! Let us know who you are by saying a quick hello to Owly or one of the Owls from HQ and you'll get a HootKit, a hug from Owly or a (possibly life-changing) combination of the two!