HootSuite App Directory for Content Creation: WordPress, Vimeo and More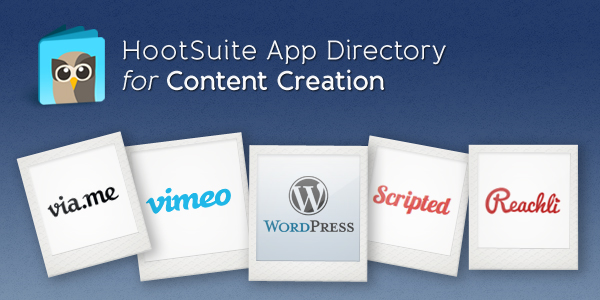 The HootSuite App Directory is a crown jewel in our social media management system, and it continues to expand its well-stocked collection of apps.
The App Directory, which recently celebrated its one-year anniversary, is adding even more apps with its 10th wave of releases, and now totals 41 apps. These latest apps include some of the most popular content creation tools on the web, with WordPress.org, Vimeo, Via.Me, Reachli and Scripted all joining the ranks.
Now Including The Most Popular Self-Hosted Blog Platform

Many content creators, including our own content team here at HootSuite, are excited to see WordPress.org added to the platform. WordPress started in 2003 and has grown to be the largest self-hosted blogging tool in the world, used on millions of sites and seen by tens of millions of people every day. HootSuite already has an integration with WordPress.com, which is for free blogs that are hosted by WordPress. This new integration is for self-hosted WordPress.org blogs and sites, which includes our own HootSource Blog.
As the most popular self-hosted blogging platform around, WordPress.org almost certainly powers some of your favorite sites. Still confused? WordPress.com tends to be more popular among users, whereas businesses most often prefer the full-featured control of self-hosted WordPress.org sites.
The WordPress.org app in HootSuite, developed by Quinn Sakunaga, allows you to: monitor and compose new pages and posts, moderate and reply to comments, share your pages and posts to social networks and more. It also supports multiple accounts, so social media power users with self-hosted WordPress sites can now effectively manage their publishing empires, without ever leaving the dashboard. The compose option even has a basic rich text editor; definitely try it out!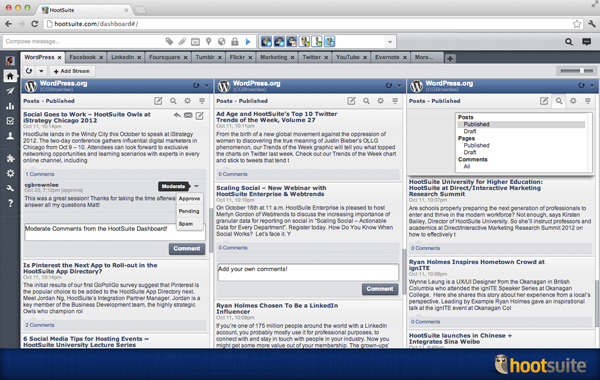 Love Video? Try Vimeo in HootSuite

Continuing on the content creation theme, social media video enthusiasts will be pleased to know that Vimeo has also been added to our platform. Vimeo is a cleanly-designed video sharing website that is especially popular among filmmakers and video hobbyists. Vimeo launched support for high definition video in October 2007, further establishing itself as a leading video hosting platform.
The Vimeo app for HootSuite, developed by Synaptive, allows you to upload videos, search for and view videos within the dash, share videos to your social networks and more. Create streams for your videos, likes, channels, groups, albums and "watch later."

Via.Me: All Your Social Content in One Attractive Storyboard

Love sharing content, but don't love how it gets scattered like dust to the wind on your smattering of social networks? Then Via.Me may just be the tool for you.
Via.Me lets you share your stories in pictures, video, sound and text. Share your social media content to Facebook and Twitter, but also keep it hosted on your Via.Me social storyboard. By using Via.Me, you can centralize social content sharing and engagement on one visually optimized social storyboard.
The Via.Me app for HootSuite, developed by Invoke Media, allows you to: upload media to your Via.Me account, stream your home feed, view account activity, follow fans who like and comment on your posts and more. You can also search Via.Me content by keyword from within the dash.

Reachli Gives Your Advertising Images More Reach

Savvy brand marketers know that to reach the right audience, Facebook and Twitter strategies alone are not enough. Enter Reachli (formerly Pinerly) which helps content creators and sellers of goods easily post and measure their visual content on social media sites, starting with Pinterest.
Reachli makes it easy for brand marketers to share their visual content across the web, and for publishers to monetize their existing images. Over 80,000 brands actively use Reachli's self-serve platform.
The Reachli app in the HootSuite App Directory, developed by Reachli themselves, allows you to create campaigns when pinning to your Pinterest boards, and view metrics for pins such as number of clicks, likes, repins and total reach. You can search for and create Reachli campaigns from the comforts of your dash.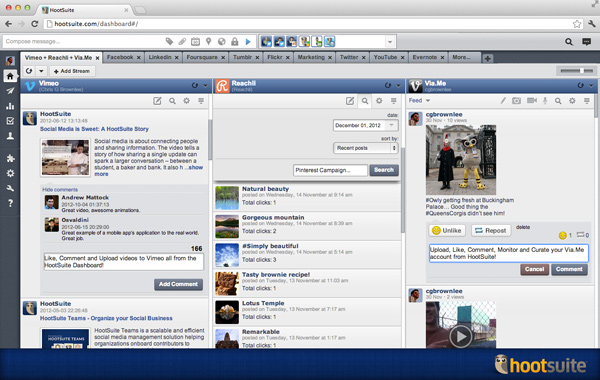 No Time to Script it? Try Scripted
Want to create a content strategy and publishing schedule but don't have the resources to create all of that fresh content? Scripted has those resources in spades.
Scripted is a scalable content creation solution for businesses. With a pool of 80,000 writers who have been vetted by area of expertise, Scripted matches businesses with writers by area of expertise and allows marketers to accept story pitches from the Scripted writer community at large.
The Scripted app for HootSuite, which they built themselves, allows you to stream all your social content jobs for easy distribution of personalized social media messaging to all your social networks. View your Scripted tweets and Facebook posts, share to your social networks, and search for content that you can filter by Facebook or Twitter.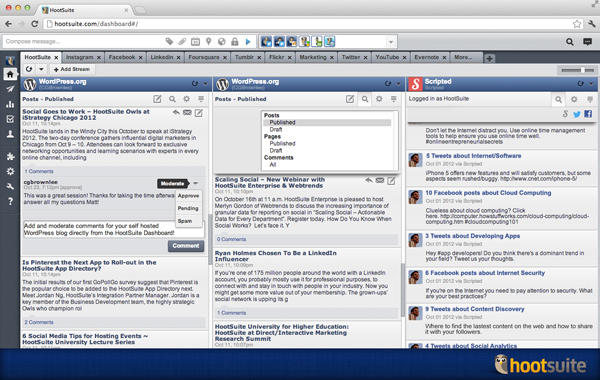 Boost Your Content Marketing with the App Directory
Now home to 41 apps, the HootSuite App Directory is truly a content marketer's playground, except that most of us aren't playing around. Want to get serious about social media management? Take a closer look at the App Directory, and start to get more value and power from your HootSuite dashboard.


Need help installing apps? Check out our App Directory Guide. Also, be sure to follow @HootSuite_Apps for the latest updates and news on the HootSuite App Directory.
Are you an organization or developer that would like to work with HootSuite? Learn how you can integrate your app using the App Directory SDK.