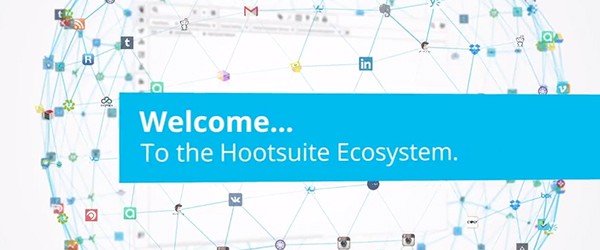 The Hootsuite Ecosystem Connects Your World
Social media is now a key driver of productivity in every area of the modern business. As organizations integrate social media in departments outside of marketing, Twitter and Facebook become part of a toolkit already overflowing with enduring technologies used for sales, CRM, and more.
As the world's most widely used social relationship platform, Hootsuite recognizes the need for social media to work in harmony with existing technology investments. To meet that need, we've fostered a thriving ecosystem of 100+ app integrations, technology partners, agencies, and solution partners. This ecosystem helps accelerate your adoption of social media in order to leverage social relationships across your organization. It eliminates the need for an organization to invest time and money re-training departments on new technologies to replace what they're already using.

To learn more about the HootSuite ecosystem, register for our upcoming webinar.
Hootsuite is committed to providing a comprehensive partner ecosystem that works for every area of your business. A single vendor cannot provide the depth and breadth of innovation that your organization requires. Hootsuite empowers your business to use the best tools available and get the most out of technology investments you've already made—the technology you know and trust.
57% of information workers regularly interact with all elements of their business ecosystems — their colleagues, partners, and customers. These "ecosystem engineers" are critical players, building bridges between all parties that affect the customer experience.
— Forrester Research Inc., Want A Healthy Customer Experience Ecosystem? Free Your Workers, May 2014
It is this focus on customer experience that drives our commitment to providing a comprehensive partner ecosystem that works for every area of your business.  The benefits of the Hootsuite ecosystem include:
Power of Choice
Meet your unique requirements with the best technologies available
Stay ahead with a growing ecosystem that evolves with your organization
Personalize your dashboard by connecting the tools critical to your business
Depth of Integration
Weave social media into every functional area of your business
Realize more value from integrated business tools
Collaborate with your team more effectively through interconnected applications
Expertise for Scale
Drive organizational effectiveness by extending integrated workflows across teams
Accelerate your business success by working with leading social media professionals and consultants
Enable social marketing, sales, and support adoption by engaging with a vibrant agency and channel partner community
"The Global Relay integration's comprehensive social media  pre-approval, surveillance and archiving solution provides that piece of compliance that other platforms are missing. Hootsuite's security and monitoring capabilities lets us build relationships, but ensures that private data isn't  shared."
– Janet Gunzenheiser, Social Media Strategist, BOK Financial
"Using an app such as Nexalogy has allowed us to map (literally) our road to success! With the ability to see similar keywords that are appearing around #MyJasper we have been able to engage with other relevant keywords and ultimately create greater reach for our #MyJasper campaign."
– Kyle Harms, Digital Marketing Specialist, Tourism Jasper
Empowering Social Business
The Hootsuite ecosystem enables individuals and organizations to blend social communications into any strategy or program, all from one personalized interface. Here's how:
Social media teams access the organization's content library through the Kapost app, then share content directly to social networks. Their outgoing social communications are screened against pre-configured policies in Nexgate or OpenQ to ensure compliance with brand or regulatory guidelines, and are then saved in Global Relay or another archive provider as required.
Marketers uncover how their content is driving audience engagement through numerous social analytics integrations, including our uberVU via Hootsuite integration, Brandwatch, Crimson Hexagon, and Chartbeat. Marketers also leverage Hootsuite's seamless connections with Google Analytics, Webtrends, and Awe.sm by Unified to calculate ROI. As they engage audiences, they create and enrich lead records in Marketo from within Hootsuite, driving highly qualified prospects through the funnel faster.
Hootsuite's integrations with CRM, lead generation, and lead tracking tools enable sales professionals to weave social media into a daily routine for maximum productivity. They find leads through targeted social search streams, or through needs identification apps such as LeadSift. Sales professionals then send leads directly to SugarCRM or Salesforce to ensure that no business opportunity is missed.
Customer service agents create Zendesk tickets or CRM cases directly from their social engagement streams, allowing them to rapidly identify and resolve issues.
Whether they use IBM Connections, Yammer, Podio, or Socialcast, teams throughout the business can switch seamlessly between external communications and internal collaboration. Customer ideas flow into the business to spark innovation, while everybody stays organized thanks to integrations with Evernote, Box, Google Drive, Dropbox, and other productivity tools.
New Look and Feel:  
One of the key components of the Hootsuite ecosystem is our App Directory, which allows our customers to be more efficient in their daily work life. Since the creation of the App Directory in 2011, we have surpassed over 100+ app partners and one million+ installs. The growing ecosystem allows us to extend functionality to a wide range of business needs and foster the best innovation from our partners.
Today, the Hootsuite App Directory is getting a new facelift to help you discover the apps most relevant to your role and business needs.  To get started, explore Hootsuite's growing ecosystem of integrations and technology partnerships in the Hootsuite App Directory.
To learn more about the Hootsuite Ecosystem, and how it can help drive social transformation in an organization, please register for our upcoming webinar The Hootsuite Ecosystem: Power of Choice, on July 15th at 11 am EST, 8 am PST, with Kevin Zellmer, the Global Director of Business Development at Hootsuite, and Mark Holder, Director of Platform at Hootsuite. The webinar also features a guest speaker, Forrester Analyst Nate Elliott, who will share his views on industry trends.