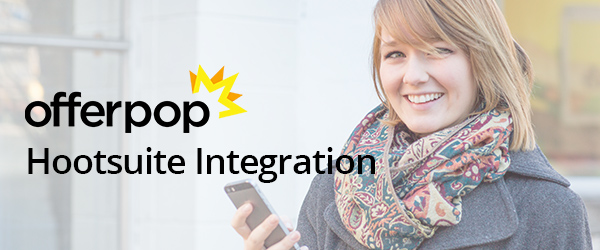 Engage Your Audience with the Offerpop-Hootsuite Integration
Social media marketing has progressed beyond the usual tweet and Facebook post. To engage with your fans and attract a new following, brands need to embrace a more interactive form of social marketing.
Offerpop, the newest app integration in the Hootsuite ecosystem, is a powerful platform for transforming social channels into engaging customer experiences. The Offerpop-Hootsuite integration now allows joint users to enhance social marketing efforts by using both tools in tandem. Conveniently launch new Offerpop campaigns and simultaneously amplify across all your social networks in Hootsuite.
Install the Offerpop-Hootsuite integration today!
"Social media will continue to evolve, and marketers deserve an open partner ecosystem that fosters innovation, gives them choices and keeps social media operating the way it was meant to – organically," says Kevin Zellmer, Global Director of Enterprise Business Development at Hootsuite. "We're excited to provide customers from both sides with a piece of that ecosystem through this integration."
Brands looking to leverage Hootsuite and Offerpop together will find a combined set of tools for:
Creating new Offerpop campaigns and amplifying messaging on one centralized dashboard
Managing all social channels and developing relationships with customers across an extensive set of social networks
Communicating directly with audiences to build affinity towards your brand
Scheduling brand messages and campaign announcements for optimal performance
Viewing detailed reports and analytics for social engagement and campaign performance
Collecting essential social data about your audiences and customers to inform your marketing and campaign strategy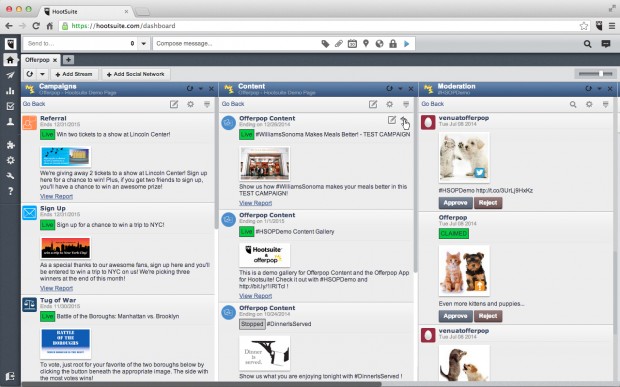 "The Offerpop-Hootsuite integration has allowed us the opportunity to work with two very specialized parties in one streamlined suite. By managing our entire social presence from one dashboard, we can more effectively engage with our audience and maintain a cohesive social presence." – Alissa Kitchen, Social Media Specialist at Ardene
Through the Offerpop-Hootsuite integration, brands will be equipped to increase their online presence, amplify brand messaging, streamline workflow and better measure the ROI of social media campaigns.
Install the Offerpop-Hootsuite Integration
Using Hootsuite Pro or Enterprise but not Offerpop? Easily sign-up via your Hootsuite dashboard or get in touch with your Customer Success Manager.