A Closer Look at the Latest App Directory Additions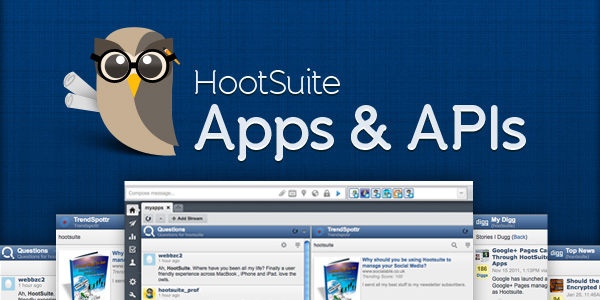 As announced on our blog yesterday, we've added Digg, TrendSpottr, and InboxQ to the HootSuite App Directory! These new integrations are available immediately to all users – expanding the suite of App Directory tools that already includes: Constant Contact, Digg, Flickr, Get Satisfaction, InboxQ, TrendSpottr, Tumblr, and YouTube.
So what can these new additions do for you? Let's take a closer look at these tools and how they can help you manage your social media initiatives. 
Can Ya Digg it?

Digg is a place for people to discover and share content from anywhere on the web, from the biggest online destinations to the most obscure blog. Developed by Philipp Gebauer and Alexandrine Boissiere, the app puts the power of the social news site right into the dash.
What can the Digg app for HootSuite do for you? Using the app's "Top News" stream, users can view the general Top News stories as well as drill down into specific Top News by searching for keywords and topics. It's quick and easy to find the stories relevant to your brand, company or product and share them to your social networks. In addition to "Digg"-ing stories, you can also view, leave, and even "Digg" or "Bury" comments.
With the "My Digg" stream, users can conveniently view their Digg content including stories you submitted, stories you saved, stories you commented on, and stories you Dugg – a handy way to view your Digg activity all from the dashboard.
TrendSpotting

TrendSpottr lets you find the most timely and trending content from across the social web. The TrendSpottr app for HootSuite allows you to search for trending content by topic, keyword, or phrase and easily share those stories, videos and more with your social networks.
Tired of sifting through the torrent of tweets and Facebook updates for relevant info? Simply select a keyword, phrase or topic and let TrendSpottr do its thing – finding currently trending stories and what people are saying about them. For marketing professionals, community builders, and content publishers, context is key so why not reach your audience when they're engaged with your brand or promotion?
I Have a Question…

InboxQ is the best way to show off what you know and ask or answer questions on Twitter. With the InboxQ app for HootSuite you can find questions on Twitter, fine tune search results, and more – a nice complement to the dashboard for handling support and customer service inquiries.
To search for questions, simply input keywords and negative keywords (updates showing negative keywords will be omitted). Toggle the "Quality" slider bar to filter out noise, qualify tweets and control the quantity of posts to zero in on.
Add These Apps
Installing these apps is a breeze. Simply log in to HootSuite and navigate to 'Tools' then 'App Directory' from the Launch Bar. From there you can install all available apps, and then easily add app streams to any tab in your dash via the Add Stream button just as you would for other social networks in the HootSuite dash.
For our visual learning owls, HootSuite University put together this handy video to guide you through the installation:
Get in on the App-tion
Let us know what you think of these apps and the other apps in the App Directory by chiming in at the App Directory Feedback Channel. You can find additional support resources in the 3rd Party App Directory Section of our Help Desk and be sure to follow @HootSuite_Apps for all the latest news, tips, and updates on the HootSuite App Directory.
Are you a developer or have an app that is ready to go? Apply for access on our App Directory for Developers page.
With the success of our existing App Directory tools, you can look forward to additional apps, tools, networks, and mashups being added throughout the year.