The App Directory Grows with Digg, TrendSpottr and InboxQ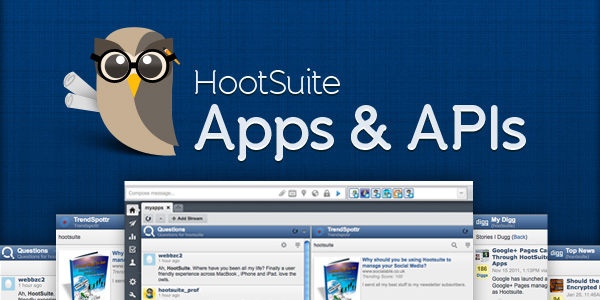 HootSuite continues to build momentum as a platform for partners, developers, and users by extending functionality and integration opportunities with our Engagement API, another wave of apps to join the ever-expanding HootSuite App Directory and the external integration of the dashboard with click.to, an application designed to streamline social sharing and workflow.
Starting today, users can gain access to another wave of new apps that join the App Directory including Digg, TrendSpottr, and InboxQ. These apps are available immediately to HootSuite Basic, Pro, and Enterprise account holders worldwide.
Apps A-Coming: Digg, TrendSpottr, and InboxQ

Digg
Using the Digg app for HootSuite, HootSuite users can view current top news stories, search stories, Digg stories, discover and share content from the web using the dashboard, and more.

TrendSpottr
The TrendSpottr app for HootSuite allows users to search for trending content by topic, keyword or phrase, select from a list of popular searches, share trending stories, videos and more via the social networks they've added to the HootSuite dashboard.

InboxQ
With the InboxQ app for HootSuite, users can find questions on Twitter based on keyword and phrase searches, fine tune search results, and engage directly with those asking questions, all from within the HootSuite dashboard.
The HootSuite App Directory was launched in late 2011, allowing the opportunity for third-party developers and partners to expand the social content ecosystem of the HootSuite dashboard. The space hosts a collection of extensions and applications HootSuite users can add to their dashboard to create a customized social experience based on their individual needs. Applications to date include Constant Contact, Digg, Flickr, Get Satisfaction, InboxQ, TrendSpottr, Tumblr, and YouTube.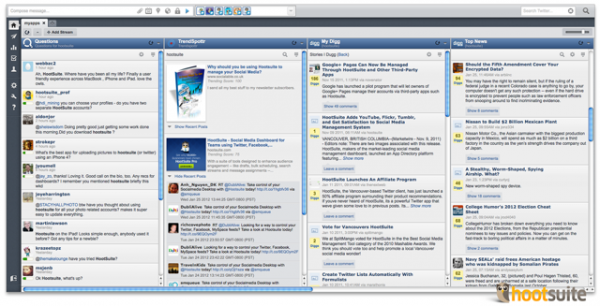 Learn how to install these App Directory integrations with this handy video from HootSuite University:
Engagement API is Open
With the HootSuite Engagement API, third party applications will be able to make use of the core HootSuite social network management and message publishing functionality – allowing the developer and partner community to further integrate HootSuite's social media management with other marketing functions.
Click, click, click… Click.
HootSuite is also pleased to announce the external integration of the dashboard with click.to. Users will be able to send messages through click.to to their HootSuite dashboard with one simple click which then posts to multiple social media accounts – adding another level of automation to your social media initiatives.
To learn more about click.to, view their helpful video at: www.clicktoapp.com
Get Involved, Get 'Appy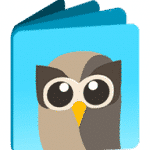 Get more out of your social media management dashboard and try these new tools today. Let us know what you would like to see added next by suggesting apps, networks, and integrations on our App Directory Feedback Forum. Plus, learn about the latest updates and tips for developers by following @HootSuite_Apps.
Stay tuned to the blog as we will have further details on these announcements later this week – including more information on the latest additions to the App Directory and what's possible with the HootSuite Engagement API.