Blogger, Batchbook Among Four New Apps Added to Hootsuite's App Directory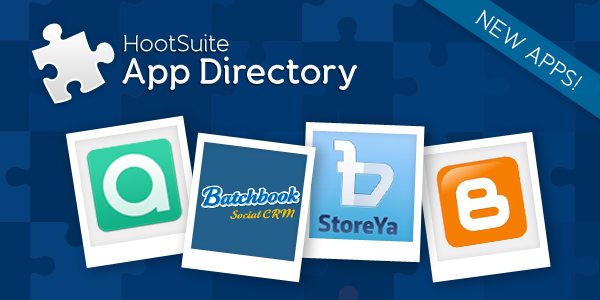 The HootSuite App Directory Team can't stop, won't stop – adding new applications into the HootSuite App Directory. Today we announce the next wave of new apps to be added to the Directory, taking the total to 49 apps, as we premiere these four new gems:
This latest batch of applications is part of a plan for a major expansion of the App Directory in 2013. Have you tried any of the Apps yet? They make it easier to manage all of your social media needs from the comfort and familiarity of the HootSuite dashboard.

By Popular Demand: Now with Blogger for the Bloggers
Haven't discovered the power of the App Directory yet? Let's look at the example of one of the latest additions, Blogger. Google's popular blogging platform (one of the most requested by our users) is now available in HootSuite and allows you to monitor your Blogger pages and posts, create and edit posts, view comments, and of course share your pages and posts to the social networks and profiles in your HootSuite account. Because it's in HootSuite, publishers using Blogger can manage their entire publication workflow from a single domain, from anywhere in the world. If you haven't tried this already with any of our apps, you're missing a ton of value from the world's leading social media management system. And no one wants that.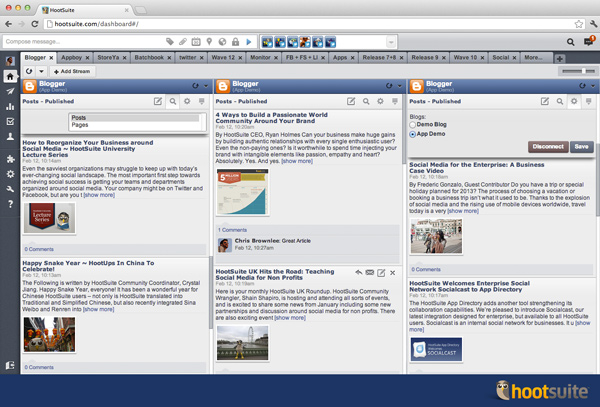 Deep into Social CRM Territory with Batchbook
Batchbook is a social customer relationship management (CRM) tool that helps your whole team build great relationships with the right people. The Batchbook app for HootSuite allows you to view your Batchbook contact details, access your most recent comments and to-do's, import new contacts into Batchbook and more. Use the app to create new contacts in your Batchbook account, see the full history of a contact, discover your most active communicators, coordinate follow ups across your team, save the best posts to Batchbook, and more.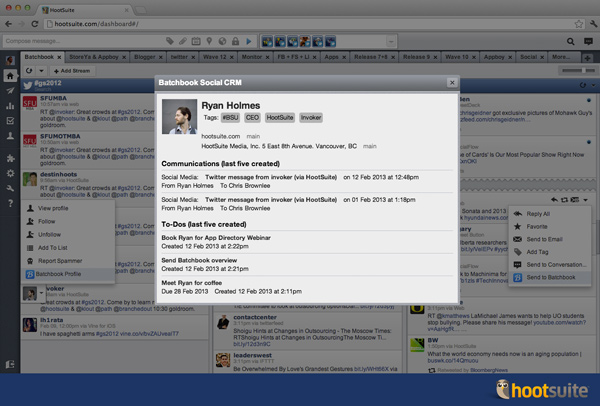 You can send Twitter and Facebook posts directly into Batchbook from the HootSuite dash. Why would you want to do that? These days, every touchpoint with existing and potential customers matters, and social media mentions like Tweets and Facebook posts are no exception. Imagine every exchange, every ping, every Tweet with that customer as part of the profile you keep for them. That's the value of social CRM, and it's the new standard for doing business on the web.
Use Appboy to Build Stronger Relationships with Your Mobile App Users
Mobile app developers will appreciate the addition of Appboy to the Directory. Appboy is a customer engagement platform for mobile apps that combines audience segmentation, automated messaging and customer support on one dashboard.
Appboy's integration with HootSuite adds a major social component to the mobile app experience. App developers can now create special social streams within HootSuite's dashboard to surface chatter about their mobile app and quickly identify recent users. They also have access to enhanced users profiles that add more context to their interactions with customers.
Heya. If You're Selling on Facebook, Check out StoreYa
StoreYa.com is a leading Facebook commerce platform, designed for automatically importing web stores into Facebook, fully customizing them to fit both the Facebook arena and the original store look & feel. StoreYa is proud to have built a convenient way to discover new products in the Facebook ecosystem. StoreYa is an official partner of all the major eCommerce platforms, and has thousands of merchants using its platform on a daily basis. With StoreYa installed into HootSuite, you can manage your featured products from the HootSuite dashboard, share products with your fans, view traffic analytics and more.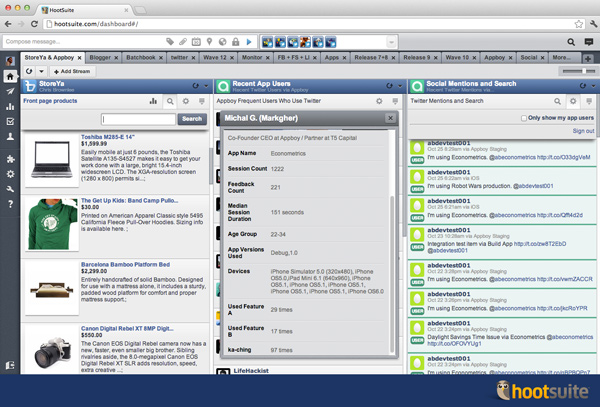 As the App Directory continues its growth, HootSuite's close to six million users will find more and more value within their dashboards and fewer reasons to go anywhere else. If any of the 49 apps can help you with your social media management, turbo-charge your social by installing some of them now: