Music to Your Ears ~ SoundCloud and Dailymotion have arrived along with new Apps for Engagement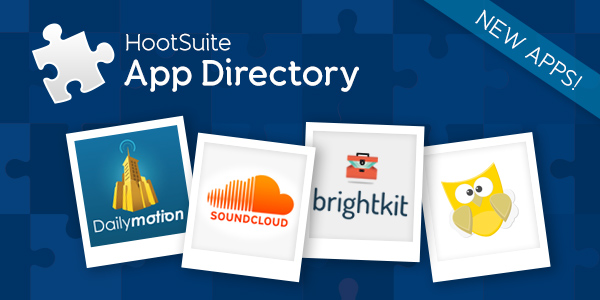 Adding a bit of spice to the HootSuite App Directory, these tools will not only impress your eyes and ears –  they will help you manage marketing campaigns and upload bulk messages to HootSuite.
To get started, log in to the HootSuite Dashboard and click below: 

Introducing SoundCloud ~ Share Your Sounds
SoundCloud is the leading audio platform that gives users unprecedented access to the world's largest community of music and audio creators. It's a platform for people to discover new, original, music and audio, for creators to build audiences, and for everyone to share what they hear whether online or on mobile.
Here at HootSuite, there is a small but dedicated group of musicians and a large group of passionate audiophiles. We stream audio all day while we work, and make music at night when out of the office. We also have been dreaming of the day where HootSuite and our passions collide. This day has finally come. We are excited to be apart of SoundCloud's engaged, and constantly growing global community of audio creators and listeners.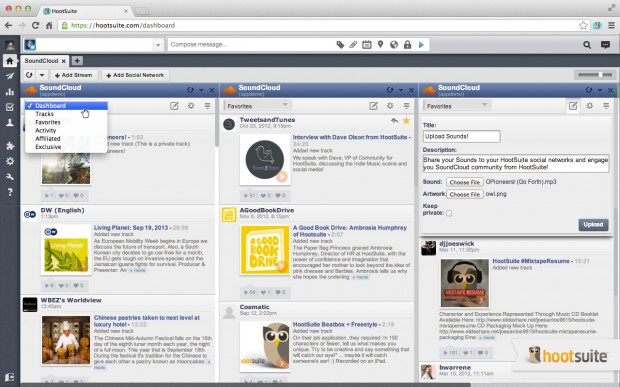 Gone are the days when HootSuite and audio were separate. With the SoundCloud app you can listen to your favorite artists, podcasts, radio stations, politicians, comedians, upload your own sounds, and share on social.
Don't miss another beat, download the SoundCloud app today!

Introducing Dailymotion – Social in HD
Along with the YouTube and Vimeo apps already in HootSuite, we are excited to introduce the social video powerhouse Dailymotion. Offering a mix of individual videos, channels and professional content, the Dailymotion app for HootSuite allows you to upload, search for and view videos within the dashboard. The best part is you can even share your favourites with all your social networks in HootSuite.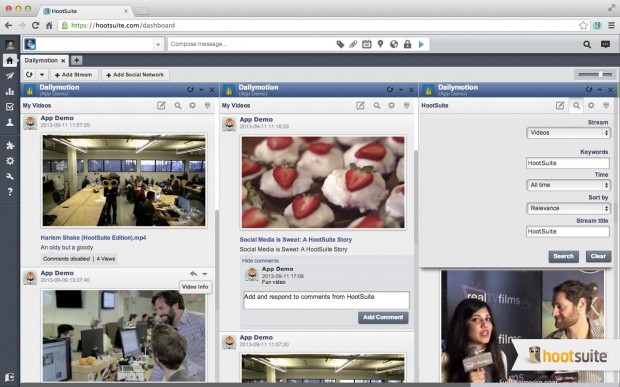 Experience the luxury of high definition in your dashboard, download the Dailymotion app today.

Brightkit
Looking to run a contest through social media? The Brightkit platform provides brands and agencies the opportunity to launch innovative social marketing campaigns that live on clients websites, Facebook pages or dedicated microsites.
For the brand marketers and social media managers out there, Brightkit will make your life easier. A social marketing and insights platform, the Brightkit app allows brands and agencies the ability to manage their social marketing contests and campaigns through the HootSuite dashboard.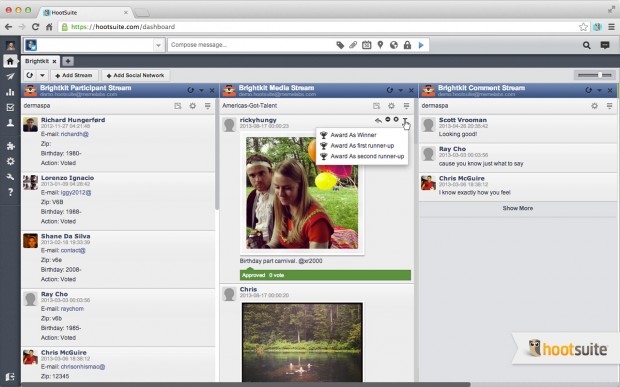 Run a customized contest on the world's most popular social networks, try the Brightkit app today! 

HootBulk
Have you been longing for a vacation, but can't stop engaging your audience? HootBulk has you covered with their bulk messaging solution. HootBulk creates a fully formatted spreadsheet you can easily upload into the HootSuite Bulk Scheduler. Quickly and easily create Bulk Schedule spreadsheets and schedule up to 31 days in advance with a maximum of 11 messages per day with the app.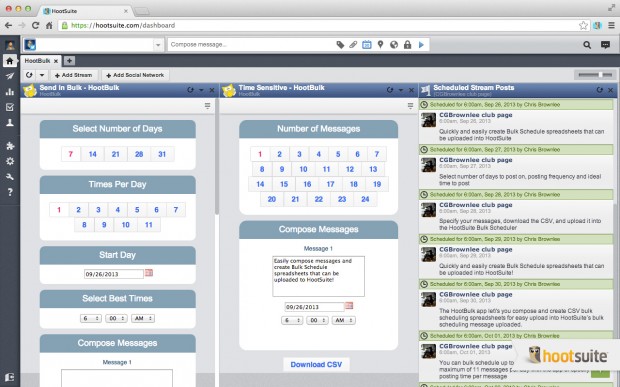 Bulk schedule with ease, try out the HootBulk app today.

Designed to extend the social content ecosystem of the HootSuite dashboard, the HootSuite App Directory will help you do your job better through social while at the same time keep you entertained.

Need help installing apps? Check out our App Directory Guide. Also, be sure to follow @HootSuite_Apps for the latest updates and news on the HootSuite App Directory.
Are you an organization or developer that would like to work with HootSuite? Learn how you can integrate your app using the App Directory SDK.