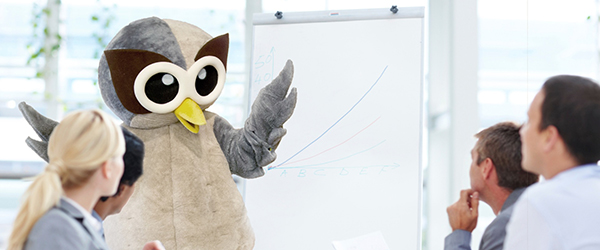 Why is Social Media Important? 7 Reasons You Can't Ignore
When building your social media strategy for your business, it helps to learn from what other people in your industry are saying and doing. When it comes to your social media marketing plan, there's no point in re-inventing the wheel. Instead, take advice from businesses that have found success when using social. Whether it's gaining more followers or increasing customer engagement, businesses around the world are discovering ways to how social media is contributing to success and growth.
At Hootsuite, we make a habit of continuously talking to our customers and understanding what works for them and what doesn't. With our varied clientele, we have the opportunity to truly understand how social helps all types of businesses. As a result, we thought we would put together some of our favorite customer testimonials in order to help other small businesses understand why social media is important for business.

Bonus: Download a free guide to discover how to get more sales and conversions with social media monitoring on Hootsuite—no tricks or boring tips.
7 Reasons why social media is important for business
1. Learn about your customers and connect with your audience
All successful businesses have grown to know their audiences very well. The benefit of social media is that, getting to know your audience is now easier then ever. With analytics like Facebook Insights in Hootsuite you can understand the major demographics and patterns of your customer behaviors. This not only allows you to better target your audience but it also helps you understand the specific needs of your customer base.
While gaining insight on the demographics of your audience, social also helps you connect on an individual level.
"Social media and Hootsuite have given us an opportunity and platform to connect with those individuals, and that is such an important part of our customer service and brand strategy. Having that connection and being able to reach someone immediately has worked wonders for our brand." – Baby K'tan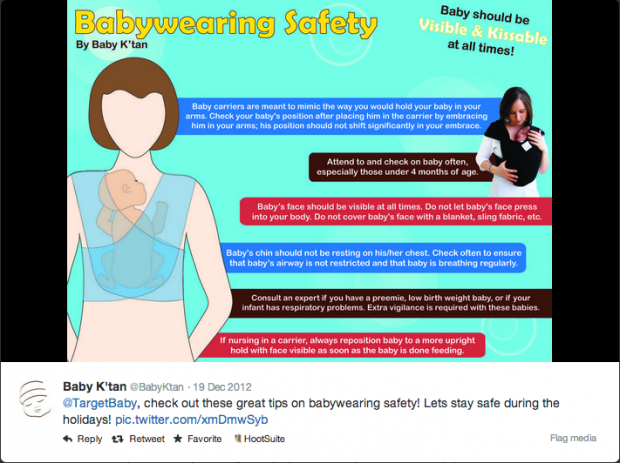 Social media has also helped Ren Management connect with their audience in a better way.
"In the ever-changing music business, social is becoming more and more a part of standard practice. Using social helps make it easier to make a personal connection with our followers and fans. We are seeing growth in our fanbase because we are connecting personally and making it personal." – Ren Management
2. Reach a new audience locally and globally
Those familiar with Twitter will know that it's easy to use Twitter to connect with current customers or seek out a new audience. Tools like geo search in Hootsuite or searching for certain hashtags can help you find what people are tweeting about in your neighborhood or what people are tweeting about in general. For example, if you run a brewery and search for hashtags about local beer, you can see what people in your area are excited about. You could then use this as an opportunity to engage with them and let them know what beer you offer.
Organizations like San Francisco Ballet believe that, "by offering added value to our online audiences, social media enables us to engage and nurture our existing fans, while expanding into new audiences."
Radio Italia also uses social media to, "reach a wider range of people around the globe. It's another way for us to connect with our audience."

3. Improve customer service
Because social media functions best in real-time, it gives you instant access to feedback from your customers. This insight is invaluable, as it can help everything from new product growth to customer retention. G adventures use social to up their customer service game.
"Social media has become more and more important to our organization as a source of customer service over the past year. With 24/7 monitoring over our social media channels by three times in three geographically distinct offices, we've improved our speed of response to under 60 minutes regardless of time-of-day. Hootsuite helps us achieve this." – G Adventure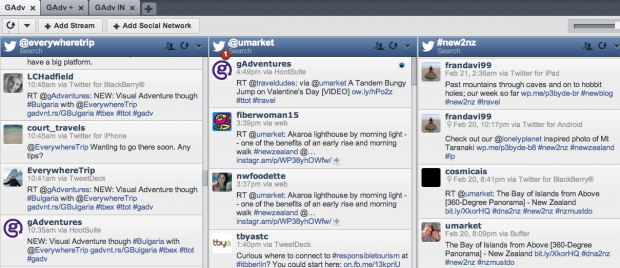 4. Gain market share
On a less customer centric note, if you use social media properly, you can make it easier for potential customers to find you. The Manhattan Group stands by the idea that, "serious recruiting agencies with a strong social media presence are rapidly gaining market share. And those without, are missing out."

5. Create meaningful relationships that generate leads
Invest time in your social media relationships. The more you invest, the more valuable these relationships become. With G Adventures, social media is woven into every part of their business. As a result, someone who might not be a sales lead right away, can often convert months later.
"Social media is a huge part of G Adventures' culture — both internal and external. From us interacting with travellers before, during and after tours on our social media channels to all of the G Adventures staff chatting with each other on Twitter, we're truly a social enterprise – and all a part of G Nation. Fittingly, we offer an integrated suite of social channels (Facebook, Twitter, Google +, LinkedIn, Pinterest, Instagram, Tumblr, and the G Adventures Looptail blog). While these channels provide an opportunity to communicate to people who already subscribe to our brand, they also serve as a window to the world to inspire those who have never considered travelling, who can't presently afford to travel, or who are too young to travel — but one day might. Hootsuite provides a platform for us to have this discussion with our followers in a way that keeps us nimble and allows us expediency of response." – G Adventure
6. An affordable way to increase brand awareness
The best part about social media is that if you have an Internet connection and a computer, anyone can participate. Meaning that in terms of monetary investment, you can do a lot with just a little bit of budget. For small businesses getting started in marketing, social media is an easy and affordable option.
"On a very practical level, social media is an affordable way to reach consumers." – Alison Kosakowski
7. Establish your business as an industry expert and expand your professional network
Along with building relationships with your customers, many businesses use social to connect with other people in their industry.
"Our public communication is vital. We use social to update about our work, answer questions and, with any luck, inspire people to help wildlife in the process. Hootsuite has been an ideal way to connect with creative talent: artists, photographers and videographers whose passion for birds matches our own." – International Bird Rescue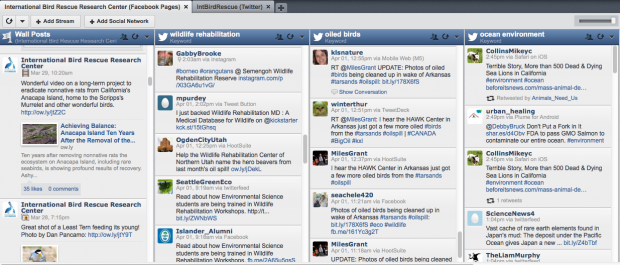 Along with connecting with other professionals, you can also use social to establish your business as an industry expert.
"We use social media as an essential channel to engage with small businesses and maintain our reputation as a go-to SMB resource. Being a trusted online resource helps drive unique site visitors and increase small business engagement." – Manta
What has your experience with social media been like? Share it with us in the comments below.
Now that you understand why social media is important for small businesses, it's time to get started with Hootsuite. Try it free today.