HootSuite Collaborates with @Yammer, Adding the Enterprise Social Network to the App Directory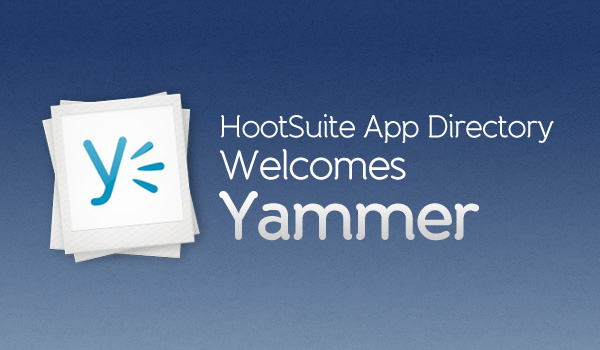 HootSuite is pleased to introduce a new integration with Yammer the leading provider of Enterprise Social Networks to the HootSuite App Directory. With over 5 million verified corporate users, including employees of more than 85% of the Fortune 500 – companies choose Yammer to securely share content across departments, geographies and more.
And now, all Yammer users can monitor and reply to Yammer conversations within HootSuite, making the transition between internal and external social collaboration even easier. Install Yammer by clicking the button below (login first):

Many organizations choose Yammer when looking to work within a private, secure social network. The platform empowers employees to be more productive and successful, allowing them to easily discuss ideas, make smarter decisions faster, and self-organize into teams to take on any business challenge.
Yammer Away
Users who spend their time listening and engaging with their audience in HootSuite, and find themselves leaving the dashboard to collaborate with their colleagues on Yammer, can now pull these efforts into one place, saving them time and keystrokes.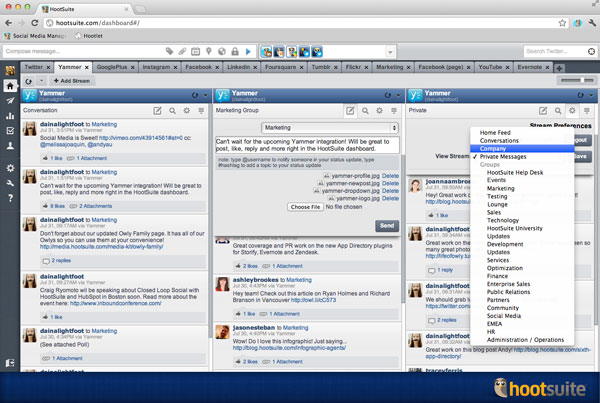 Key Features
View your Home, Company, Conversations, Private Messages and Groups feeds
Post status updates to your Company and Group feeds, including attachments
Notify colleagues by tagging updates with @usernames
View likes, replies, and attachments for all status updates
Like and reply to all status updates
Search for content in your network and groups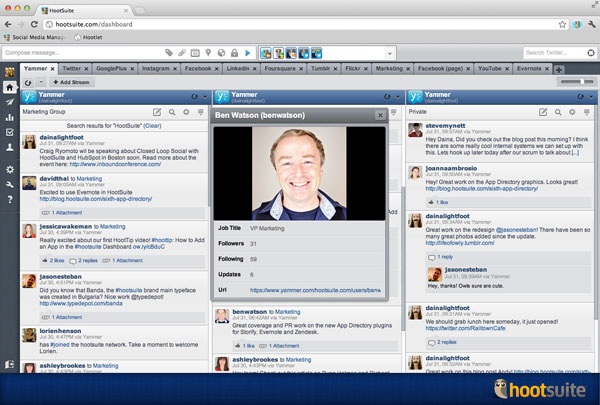 Social Collaboration
Social Media is no longer the task of one department or team, it's recognized by all customer-centric business units to be an essential tool, which means collaboration is essential. This integration seeks to help social businesses communicate more efficiently through HootSuite.
"The integration of Yammer demonstrates the increasing role of social collaboration in business. As companies grow, employees become increasingly decentralized from one another and rely  on multiple tools like Yammer to work through and complete projects." says Ryan Holmes, CEO of HootSuite.  "Use of social media continues to grow beyond marketing. We see departments including customer service, human resources, sales, public relations and research and development teams are looking to HootSuite for solutions to tackle collaboration problems."
Always Listening
Users can now benefit from the convenience of having the advantage of HootSuite's advanced tools for social media engagement, collaboration, security and measurement alongside their internal Yammer streams.
Like many HootSuite App Directory additions, the Yammer integration began as a request on our Feedback Channel and was the 6th highest suggested idea. Let us know what you'd like to see next by chiming in with your ideas.
Yammer can be installed to your dashboard by logging in to HootSuite first and then clicking the button below: