Owly's European Vacation ~ News Roundup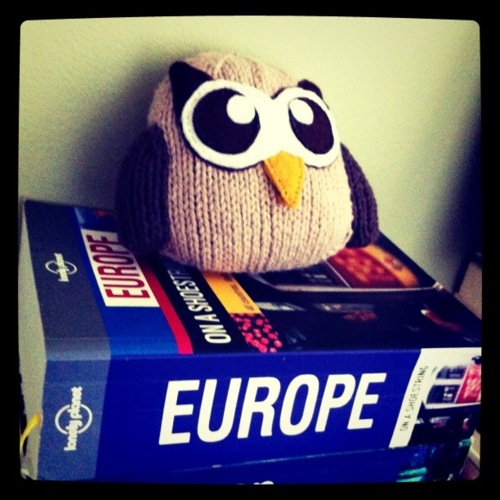 As HootSuite grows in popularity in North America, Latin America and Japan, we can't forget about all the Owls around Europe. We're listening closely to all the Tweets from across the Atlantic and even sent Owly on a trip – from Croatia to Paris – to check in on all the social media activities on the continent.
Since localizing for Spanish, we quickly gained popularity among the Spaniards in Europe. Now, localization for other European countries is coming along quite well with new additions to the languages to the mobile apps including: French, Italian, Dutch, Portuguese, German and even Catalan.
This News Roundup contains a collection of interesting articles from Europe that caught our eye starting with reactions to the 2 million milestone announcement in 6 different languages.
HootSuite's 2 Million Milestone
Create or Die – HootSuite zählt zwei Millionen User / HootSuite counts two Million users (German)
Der Ende 2008 gelaunchte Social-Media Client HootSuite zählt nun stolze zwei Millionen registrierte Accounts – und diesen Meilenstein erreicht man bereits sieben Monate, nachdem man die Million-Marke knackte. Verantwortlich für diesen Quantensprung dürften die verschiedenen Updates sein, mit denen man den Service beständig weiterentwickelt und vorantreibt.

On the end of 2008 they launched a new social media client HootSuite now it counts an impressive two million registered accounts and this milestone is reached only in seven months after they cracked the million mark. Responsible for this breakthrough are the several updates
Techgear "The Tech side of life" – HootSuite: Έφτασε τα 2 εκατομμύρια χρήστες! / HootSuite reached 2 Million users (Greek)
Η HootSuite έφτασε τα 2 εκατομμύρια χρήστες μέσα σε 3 χρόνια λειτουργίας (ιδρύθηκε το 2008) και γιορτάζει το γεγονός με ένα πολύ ενδιαφέρον infographic, εμπλουτισμένο με αρκετά στατιστικά στοιχεία που αποδεικνύουν την αλματώδη εξέλιξη του!
Η γνωστή "κοινωνική πλατφόρμα" δίνει στους χρήστες τη δυνατότητα να συγκεντρώνουν σε ένα μέρος τους λογαριασμούς τους από διάφορα κοινωνικά δίκτυα (Facebook, Twitter, LinkedIn, MySpace κλπ.), RSS feeds και παρέχει στατιστικά στοιχεία για αυτούς!

HootSuite reached 2 million users in 3 years and celebrates this event with a very interesting infographic, enriched with several statistics showing the rapid evolution!
The social network platform enables users to gather in one place their accounts from different social networks (Facebook, Twitter, LinkedIn, MySpace, etc.), RSS feeds and provides statistics on them!
Netokracija – HootSuite prešao dva milijuna korisnika / HootSuite crossed the two Million users (Croatian)
HootSuite, jedna od najmoćnijih aplikacija za napredno vođenje profila na društvenim mrežamabroji preko dva milijuna korisnika, objavili su to na svom blogu.

HootSuite, one of the most powerful applications for advanced profile management for social media, announced on their blog that they have over two million users.

Genbeta – Cuando una aplicación se convierte en una plataforma: Hootsuite alcanza los dos millones de usuarios / When an application becomes a platform: Hootsuite reaches two million users (Spanish)
Y es que Hootsuite empezó siendo una herramienta discreta, pero ahora es el servicio perfecto para controlar la actividad social de cualquier campaña de marketing integrándose con Twitter, Facebook y LinkedIn entre otros.

HootSuite started as a humble tool, but now is the perfect service to control all the social activity in any marketing campaing thanks to its integration wth Twitter, Facebook and Linkedin, among other services.
Twittermania "Twitter over Twitter" – HootSuite naar 2 Miljoen gebruikers / HootSuite reached two Million users (Dutch)
Hootsuite, een van de populairdere Twitter-apps, heeft z'n aantal gebruikers in korte tijd verdubbeld. De applicatie heeft nu de grens van 2 miljoen gebruikers gepasseerd. Opmerkelijk, want in november 2010 werd nog maar net de mijlpaal van 1 miljoen gebruikers gehaald. Hootsuite wordt veel gebruikt door organisaties en bedrijven om onder meer hun prestaties op Twitter en andere social media te monitoren. Maar inmiddels heeft de applicatie een groeiende schare aanhang bij professionals.

HootSuite, one of the more popular Twitter-apps, has doubled its number of users in a short amount of time. The application has now passed their milestone of 2 million users. Remarkable, because in November 2010 they just barely reached the milestone of 1 million users. HootSuite is used a lot by organizations and companies to monitor their performances on Twitter and other social media. But recently the application has become more popular among professionals.
MinuteBuzz – 2 millions d'utilisateurs sur HootSuite / 2 Million users on HootSuite (French)
Lancé en décembre 2008 par Invoke Media, HootSuite est un tableau de bord dédié aux réseaux sociaux et un outil d'analyse particulièrement astucieux. Le site, autant utilisé par des internautes lambdas que par le gouvernement américain et de nombreuses entreprises vient d'atteindre le seuil des 2 millions d'utilisateurs.

Launched in December 2008 by Invoke Media, HootSuite is a panel dedicated to social networks and a particularly astute analysis tool. The site, used by Internet users such as the U.S. government and many other companies, just reached the threshold of 2 million users.
Comparisons, Interviews and Agents
To keep the European vacation vibe going, here are more snippets from reviews, comparisons, interviews, awards and an interview with CEO Ryan Holmes (@invoker).
TwitterSmash "Deine quelle für Twitter" – HootSuite Affiliate Programm / HootSuite Affiliate Program (German)
Nebenbei sei noch erwähnt, dass HootSuite den Mashable Award für das beste Social Media Tool gewonnen hat.

By the way it should be mentioned that HootSuite won the Mashable Award für das beste Social Media Tool
DutchCowboys – Interview met HootSuite CEO Ryan Holmes / Interview with HootSuite's CEO Ryan Holmes (Dutch)
Menno: Welke boodschap wil je overbrengen naar je doelgroep?
Ryan: Wij zijn ook gebruikers. Wij geloven echt in de kracht en het voordeel van social media en we gebruiken HootSuite binnen het bedrijf voor het werven, het toezicht houden en het meten van onze gebruikers. We luisteren naar de feedback van de gebruikers en betrekken hen publiek bij ons plan van aanpak om zo de tools en functionaliteit zo voordelig mogelijk te maken.

Menno: What is the message that Hootsuite want to get across to their target group?
Ryan: We are users too. We are true believers in the power and benefit of social media, and we use HootSuite internally for our user-engagement, monitoring and measurement. We listen to user input and reactively engage our audience in our road map to build out the tools and functionality that benefits our users.
Engagement Media – Battle of the Titans: Tweetdeck of Hootsuite? (Battle of the Titans: TweetDeck or HootSuite? Online survey for Dutch social media users (Dutch)
En de winnaar is…
Hootsuite heeft met 46,9 procent van de stemmen gewonnen van Tweetdeck (37,5 procent). Uit de reacties blijkt dat Hootsuite vooral als voordeel heeft dat het web-based is en dus geen installatie nodig heeft.

And the winner is…
Hootsuite won with 46.9 percent of the votes from TweetDeck (37.5 percent). It seems from the responses that HootSuite's biggest advantage is the fact it is web-based so there is no installation required.
Blog inmobiliario de globaliza – Agentes inmobiliarios en el entorno de las Redes Sociales / Real Estate agents in the environment of Social Networks (Spanish)
HootSuite es una de las más completas. Un escritorio para gestionar, monitorizar y valorar resultados de nuestras acciones. […] En este post no entraremos a valorar o explicar sus funcionalidades, que son muchas y muy interesantes, sino que nos centraremos en una práctica guía publicada por esta compañía con recomendaciones para agentes inmobiliarios

HootSuite is one of the most complete. A desk to manage, monitor and evaluate results of our actions.[…] This post will not enter or explain its features, which are many and very interesting, but we will focus on a practical guide published by the company with recommendations for real estate agents.
L'oeil au carré – TweetDeck vs HootSuite : ces petits plus qui font la différence / TweetDeck vs HootSuite: It's the little extras that make the difference (French)
…HootSuite parce-que cet outil me permet de gérer différents comptes sur une seule plate-forme, animation que je peux partager avec mes clients, tout en me facilitant l'utilisation et l'organisation quotidienne des différentes fonctionnalités (onglets, raccourci firefox, etc.)

…HootSuite because this tool allows me to manage different accounts on a single platform, animation that I can share with my clients and it's easier to use for the daily organization of  various features (tabs, firefox shortcut, etc.).
Blog Du Geek – Programmez vos tweets avec Publisher de HootSuite / Schedule Your Tweets With HootSuite's Publisher (French)
Les responsables de Hootsuite nous ont avertis sur le lancement de quelques améliorations très importantes à leur service. Il s'agit notamment de la possibilité de programmer des messages pour être envoyé dans l'avenir (qui existe déjà dans Hootsuite).

Hootsuite officials notified us about the launch of some very significant improvements to their service. These include the ability to schedule messages to be sent in the future (which already exists in Hootsuite).

Gracias, Merci, Bedankt, Danke etc.
We continue to listen closely to your Tweets, Likes, comments and concerns about using HootSuite. Further, we invite you to help us localize for your local area by helping with translations, adding thoughts about networks and services to add, and sharing tactics for using HootSuite. Keep your thoughts coming and we'll keep tuning the tool to meet your needs. Keep in mind, technical and account issues are handled through the Help Desk and you can follow all media coverage about HootSuite via social bookmark stream.
Photos by @AshJBee.